'Will' Episode 9 Sneak Peek: Will Begs Richard To Play Topcliffe [SPOILERS]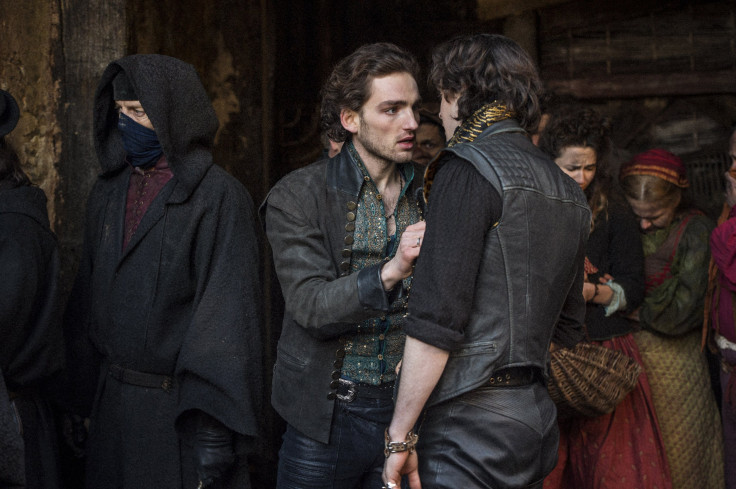 Richard (Mattias Inwood) has a change of heart about playing the role of Topcliffe in Will's (Laurie Davidson) new play, "Richard III."
Right before entering the plague house at the end of Season 1, episode 8 of TNT's "Will," Richard told Will to write him the role of Topcliffe as he's willing to play the character when he got out.
Apparently, Autolycus' (Shane Zaza) sudden death changed Richard's mind, and Will now needs to convince him to recommit to the role.
"To defeat Topcliffe, the audience needs to be pissing themselves with fear, not laughter," Will tells Richard in a sneak peek from next week's Season 1, episode 9. "I know what you have been to. I don't need to imagine. I live with the image of my dearest uncle hung, eviscerated alive, beheaded and quartered. I write so I don't go mad. Pour your nightmare into this part."
"I'm not ready," Richard insists. "I've just lost my best friend and now you want me to tell my father he's an old fool who can't act [the role of Topcliffe]?"
"[No,] I want you to stop cloaking your greatness in fear and self-pity," the playwright replies. "That's not why you lived and Autolycus died. You owe him this."
Will Richard eventually take the role or is his decision already final? Watch the video below:
Also in the penultimate episode of Season 1, Will — according to the synopsis for the hour — must confront Topcliffe (Ewen Bremmer) once again in order to finish "Richard III." Will already had a sit-down interview with Topcliffe last episode. But since Topcliffe only used that meeting to talk highly of himself, Will didn't really get any interesting information about him.
Elsewhere in next week's episode, Alice (Olivia DeJonge) contemplates a perilous mission. While the episode synopsis doesn't specify what mission it is, Alice's recent involvement with Southwell (Max Bennett) suggests that her latest undertaking has something to do with the Catholic priest's ultimate objective, and that is to deliver the manifesto for peace to the Queen.
"Will" Season 1, episode 9, titled "Play the Devil," airs on Monday, Aug. 28 at 11 p.m. EDT on TNT.
© Copyright IBTimes 2023. All rights reserved.