Will The Fed Raise Interest Rates Wednesday? Analysts And Traders Almost Unanimously Say Yes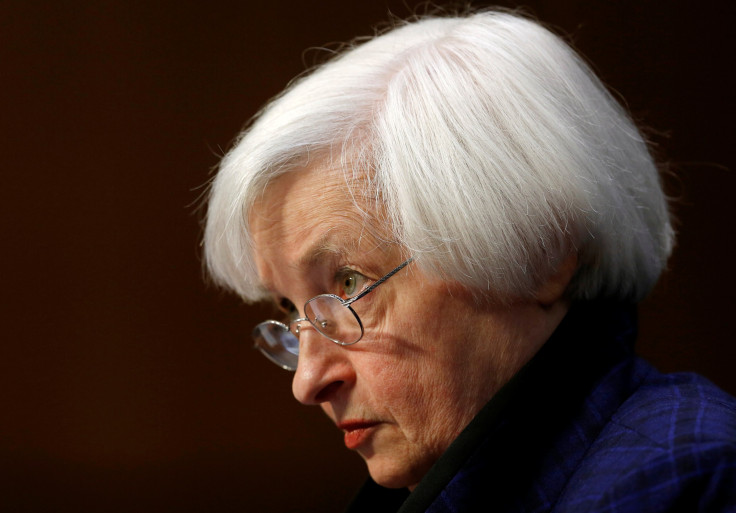 Analysts overwhelmingly expect Federal Reserve Chair Janet Yellen to announce an interest rate hike at a 2:30 p.m. press conference Wednesday, following the close of a two-day policy meeting.
In a Reuters poll, all 120 economists surveyed expected a hike in the central bank's target for the federal funds rate, the interest rate at which banks lend to one another, which is closely followed by other rates, like bond yields and interest on a wide variety of loans.
Using federal funds rate futures prices, which reveal the market's projections for adjustments to the rate, the CME Group, a leading derivatives exchange marketplace, pegged the likelihood of a hike at more than 95 percent.
The credit ratings agency Moody's said Monday it was "likely that the Federal Reserve will raise its benchmark interest rate by 25 basis points," or 0.25 percent, "in December 2016," Reuters reported.
If the Fed decides on an increase, it'll mark the federal funds rate target's first change since December 2015, when the central bank moved it from a target range of between zero and 0.25 percent to a band of between 0.25 and 0.5 percent, its current level. On Wednesday, the Fed is expected to raise it to between 0.5 and 0.75 percent, on the way to a normalized, or neutral, level of around 2.5 percent, which it hasn't reached since March 2008.
The central bank is also widely expected to raise rates several times next year, experts told International Business Times.
The Fed uses the monetary policy tool as a way to stimulate borrowing and investment in times of economic slowdown, as the lower federal funds rate pushes down interest on mortgages, auto loans, credit and other forms of debt.
But with the economy in full swing—unemployment dropped to a nine-year low of 4.6 percent in November—many, including Fed leaders, see the federal funds rate as ripe for an increase.
© Copyright IBTimes 2023. All rights reserved.