Will Gary Johnson Drop Out? Libertarian Candidate's Campaign Stalling Out One Month From Election Day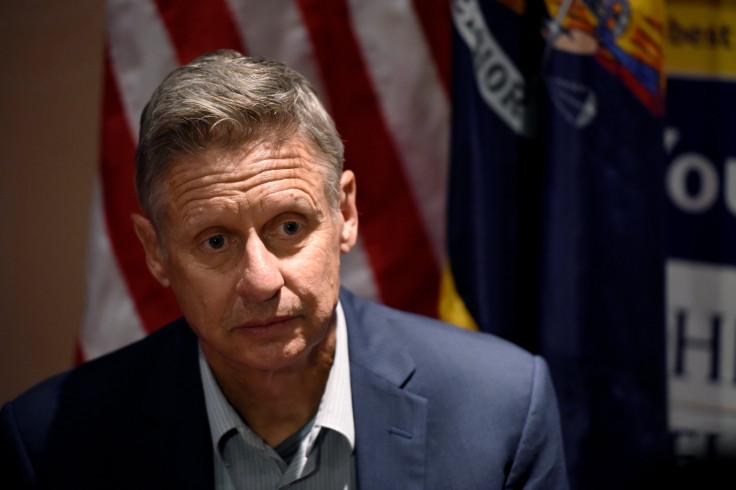 Barring some sort of intervention, divine or otherwise, Libertarian presidential candidate Gary Johnson is not going to win on Election Day. But if an interview Thursday is any indication, that's not going to stop him from running for president until the bitter end.
Johnson is polling at about 7 percent nationally according to the Real Clear Politics average of polls, which wasn't nearly high enough to land him on the stage for the first debate. He's also had a number of damning bungles on the campaign trail. Most notably, he didn't know about the town of Aleppo, Syria — the center of the deadly civil war in the country — and wasn't able to name a single foreign leader he admired during a TV interview. With about a month until Election Day, some have wondered why Johnson remains in the race.
"I want to give you a chance to respond to the growing calls for you to drop out of the race. Why are you still running for president?" the Wall Street Journal's Shelby Holliday asked Johnson in a video posted Thursday to the newspaper's website.
"Because I am on the ballot in all 50 states," Johnson answered. "And I'm offering a voice to a lot of people who are not represented, starting with independents, myself, my running mate Bill Weld. Look, we were two former Republican governors serving in heavily Democrat states that got re-elected by being fiscally conservative, by first and foremost being about small government. Add to that socially inclusive, being able to make decisions, liberty, freedom."
But perhaps even worse for Johnson than the campaign trail blunders, or the outside forces pushing to end his presidential run, is a growing perception that his running mate is ready to bow out. His VP pick, former Massachusetts Gov. Bill Weld, told the Boston Globe that while he still supports Johnson, he is most concerned with stopping Republican nominee Donald Trump. The GOP nominee is trailing Democratic nominee Hillary Clinton in the polls but still has a very real shot of winning.
"I think Mr. Trump's proposals in the foreign policy area, including nuclear proliferation, tariffs, and free trade, would be so hurtful, domestically and in the world, that he has my full attention," Weld said. This coming from Weld after he angered supporters of Johnson when he said on MSNBC that he was "not sure anybody is more qualified than Hillary Clinton to be president of the United States."
Johnson denied the Libertarian ticket was fractured and attempted to shake off Weld's comments in the Wall Street Journal interview. "Well, that may be Bill's focus," he said of stopping Trump. "I guess my focus would be blocking Hillary Clinton and, between the two of us, we're in it to win it."
© Copyright IBTimes 2023. All rights reserved.