Will Gay Marriage Be Overturned? What LGBT Rights Look Like Under Donald Trump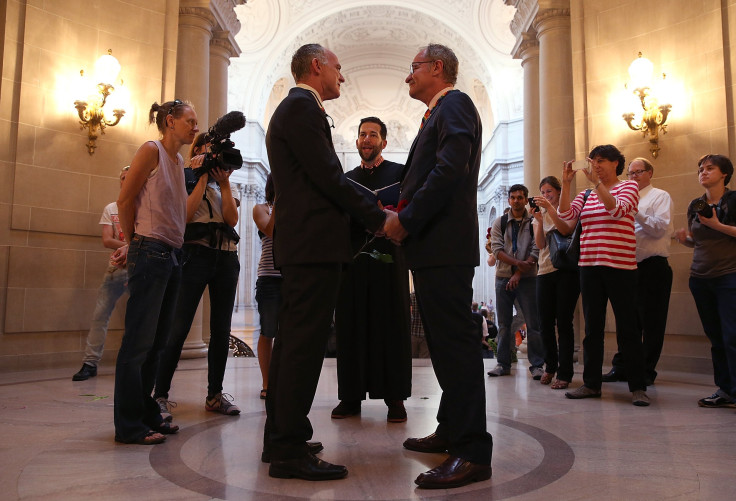 In his first television interview since being announced the next president of the United States, Donald Trump said he was "fine" with same-sex marriage, citing the Supreme Court had put the issue to bed after its landmark decision on the issue in June 2015.
Trump routinely told his supporters during the Republican presidential primary he would appoint conservative leaning judges to overrule the Supreme Court's 5-4 decision in the Obergefell v. Hodges case that guaranteed marriage rights to same-sex couples. Though he maintained that the issue of marriage quality should handled by the states, he said during the interview with CBS' "60 Minutes" Sunday that he didn't plan on reversing the Supreme Court's decision on marriage equality.
"It's law…I mean it's done," Trump told "60 Minutes." These cases have gone to the Supreme Court. They've been settled. And I'm --I'm fine with that."
Though Trump has made an effort to reach out to the LGBTQ community since being elected, he also championed gay-rights while on the campaign trail. Trump's selling point on why he would be good for gay people was largely based on his hard-lined views to combat "radical Islam," which he blamed for the Pulse nightclub shooting in Orlando that killed 49 people and injured 53, according to ABC News.
Hillary Clinton "talks a lot about it, and yet she'll allow people in [to the U.S.] that want to kill people from the community, from that community, and I think it's terrible," Trump told Fox News the day after the Orlando attack in June.
When asked about the North Carolina "bathroom law" in April that required transgender people to use the bathroom that matched the gender printed on their birth certificates, Trump responded that transgender people should be able to go to whichever restroom they felt comfortable using.
Trump pointed to the significant economic impacts the "bathroom law" has had on the citizens of North Carolina as a reason to end the ban, PBS News reported. After the law was signed in late March, Deutche Bank opted out of to its plan to add 400 employees in the state, while Paypal withdrew from opening a 400-employee operation center in Charlotte, North Carolina.
Trump's comments on "60 Minutes" Sunday were a stark contrast from the Republican Party's historically anti-gay stance. The Republican Party's official platform condemns the Supreme Court's rulings in States v. Windsor, which removed the ability of Congress to define marriage policy in federal law, and the decision from Obergefell v. Hodges, according to Time Magazine.
After announcing his position on the North Carolina "bathroom law," one of his man Republican opponents, Texas Republican Sen. Ted Cruz, said Trump was giving in to the very "political correctness" that he built his campaign against.
Trump could name a number of conservative leaders who have been critical of LGBT rights to his presidential cabinet, according to media reports.
Last year, Trump's running mate and future vice president, Indiana Gov. Mike Pence, signed the anti-LGTBQ "religious liberty" law that allowed any individual or corporation to cite its religious beliefs as a defense when being sued by a private party. The law opened the floodgates to overt discrimination in Indiana as it gave business owners who withheld serving same-sex couples a legal defense to do so. Pence supported "conversion therapy" as a member of Congress and as a conservative radio host said same-sax marriage would lead to "societal collapse," the Huffington Post reported.
Trump is reportedly contemplating naming retied neurosurgeon Ben Carson as education secretary. In 2013, Carson compared homosexuality to pedophilia and incest and said gay people "believe in bestiality."
In the same CBS "60 Minutes" interview Sunday, when Trump was asked if he was going to appoint a Supreme Court Judge who wanted to overturn the Roe v. Wade decision that says women are entitles to an abortion, he insisted that he was "pro life" and that the issue would be upended and head back to the states. He said women who wished to get an abortion would have to travel to the states that voted to allow it.
"Yeah, well, they'll perhaps have to go, they'll have to go to another state," Trump told "60 Minutes" Sunday.
© Copyright IBTimes 2023. All rights reserved.