Is 'Will & Grace' On Tonight? Season 9, Episode 15 Air Date Revealed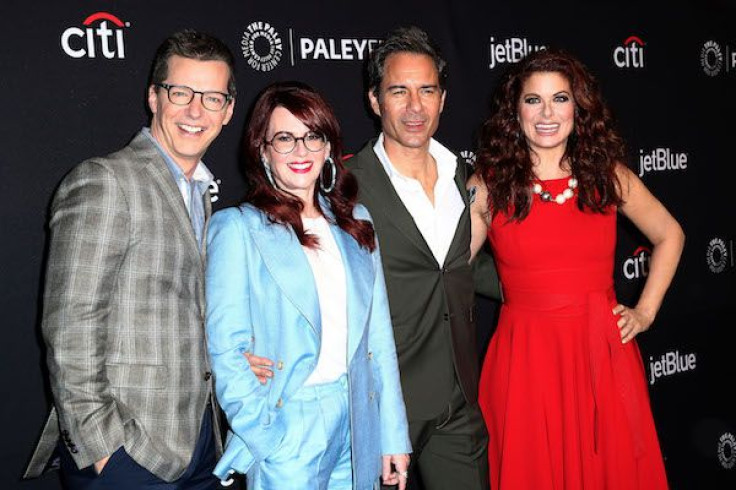 Fans will have to wait for another week before they could enjoy their dose of the fab four's humor and quirkiness on "Will & Grace" Season 9.
Episode 15 of the NBC comedy series is scheduled to air next Thursday, since the comedy series is once again going on a break this week. When the show returns, fans will see Grace (Debra Messing) bring Will (Eric McCormack) for support when the Jewish interior designer decides to go home to celebrate her deceased mother's birthday.
A sneak peek at the upcoming episode isn't available yet, but it's expected to feature some throwback scenes featuring Bobbi Adler (played by late actress Debbie Reynolds). Episode 15 is also set to shed more light about Bobbi's death. Since Reynolds passed away before the show's revival, the producers disclosed prior the premiere of Season 9 that her character was written to have died as well.
The synopsis for "Will & Grace" Season 9, episode 15, titled "One Job," also mentions that Jack (Sean Hayes) loses faith in love when he finally breaks up with Officer Drew (guest star Ryan Pinkston). A secret about Karen's (Megan Mullally) marriage also rubs salt on his wound.
Alec Baldwin is guest starring in the all-new episode. He reprises his role as Malcolm Widmark, the government official who helped Karen's husband, Stan, fake his death in the past. The reappearance of Malcolm causes sparks to fly between him and Karen, according to Fansided.
Meanwhile, "Will & Grace" has been renewed for two more seasons. Last Saturday, the cast announced at PaleyFest in Los Angeles that the show has been ordered to come back not just for a second run since its reboot, but for a third run.
Season 9 averaged a 3.1 rating among adults 18-49 and 9.8 million viewers, so the renewal doesn't come as a surprise. The 10th season will also feature 18 episodes — that's two episodes more than the 16-episode Season 9, as per Entertainment Weekly.
"Will & Grace" Season 9, episode 15 is set to air on March 29 at 9 p.m. EDT on NBC.
© Copyright IBTimes 2023. All rights reserved.