Will 'Outlander' Season 4 Film In The US?
"Outlander" Season 3 moved production down to South Africa for the Caribbean-set episodes, but what will happen now that Jamie and Claire are in America? U.S. fans shouldn't plan a Season 4 road trip just yet.
Showrunner Ronald D. Moore revealed that the Starz drama considered filming "Outlander" Season 4 in the U.S., but it was just too expensive. He also noted that he didn't want to hire a whole new crew in America.
"We looked into it, and it just didn't make sense to us for a lot of reasons, both financial and also we have this enormous infrastructure and this amazing team of artisans and craftspeople and crew in Scotland, and ultimately we just didn't really want to let go of and start all over again," Moore told Mashable. "So we will shoot Scotland for America. We will also travel to eastern Europe to do some exterior work to sort of sell the mountains of North Carolina the rivers and things like that."
The "Outlander" Season 3 finale ended with Jamie (Sam Heughan) and Claire (Caitriona Balfe) landing on the shores of Georgia. As readers of Diana Gabaldon's books know, the couple won't be in a rush to head back to Scotland.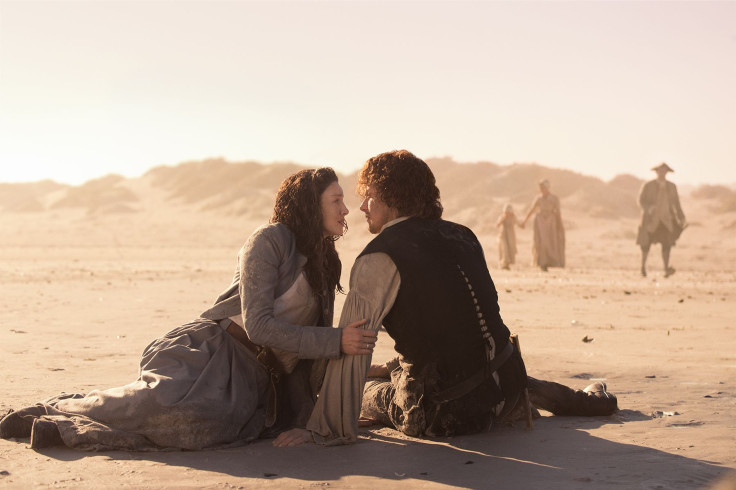 "The show's always going to have a foot in Scotland," Moore assured fans in an interview with Deadline. "It's not going to completely abandon like Lallybroch and Inverness and some of the stories back there, but you know the balance of the story and the weight of the story is definitely going to be in America from now on."
Jamie is wanted for treason and murder in Scotland, so he's not exactly in a rush to get home after leaving Jamaica. In "Outlander" Season 4, he and Claire will make their way up to North Carolina. It's a new beginning for them, but don't worry, they won't forget the past. Moore revealed that the writers were considering incorporating flashbacks to find a way to bring back Tobias Menzies, who played both Black Jack and Claire's first Frank.
"We've been talking about doing some way of getting Tobias back in the show in Season 4, at least for some flashbacks, or some other kinds of sequences. So nothing's been committed yet, but yeah that's on the table," he admitted.
"Outlander" Season 4 will return to Starz in 2018.
© Copyright IBTimes 2023. All rights reserved.