Will Trump Challenge Election Results? What Republicans Are Doing To Push Voter Fraud Allegations
KEY POINTS
Elections officials warn Election Day could turn into election week or even election month because the large number of mail-in ballots
40 states are engaged in early voting as of Monday -- 41 if you count Oregon's all mail-in system
Voters lined up before daybreak as early voting began in Florida
If you expect the election to be over come Nov. 3, guess again. Lawyers are lining up for post-election challenges across the country for an expected avalanche of litigation resulting from expanded mail-in and early voting.
As of Monday, 40 states were engaged in early voting – 41 if you count Oregon's mail-only election – with Alaska, Colorado, Florida and North Dakota the latest to join the party. Only New Hampshire, Missouri, Mississippi, Delaware, Connecticut and Alabama ban the practice.
All states allow some form of absentee voting and many expanded the process this year because of the coronavirus pandemic. And there lies the rub.
President Donald Trump has been railing for months that expanded mail-in voting would lead to widespread vote fraud and has massed dozens of law firms and thousands of volunteer attorneys and poll watchers to ready challenges. Attorneys from nonbattleground states like California, New York and Illinois are being redirected to more competitive states – like Michigan, Pennsylvania and Wisconsin – where they're boning up on election law, Politico reported.
Election officials across the country have cautioned voters not to expect results on election night given the large number of mail in ballots, meaning Election Day could stretch into election week or even election month, especially in states that cannot start counting mailed in ballots until Election Day. And that's before considering court challenges.
In Florida, where voters lined up before daybreak Monday undeterred by heavy downpours, both campaigns deployed attorneys, ready for a repeat of the 2000 election in which Florida held up the results of the contest between Republican George W. Bush and Democrat Al Gore as election officials grappled with voter intent on ballots where selections had not been punched cleanly – hanging chads, as they became known. The election eventually was decided by the Supreme Court – a distinct possibility this year, as well.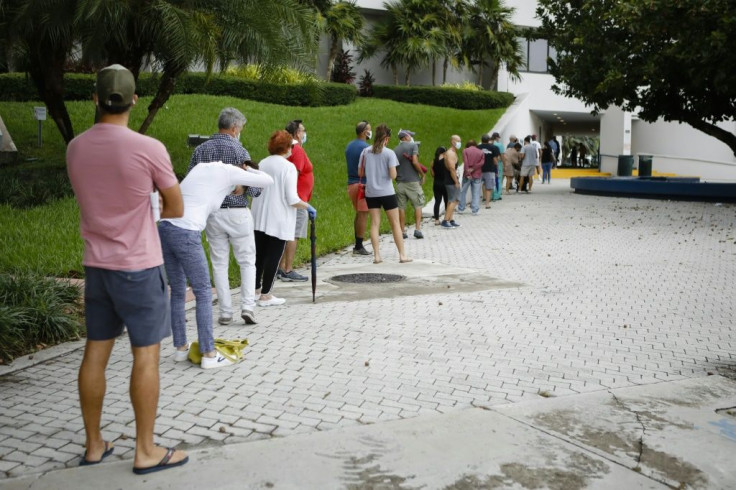 "Every mail-in ballot is [potentially] subject to a challenge, so it could get pretty messy in a close election," Miami attorney Joe Klock told the Miami Herald. Miami attorney Ben Kuehne warned "vote-by-mail could be sabotaged by massive challenges."
The latest polls in Florida indicate Democratic presidential nominee Joe Biden is either tied with Trump or up by 3 points. In 2016, Trump won the state by little more than a point.
Pennsylvania is another epicenter. Trump, who won the state by less than a point in 2016 and with polls indicating he's losing by 3 to 5 points this go-round, already has sued Philadelphia – home to 20% of the state's Democratic voters – because of theft from an election equipment warehouse. Additionally, an investigation was ordered into military ballots that had been discarded mistakenly in one swing county.
A key question may be whether a vote counts if the voter dies between the time an early vote was cast or a mail-in ballot was sent in and Election Day. The answer varies state-by-state: 17 states prohibit counting a ballot cast by someone who dies in the interim, and 10 states specifically allow it, according to the National Conference of State Legislatures.
© Copyright IBTimes 2023. All rights reserved.
FOLLOW MORE IBT NEWS ON THE BELOW CHANNELS