Will The US Go To War With North Korea? Twitter Reacts As Nuclear Missile Talks Escalate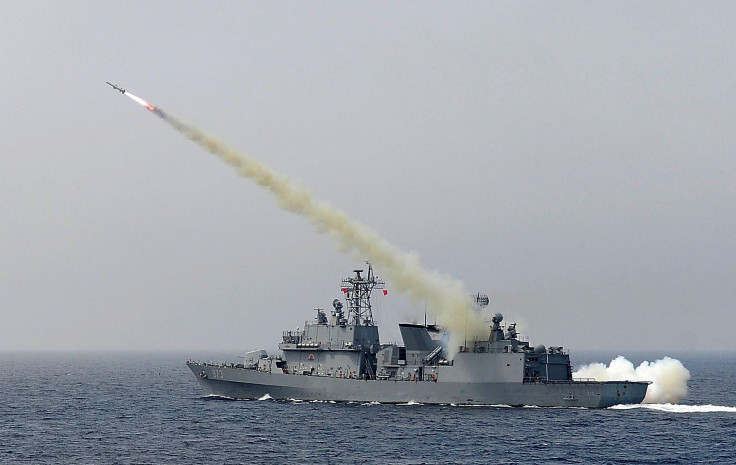 Amid escalating tensions, the Wall Street Journal published a report Thursday estimating that North Korea could have nuclear capabilities that could reach the mainland of the United States as early as two years. On Twitter, the reaction was mixed, varying between an outcry about the threat that North Korea poses, and a distrust of the media.
Concern about North Korea's military capabilities comes as the authoritarian government, headed by Kim Jong Un, tested intercontinental ballistic missiles off their coast Tuesday. These tests have received widespread international condemnation from the U.N. and others while continuing to threaten the U.S.'s fraught relationship with the country.
To summarize the reaction on Twitter, one user asked the elephant-in-the-room: does this mean imminent war?
READ: Trump Slams North Korea Missile Launch During Poland Visit: 'Something Will Have To Be Done About It'
Others questioned the motives of The Wall St. Journal's reporting, suggesting that the media was part of "warmongering" while others suggested that the paper was part of the military-industrial complex.
Others observed Twitter's generally subdued attitude towards the escalation in tension between the two countries, noting that Rob Kardashian was trending over stories about North Korea's nuclear capabilities.
Trump confronted the North Korean threat ahead of his meeting at the G-20 summit in Hamburg, promising to "confront very strongly" the issue of North Korea's "very, very bad behavior" in test-launching missiles.
"I have some pretty severe things that we're thinking about," he told reporters in Poland.
READ: Why Does China Support North Korea? US Says It Would Limit Trade Deals With Nations Supporting Pyongyang
Trump also tweeted about the crisis, asking if Kim has "anything better to do with his life?" and called on China to put a "heavy move" on North Korea.
Similarly, Nikki Haley called North Korea's first intercontinental ballistic missile test Tuesday a "clear and sharp military escalation" and warned that those "actions are quickly closing off the possibility of a diplomatic solution" to the growing crisis.
"Today is a dark day," Haley said at an emergency U.N. Security Council Meeting Wednesday. "It is a dark day because yesterday's actions by North Korea made the world a more dangerous place."
© Copyright IBTimes 2022. All rights reserved.
FOLLOW MORE IBT NEWS ON THE BELOW CHANNELS