Will US Go To War With Russia? McCain Urges Trump To Fight Back In Ukraine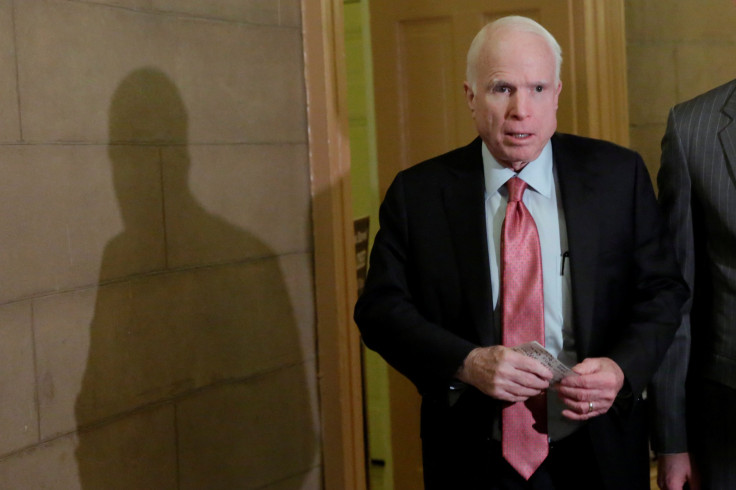 President Donald Trump should support the Ukrainian government in their fight against pro-Russian separatist forces by providing Kiev's military with Javelin antitank missiles and counter-battery armor, Arizona Sen. John McCain told Sputnik News Thursday.
Ukraine and NATO have accused Russia of militarily supporting the rebels, which Moscow has denied. Though the United States and the European Union have placed sanctions on the Kremlin over the conflict, McCain's words came nearly a week after Trump spoke with Russian President Vladimir Putin following increased aggression in Ukraine from rebel forces. Though the subject of the Ukraine conflict did not arise in the phone conversation, Trump has flirted with lifting sanctions on Russia over its annexation of the Crimea peninsula in eastern Ukraine in 2014.
"That this surge of attacks began the day after he talked with you by phone is a clear indication that Vladimir Putin is moving quickly to test you as commander in chief. America's response will have lasting consequences," McCain wrote in a letter to Trump, which was released by his office Thursday. The senator also called on Trump to expand the current sanctions on Russia.
"Vladimir Putin's violent campaign to destabilize and dismember the sovereign nation of Ukraine will not stop unless and until he meets a strong and determined response," McCain wrote.
Russian officials have warned the U.S. that giving weapons to the Ukrainian government will only result in greater bloodshed in the conflict. McCain's request for Trump to send lethal weapons to Ukrainian forces is a stark departure from the strategy of the administration of President Barack Obama that provided Kiev's forces with non-lethal weapons such as drones, radar, first-aid kits and night vision and communication equipment.
Deputy Defense Minister of the self-proclaimed Donetsk People's Republic (DPR) Eduard Basurin told Sputnik Thursday that Ukrainian government forces have been killing civilians in the southeastern city of Donetsk, which has become the rebel's de facto capital.
The Javelin antitank missile that McCain wants to provide is the first mass-produced weapon that can completely destroy tanks by firing at them head on. Though the usage of tanks from either party is strictly prohibited under a September 2015 truce between Ukraine and pro-Russia rebel forces, Kiev has accused the rebels of using such weapons during this week's escalation of violence.
The 2015 ceasefire called for the removal of all mortars and weapons with a caliber of less than 100mm from the conflicts' front lines.
At least 9,750 civilians and militants have died in the armed conflict between Ukrainian forces and separatist rebels since 2014.
© Copyright IBTimes 2023. All rights reserved.