Will Vicki And Shannon Make Up On 'Real Housewives Of Orange County'?
The "Real Housewives of Orange County" crew will live out a big moment during next week's installment. A sneak peek of Monday's episode shows Vicki Gunvalson apologizing to Shannon Beador for spreading previous allegations that her husband, David Beador, beat her.
The sneak peek, posted by Bravo, shows the apology go down during the Season 12 cast's Viking-style dinner in Iceland. After Vicki and Tamra Judge made up in the previous episode, Tamra influences Vicki to try to reunite with Shannon, as well.
"You need to apologize to her," Tamra tells Vicki, warning her to "make it good." Vicki goes on to remind Tamra that she was friends with Shannon long before she was.
"Vicki needs to come clean on everything," Tamra tells the cameras. "What Vicki said about Shannon was wrong and she owes her an apology."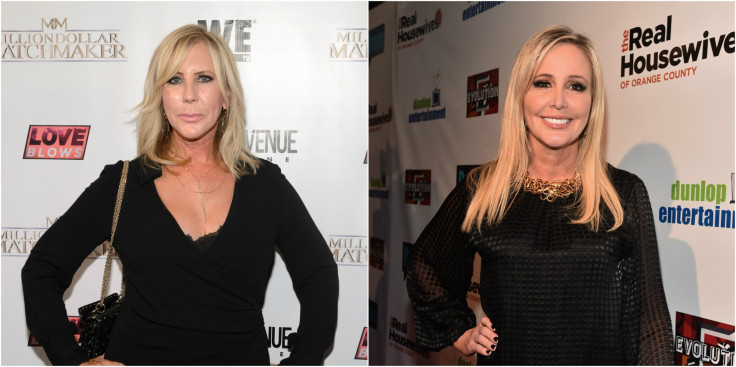 "I'm enjoying tonight and the first and most important thing is I want to apologize to you," Vicki says to Shannon in the sneak-peek clip with the rest of the cast present. Vicki goes on to state that she "misinterpreted" a phone call she received from Shannon, which fueled her belief that she was in an abusive marriage.
"I just want to enjoy life and make peace," Vicki adds.
"I'm going to eat some humble pie," Vicki tells the cameras of her apology to Shannon, but not before reminding viewers she once received a call from Shannon in the middle of the night stating she was having "some serious situations" with husband David.
While Shannon tells Vicki she appreciates her apology in person, to the cameras, she says she didn't believe it. "Vicki's apology in front of everyone at dinner is a bunch of [expletive]," she says. "There's no feeling, there's no sentiment, there's no remorse. She's not sorry."
The dinner won't just see Vicki-Shannon drama. Bravo's preview for Season 12, episode 18, shows Shannon lashing out at Peggy Sulahian. According to the episode synopsis, tensions will flare after Peggy "reveals a secret video to Lydia [McLaughlin ]" after being "hurt by Kelly's [Dowd] words." The video, as the preview shows, seems to be an attack against fellow castmate Meghan King Edmonds.
"How dare you do that to her?" Shannon yells at Peggy.
While it is unclear what Peggy recorded, Megan is also shown upset by Peggy's actions. "What are you talking about?" Megan asks her in the teaser. The Season 12 promo, posted above, also shows an additional scene from the fight.
Catch "Real Housewives of Orange County" Monday, Nov. 6, at 9 p.m. on Bravo.
© Copyright IBTimes 2023. All rights reserved.