Winter Storm Forecast: Stella's Path Could Bring Worst Conditions To Northern New England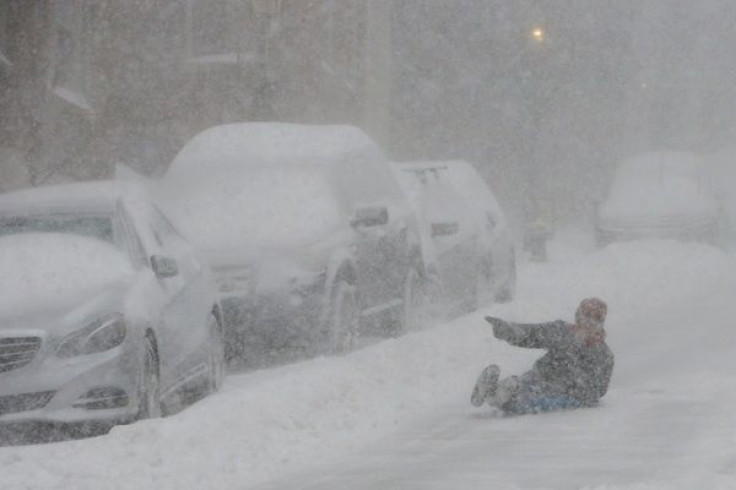 The worst of Winter Storm Stella is expected to fizzle out by early Wednesday, but the storm won't end before beating down on Northern New England. The snow storm, which has already brought over a foot of snow to areas in New York, Pennsylvania and Massachusetts, is expected to bring the worst conditions to Northern New England Tuesday.
Blizzard warnings will remain in effect for certain areas of Maine and New Hampshire until about 5 a.m. Wednesday.
Read: New York, Massachusetts And Other States Forecast To Get 12 Inches Of Snow
In Maine, 18 to 24 inches of snow is expected to accumulate before the storm's end in Portland, while interior areas of the state including Sanford and Hollis could see between 18 and 24 inches of snow, National Weather Service Gray office corespondent Tom Hawley warned residents. Forty to 45 inches of snow was forecast to drop on areas surrounding Maine's coastline.
Meanwhile, in Vermont, storm warnings have been issued in Burlington until 8 p.m. Wednesday night, according to reports. Areas of the state could see as much as 24 inches of snow.
Heavy snowfall will continue throughout the afternoon and evening in areas of Massachusetts, including Great Barrington, Pittsfield, Amherst, Greenfield, and North Adams, which could see between 18 and 30 inches of snowfall.
Although snowfall dropped at a rate of two inches per hour in Harrisburg Pennsylvania and one inch per hour in New York City, rates are expected to increase throughout Tuesday, with some areas of Northern New England seeing as much as four inches of snowfall per hour by Tuesday night.
Read: Storm Stella Could Shatter Records
Bands of heavy snow is expected to continue across New England for most of Tuesday night. However, by the following day, conditions will reportedly ease up. Swatches of lighter snowfall and strong winds are still expected in some Northeast areas Wednesday, The Weather Channel reported, but the worst of the storm will pass overnight.
As the winter storm heads eastward out into the Atlantic, cold conditions will continue in Northeast, however, snowfall is expected to discontinue by Thursday.
© Copyright IBTimes 2023. All rights reserved.
FOLLOW MORE IBT NEWS ON THE BELOW CHANNELS