Winter Storm Juno: Hundreds Of Flights Cancelled As Blizzard Threatens Northeast With 'Historic' Storm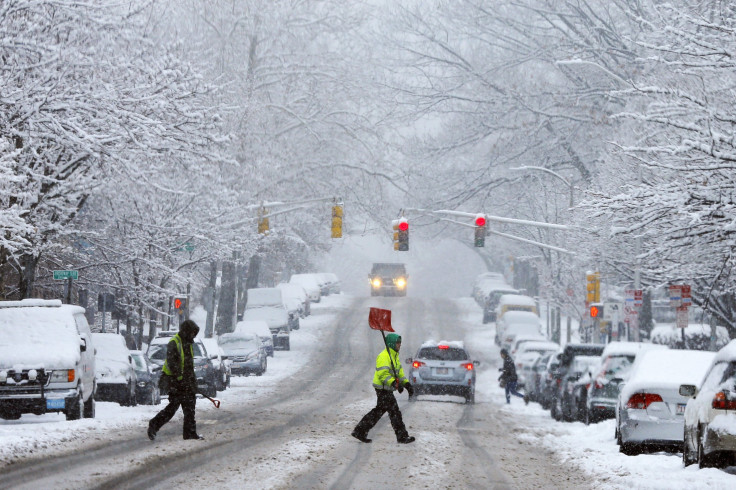 Hundreds of flights in the Northeast have been cancelled ahead of a "crippling and potentially historic storm" expected to hit the region on Monday afternoon. Winter Storm Juno is reportedly predicted to drop nearly 2 feet of snow in the region on Monday and Tuesday, and has prompted blizzard warnings for a 250-mile stretch, including New York City.
More than 1,400 flights were cancelled Monday, while another 1,000 flights were expected to be cancelled on Tuesday in the region, media reports said. United Airlines also reportedly cancelled all its flights Tuesday from the Newark, LaGuardia, Boston and Philadelphia airports ahead of the blizzard. The National Weather Service estimated that nearly 29 million people will be affected by the blizzard warning, and the worst effects of the storm are predicted to be seen from late Monday through Tuesday night.
"Very highly populated areas of the Northeast are going to get crushed with snow," Tom Moore, coordinating meteorologist for The Weather Channel, said according to NBC News. "Everywhere ... you're going to get hit very hard by this storm."
In New York City, Mayor Bill de Blasio reportedly said Sunday that "this could be the biggest snowstorm in the history of this city," and "my message for New Yorkers is prepare for something worse than we have ever seen."
New York Gov. Andrew Cuomo urged commuters to stay indoors on Monday as there could be transportation disruptions due to white-out conditions.
"New York State is taking all necessary precautions to prepare for this storm, and I urge residents to put safety first and plan ahead to protect themselves and others throughout the duration of this snowstorm," Cuomo reportedly said, in a statement.
In Massachusetts, officials reportedly warned that the winter storm would likely be "destructive," and that wind gusts could reach 70 miles an hour in coastal areas.
Boston is reportedly expected to receive 18 to 24 inches of snow, while Philadelphia could see 14 to 18 inches, the weather service said, according to Fox News.
© Copyright IBTimes 2023. All rights reserved.