Wisconsin governor prepares layoffs amid standoff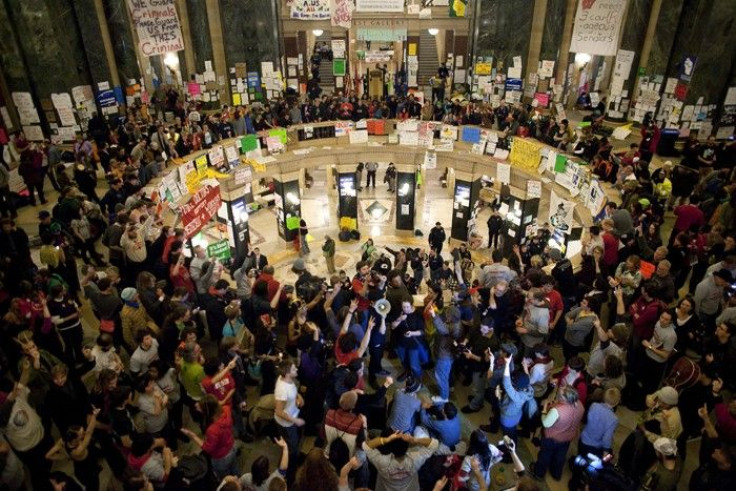 A frustrated Wisconsin Governor Scott Walker was poised on Friday to issue layoff notices to 1,500 state workers, blaming the move on a two-week standoff over his bill to curb union collective bargaining rights.
The threat of layoffs increased the stakes in a bitter battle between Wisconsin Republicans and Democrats, a fight being watched around the nation as other states like Ohio and Indiana weigh rolling back public employee union power as part of budget-cutting efforts.
Republican Walker told reporters late on Thursday that extremist elements among 14 absent senate Democrats had blocked progress in negotiations on his budget repair bill.
Just when we think the process is moving forward, we see no action, Walker said. We're frustrated.
The Democratic senators fled to Illinois two weeks ago to deny majority Republicans a quorum and a vote on the bill, and behind-the-scenes negotiations have failed to produce a compromise. Just one Democrat is needed for a quorum.
Walker said some of the absent Democrats, who have been threatened with $100-a-day fines and the prospect of being taken into custody if they return to Wisconsin, appear willing to stay away not only for several more months, but potentially the next two years.
With no action expected on the bill, Walker said he will be forced to send out layoff notices to 1,500 state employees, saving some $30 million.
The reality is, we shouldn't have to be going down the path of preparing for layoffs. Walker said.
The budget repair bill increases employee contributions to their pensions and health care and Walker said it provides tools for local governments to cut expenses, reducing the need for layoffs in the current fiscal year.
Earlier this week, Walker declared the state broke when he unveiled his proposed two-year $59.2 billion budget for fiscal 2012-2013, which eliminates more than 21,000 positions and cuts funding to education, cities and counties.
In an interview with Reuters Insider, Walker renewed his pledge not to back down on the controversial elements in his budget repair bill. Those include eliminating most collective bargaining rights for public sector unions and requiring a yearly vote of membership to recertify the unions.
The stalemate has held up a proposed debt restructuring that Walker's administration has estimated would save $165 million. Democrats have said Walker is bluffing on the urgency of the debt refinancing.
If they (Democrats) came back tomorrow, for example, we'd still try and see if we could talk to our bank and see if we could push this (refinancing) forward because it's much better than losing $165 million in savings, Walker said.
The Capitol has been besieged by pro-union protesters, some camping out in the stately building, though the last group left late on Thursday after a Wisconsin judge ordered them out to allow cleaning crews to do their work.
Protesters claimed victory in the case, as Wisconsin Judge John Albert said authorities cannot deny the public access to the Capitol building. After business hours, people must leave or be in violation of state law, the judge ruled. (Additional reporting by James Kelleher and Karin Matz; Writing by Andrew Stern; Editing by Jerry Norton and Anthony Boadle)
© Copyright Thomson Reuters 2023. All rights reserved.