Wisconsin Protests: Statues Torn Down, State Senator Hospitalized After Chaotic Night In Madison
KEY POINTS
Tuesday's protests were in response to the arrest of local Black activist Devonere Johnson at a restaurant where he was yelling at customers with a bullhorn and armed with a baseball bat
Protests turned chaotic shortly after starting, resulting in multiple statues being pulled down outside the Capitol building and the assault of a Democratic state senator
Wisconsin Gov. Tony Evers condemned the chaos and said he was ready to deploy the National Guard to protect state property if a similar protest takes place
A chaotic night of protests in Madison, Wisconsin, left a state senator hospitalized as protesters pulled down statues outside the state's capitol building. Wisconsin Gov. Tony Evers spoke about the chaos during a press conference Wednesday.
"What happened in Madison last night presented a stark contrast from the peaceful protests we have seen across our state in recent weeks, including significant damage to state property," Evers said. He then said the National Guard would be deployed to protect state property from protesters if necessary.
Tuesday's protests were prompted by the arrest of Devonere Johnson, 28, a Black man and local activist, outside a restaurant. He previously organized a protest in Madison on June 13 as part of the first wave of Black Lives Matter protests after the death of George Floyd in Minneapolis.
Johnson was seen walking in and out of the restaurant with a baseball bat and bullhorn, saying he followed a man inside who was allegedly a racist. He reportedly started yelling about racism and police before officers arrived to take him into custody. Johnson was later arrested for disorderly conduct while armed. However, he attempted to escape the squad car he was in, resulting in additional charges of resisting arrest and attempted escape.
Police said a group of 200 to 300 protesters gathered hours later, marching on the capitol building and chanting for Johnson's release. However, some of the protesters turned violent shortly after it began, smashing lights and windows at the Capitol. One allegedly threw a Molotov cocktail into a city-county building, but it reportedly caused only minimal damage.
During the protests, Democratic State Sen. Tim Carpenter was assaulted while taking a short video of the march.
Carpenter said he was heading to the Capitol building when he happened upon the protests and stopped to take a picture. He said the protesters began yelling at him when they saw him and at least two ran up to confront him, asking him to stop recording. One allegedly tried to take his phone, forcing Carpenter to resist before he was repeatedly struck by the protesters confronting him.
"I don't know what happened ... all I did was stop and take a picture ... and the next thing I'm getting five-six punches, getting kicked in the head," Carpenter told the Milwaukee Journal Sentinel.
Gov. Evers shared his anger over the alleged assault on Twitter.
The night was punctuated by the protesters pulling down several statues around the Capitol building in Madison. One of the most notable was a statue of abolitionist and Civil War Union Col. Hans Christian Heg, known as the "Forward" statue for its design and the state motto. The head and body of the statue were tossed into nearby ponds while the base of the statue was tagged with phrases in support of Black Lives Matter.
One of the protesters explained why the statue of Heg was pulled down.
"We're not moving forward, we're moving backwards," resident and protester Ebony Anderson-Carter told Madison CBS-affiliate WISC. "This (statue) doesn't need to be here until we're ready to move forward."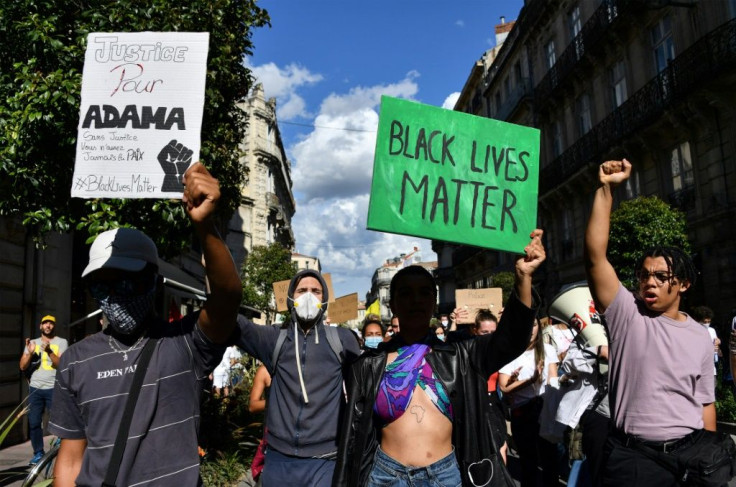 © Copyright IBTimes 2023. All rights reserved.