'Witches Of East End' Season 2 Spoilers: Comic-Con Poster Released; 5 Spooky And Sexy Things We Learned From SDCC 2014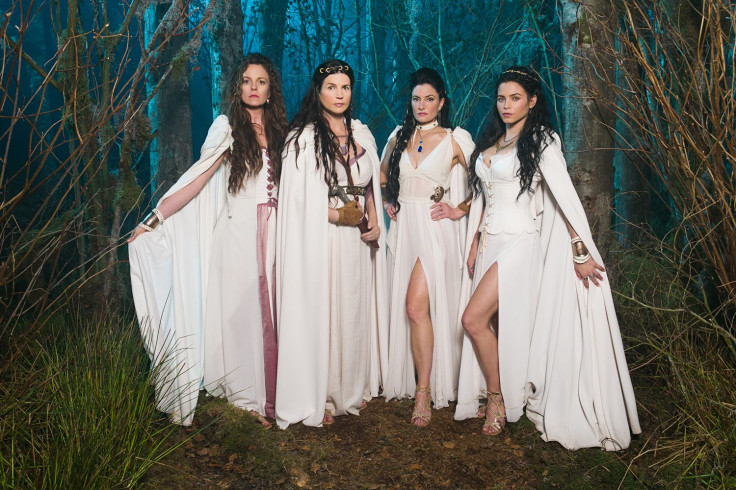 Our favorite witches and warlocks from the spooky Lifetime drama, "Witches of East End," put a spell on Comic-Con attendees during their 2014 SDCC panel held on Thursday, July 24. This marked the first time a Lifetime series appeared at the prestigious event – and boy, did that make a good first impression.
So, which witch made their supernatural debut at the panel? Well, according to reports, not only did the entire Beauchamp coven (Julia Ormond, Jenna Dewan-Tatum, Rachel Boston, Madchen Amick) ride their brooms into SDCC but so did both Gardiner brothers (Eric Winter, Daniel DiTomasso) and the show's executive producers (Richard Hatem, Maggie Friendman).
During the Comic-Con panel for "Witches of East End" the cast and crew divulged Season 2 secrets in addition to participating in an audience Q&A. Attendees were also given a first look at the show's seriously chilling Season 2 poster: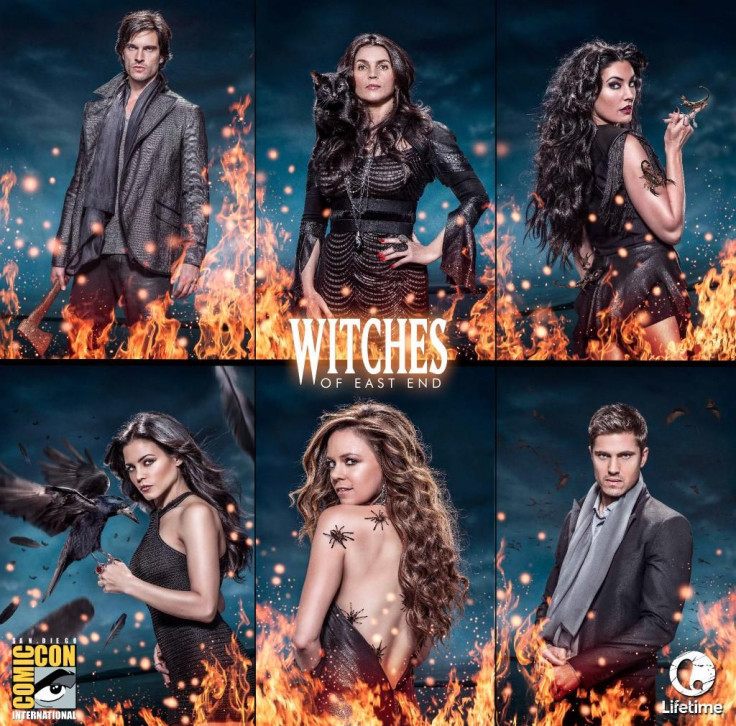 Fire and spiders and axes! Oh My! We guess it's safe to say the remainder of Season 2 is going to be pretty dramatic. And to bolster that statement here are 5 fun things we learned about Season 2 of "WOEE" from the 2014 SDCC:
1. Death comes to East End: Fans have been on pins and needles since the tarot card of "Death" was pulled. And now we may finally find out the meaning behind this spooky reading. Friendman teased that "some beloved characters will be with us no more" as Season 2 progresses. Any guesses of who she might be talking about?
2. Who Knew Monsters Could Be Sexy?: Friedman revealed to fans that the mysterious creature we met in the Season 2 premiere is the show's "new, sexy monster," called "Mandragora."

"We wanted to create a new kind of monster, which I think we did," Friedman explained. In episode 5 fans will learn just where this monster came from and what it's doing in East End.
3. Frillian-loves, Rejoice!: Good news for fans of Freya and Killian – our favorite, witchy couple will rekindle their love somewhere down the line of Season 2.
"It's coming," Dewan-Tatum teased. "Oh wait, can I say that?" We're not sure but we're certainly glad you did! What does this mean for the island beauty – not to mention Killian's current wife – Eva? Will she be the one to meet her demise?
4. Flashback City: Friedman told the audience that Season 2 of "WOEE" is going to "explore some past lives" and from that we'll learn "some interesting history of the Beauchamp family." Maybe we'll even find out who "The Gatherer" is!

During these flashbacks, viewers will even get to meet a famous American author. Hint: He's responsible for writing the supernatural classic, "The Raven." We'll let the irony sink in...
5. Darkness – And Apparently More Sex – Is Rising: Amick revealed that her character Aunt Wendy is going to have some steamy scenes with her newest love interest, Tommy the EMT.

"There's a new tomcat on the prowl," she teased, adding that "he may know how to pet a kitty."
What Season 2 spoiler are you most excited for? Is it Frillian or perhaps it's the wild flashback scenes? Sound off in the comments section below!
© Copyright IBTimes 2023. All rights reserved.