Withings ScanWatch Horizon Hands-on Review: A Health Monitor for Watch Lovers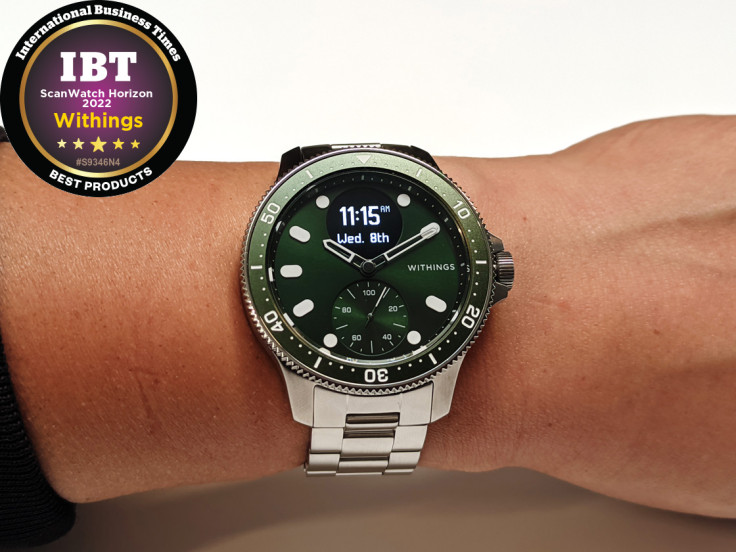 For those who have never heard of the term 'double wristing', it is the practice of wearing a watch on each wrist - typically an automatic and a smartwatch, and it's the very display of the struggle of watch lovers in the 21st Century. How can someone have both the beauty and engineering marvel of an automatic watch, as well as having the modern functionality of smartwatches? For some, the bizarre and arguably tacky solution is to be wearing two watches at the same time.
As we have covered in our review series, Withings, the French health-related consumer electronics company has already blown us away with the beautifully made smart timepieces Steel HR and ScanWatch. It has this year released the ScanWatch Horizon - essentially a Diver Watch version of the ScanWatch. Could this be the solution for those who are reluctantly double wristing as well as others in pursuit of both traditional timepieces and up-to-date connected watches? Let's dive in to find out.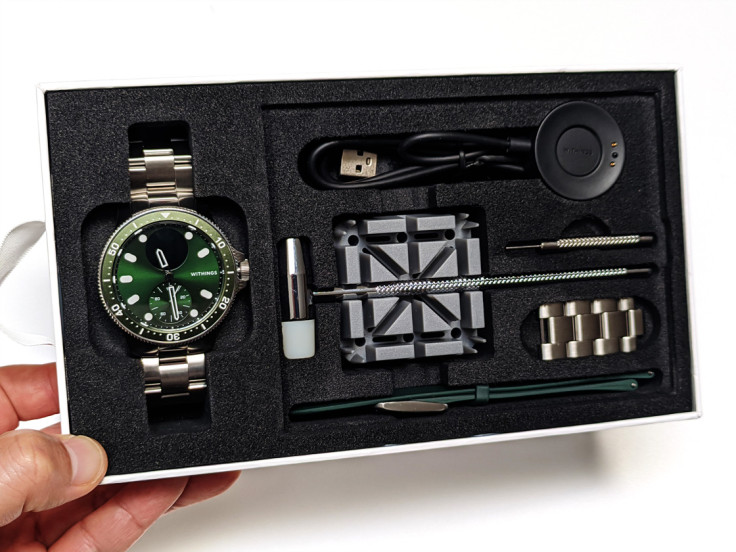 Exquisite Package
The first thing to note about the ScanWatch Horizon is the strong accessory game it has, which creates a strong psychological impression that you've just bought a watch and not just a smartwatch. When opening up the ScanWatch Horizon for the first time, different from the previous Withings watches, the presentation resembles a watch roll. Next to the timepiece you get a manual link removing kit, which includes a miniature mallet, pin and a watch band holder.
Withings could have easily included a simple watch band link remover, but the included kit is so much more tasteful and exciting for watch lovers. Seeing the USB charging puck next to the manual link removing kit, you know you're in for something special - a unique blend between the traditional horology and new wearables technology.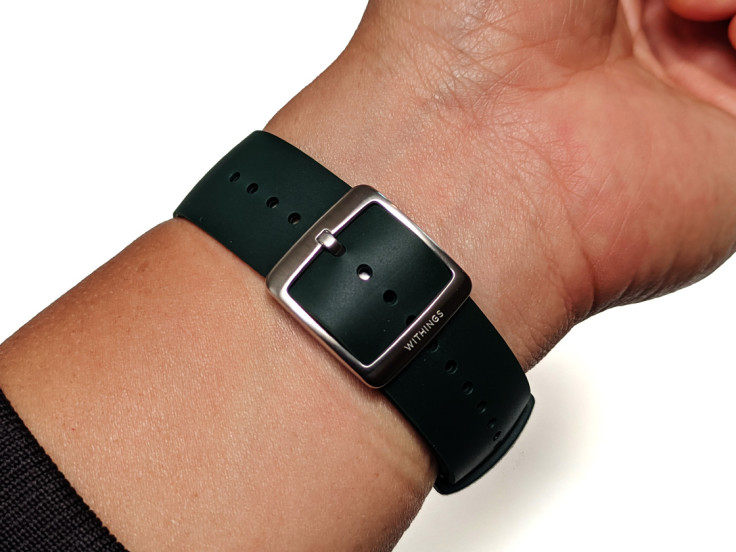 Included is also a fluoroelastomer sport band that can be used instead of the oyster metal band. It's worth noting that both bands have quick releases, so you won't be needing to fiddle around with a springbar remover. The sports band is even in the color that matches the watchface and bezel, which coming from the manufacturer itself, creates a color match that would be hard to replicate with a third-party strap.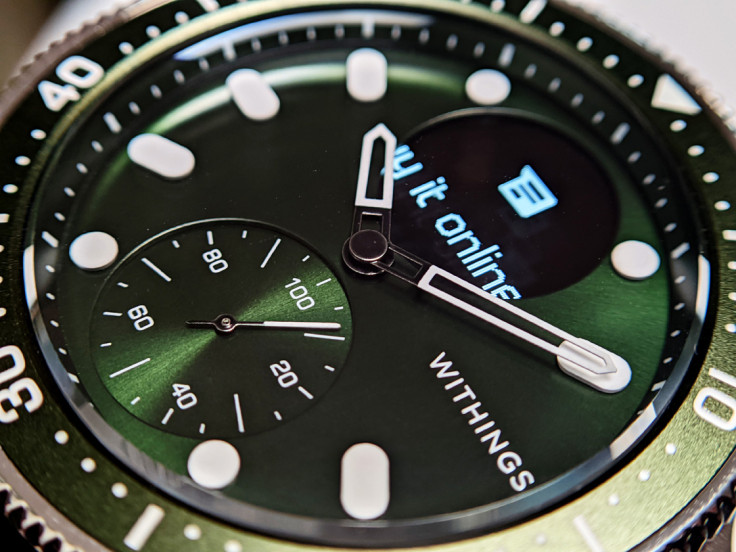 A Full Fledged Diver Watch
When the PMOLED screen is not toggled on, most people would mistake the ScanWatch Horizon for an automatic diver watch - and a handsome one at that with many details that watch lovers would appreciate.
The green brass watchface has a subtle sunburst effect, coupled with a separate sunburst pattern on the activity subdial. This is then matched with the anodized bezel insert in a matching tone.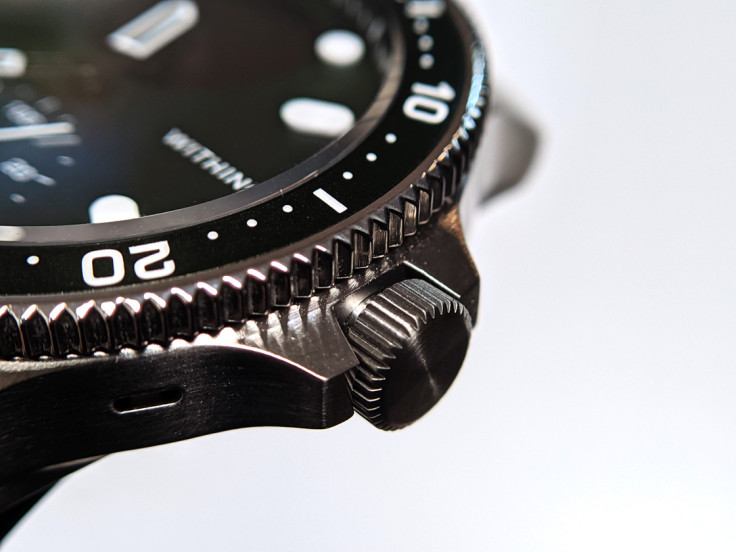 One of the highlights of the ScanWatch Horizon is the polished stainless steel rotating bezel, and it's made indistinguishable from high end automatics in terms of quality. Beneath it is the 316L stainless steel case that's rated for 10 ATM (100 m) - doubling what the ScanWatch is rated for. This is a watch you can actually take diving.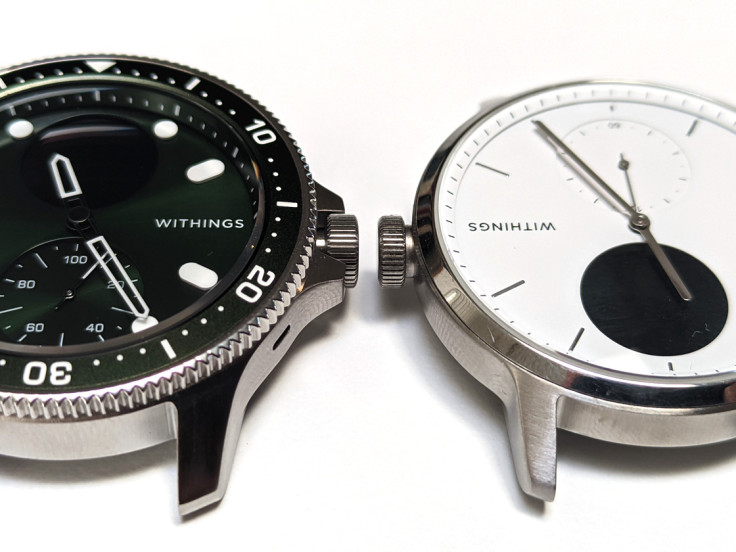 For those who love diver watches yet are worried about how large and bulky they are, the ScanWatch Horizon is actually not as unwieldy as typical divers. In fact, it's not even much larger than the original 42mm ScanWatch which looks smaller due to its domed profile. When placed side-by-side, the ScanWatch Horizon actually appears exactly the same size as its predecessor, and actually comes in weighing 11 grams lighter.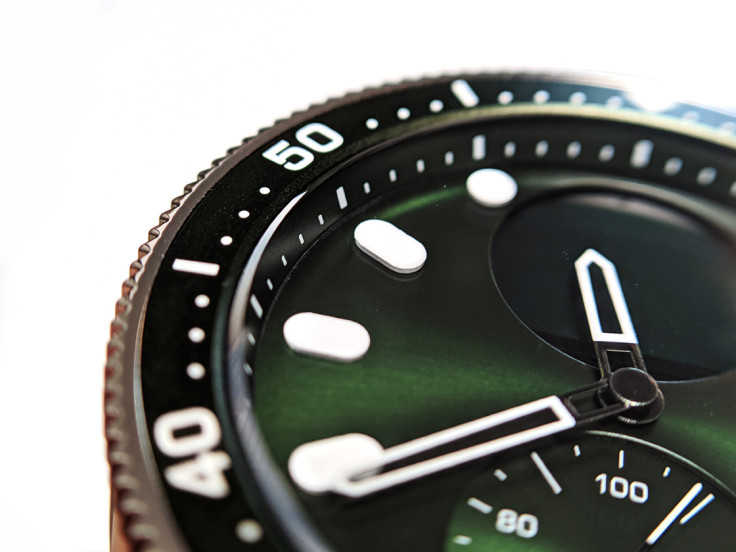 I'm a big fan of the watch hand design of the ScanWatch Horizon, skeleton pencil style hands. The skeleton style not only looks great, has great readability, its thin lines also helps with not obstructing the view of the PMOLED screen when they are over the display.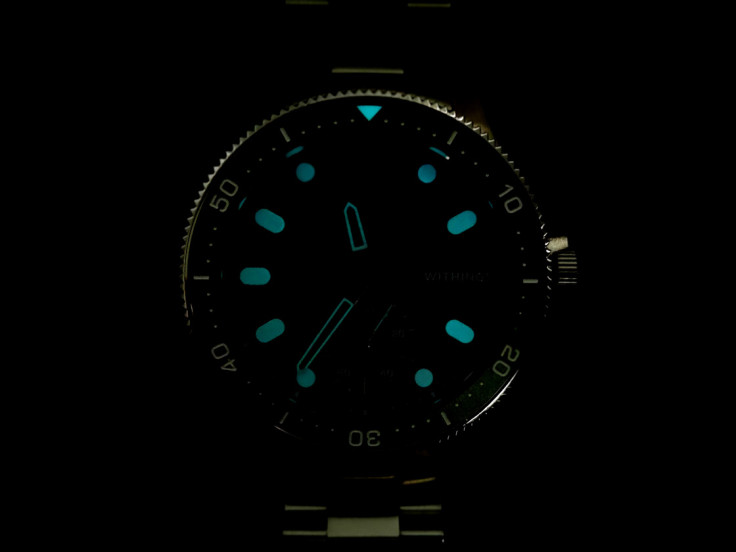 Luminova hands and indices are also what sets the ScanWatch Horizon apart from the original. There is also lume applied to the reverse triangle 12 o'clock marker on the bezel, as well as the activity hand. The 2, 4, 8, 9, and 10 indices are pill shaped and made of stainless steel. White under light, and being coated in Luminova, they offer a secondary way to read time in the dark other than the PMOLED display.
Overall the ScanWatch Horizon from a purely watch perspective is both aesthetically gorgeous and original, not to mention having very real diver watch functionality and readability. Personally, this is a watch that I would wear daily even if it's not a smartwatch.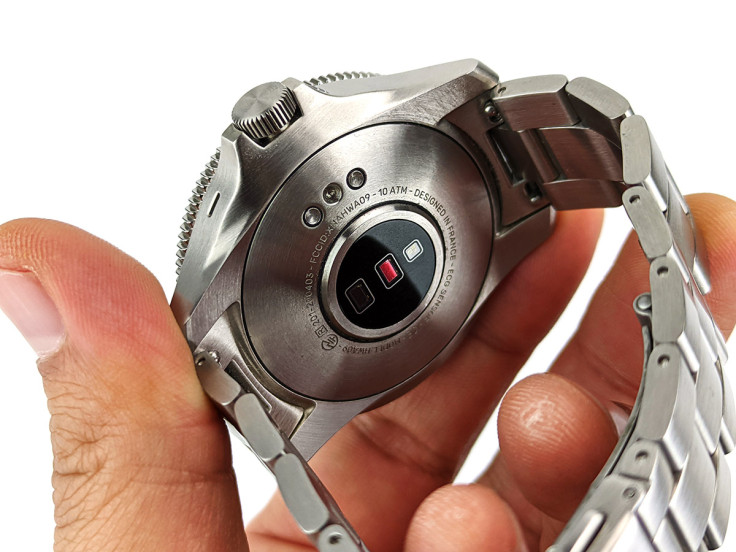 Smartwatch at its Core
Despite having the appearance and functionality of a diver watch, the ScanWatch Horizon is fundamentally a smartwatch at its core. And before traditional watch lovers roll their eyes at this, I would argue that this actually plays in ScanWatch's favor as a timepiece.
Anyone who travels often between time zones would understand the pain of keeping track of multiple time zones, and watch lovers would usually go for a GMT watch so that they wouldn't need to adjust their watch. With the ScanWatch Horizon, all that needs to be done is a quick sync with the Health Mate App, and the time automatically matches your phone - no adjustments needed at all.
Other than that, the ScanWatch Horizon is essentially identical when it comes to its smart functionalities as the ScanWatch. It boasts clinically Heart Rate monitoring, as well as ECG and medical grade SpO2 readings, all the functions that people usually buy a Withings product for.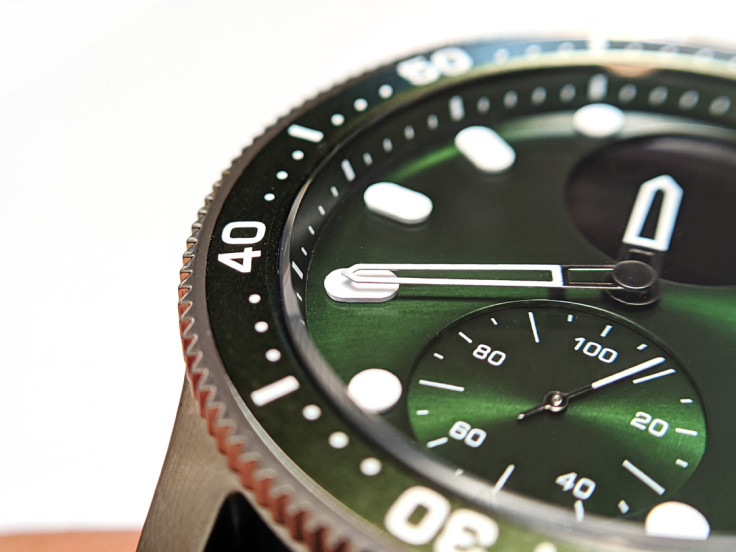 It is also an activity tracker for different exercises, most prominently the analogue activities subdial that displays constantly the amount of exercise you have done for the day as a percentage in relation to your daily goal. This is something that I check and keep track of everyday, more than any other fitness trackers that I have used before, because of the simple summary that it gives, letting me know everyday whether I'm as active as I aim to be.
Health Mate App Connectivity
What amalgamates all Withings products is the Health Mate App, which not only allows the user to have a higher degree of control over each gadget, but also constantly monitors and records various health attributes over time.
The ScanWatch Horizon joins the ecosystem of health monitoring devices from Withings, and just as the ScanWatch tracks and records activity level, heart rate and blood O2 level etc, the diver watch version does the same.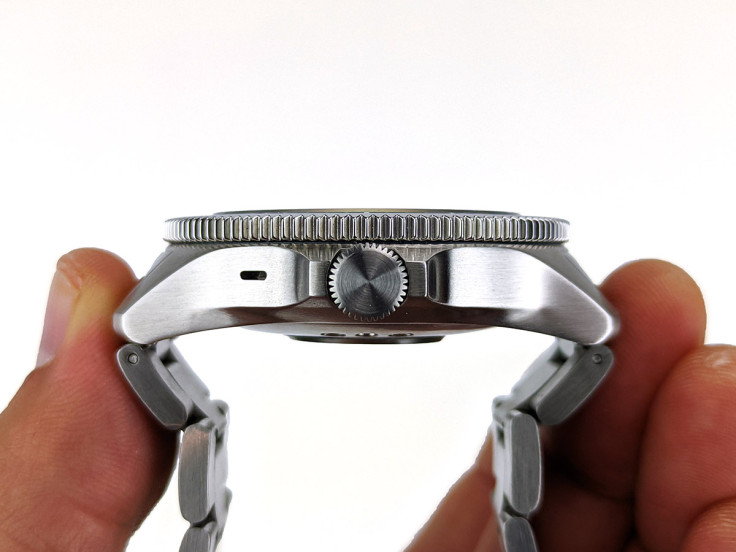 Final Verdict
There must have been countless watch lovers who have been waiting for a smartwatch that is also a full fledged stainless steel diver watch. With the Withings ScanWatch Horizon, the wait is over. The beautifully crafted 43 mm timepiece is virtually indistinguishable from other high-end diver watches, from the rotating bezel, to the sapphire lens, to the exquisitely made watch face, to the oyster bracelet. The only clue that this is not an automatic watch is the circular PMOLED screen and the sensors and electrodes on the back of the watch.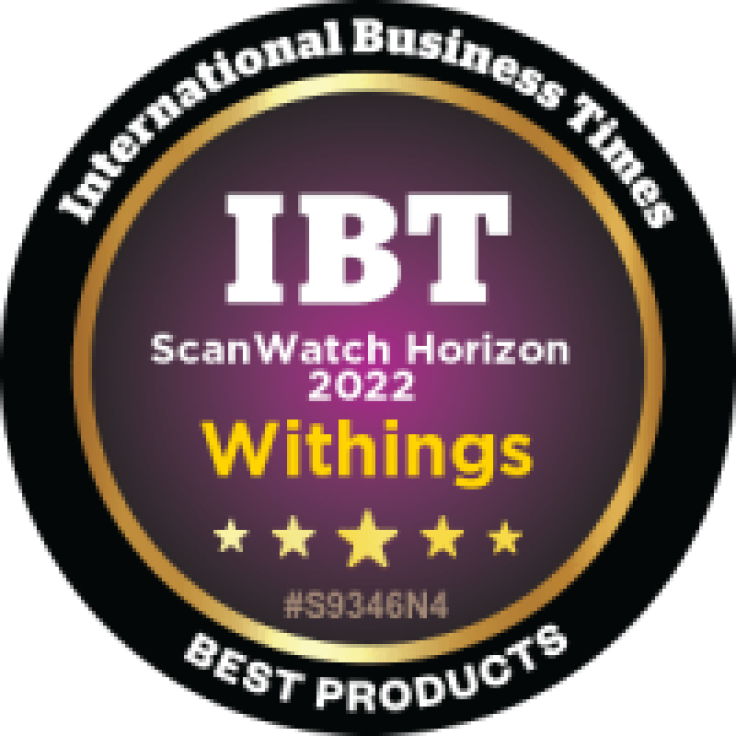 If you're after a watch that has all the perks of a connected watch like call and message notification, time synchronization, fitness and health monitoring, that is built as a stainless steel diver watch and can be worn with a suit without cramping your style, the Withings ScanWatch Horizon is the best candidate that we have reviewed so far. We're awarding it with the IBTimes Best Product badge.
David is a tech enthusiast/writer who is often on the move and is on a mission to explore ways to make his overhaul flights more enjoyable. This is a contribution to an ongoing IBTimes review series on gadgets for Business Travelers.
© Copyright IBTimes 2023. All rights reserved.
FOLLOW MORE IBT NEWS ON THE BELOW CHANNELS