Women's March 2019: Thousands Take To Streets, As Alexandria Ocasio-Cortez, Kirsten Gillibrand Talk Issues
Demonstrations kicked off across the country Saturday for the third annual Women's March. The march took place in nearly 300 locations, in highly populated cities like New York, Chicago and Houston, as well as smaller towns like Wilkes-Barre, Pennsylvania, and Rapid City, South Dakota.
Amid nationwide frigid temperatures, this year's march is expected to draw considerably lower demonstrators compared to the first march in 2017, which drew between 3.2 million and 5.2 million — a record turnout for a demonstration. In Minneapolis, Minnesota, temperatures were expected to dip below -4 degrees. A snowstorm is expected in Burlington, Vermont, where temperatures were at -5 degrees.
The 2017 march was held the day after President Trump's inauguration, drawing mass protests.
Organizers said it would be difficult to estimate this year's turnout based on the high number of participating cities.
The Women's March is intended to promote women's rights and inclusivity. According to Women's March Los Angeles Foundation's official website, the march's mission is "ending violence, protection of reproductive rights, LGBTQIA rights, workers' rights, equal pay for equal work, civil rights, disability rights, immigrant rights, indigenous people's rights and environmental justice."
This year's march was held amid the longest government shutdown in U.S. history and following the polarizing appointment in October of Judge Brett Kavanaugh to the Supreme Court after sexual misconduct allegations.
Sen. Kirsten Gillibrand, a Democrat from New York, who earlier this week announced she is running for president, condemned anti-Semitism amid reports that three of the march's original organizers justified their support for Nation of Islam leader Louis Farrakhan.
"We know there is no room for anti-Semitism in our movement. We know this," Gillibrand told a crowd in Des Moines, Iowa. "We know that our movement is empowered when all of us lift each other up."
Gillibrand's communications director Meredith Kelly issued a statement that Gillibrand "will not turn her back on the thousands of Iowa women who are joining this locally organized march to advocate for the issues that deeply impact them and their families."
Rep. Alexandria Ocasio-Cortez, a newly elected Democrat from New York, spoke at a rally in Manhattan.
"Last year we brought the power to the polls, and this year we need to make sure that we translate that power into policy," Ocasio-Cortez told a crowd in Columbus Circle. "That means we will not let anyone take our rights away. In fact, we will expand them."
The Women's March has also gained traction in Europe with demonstrations in about 10 cities. There were also marches in Tokyo and Kabul, Afghanistan, according to the Women's March official website.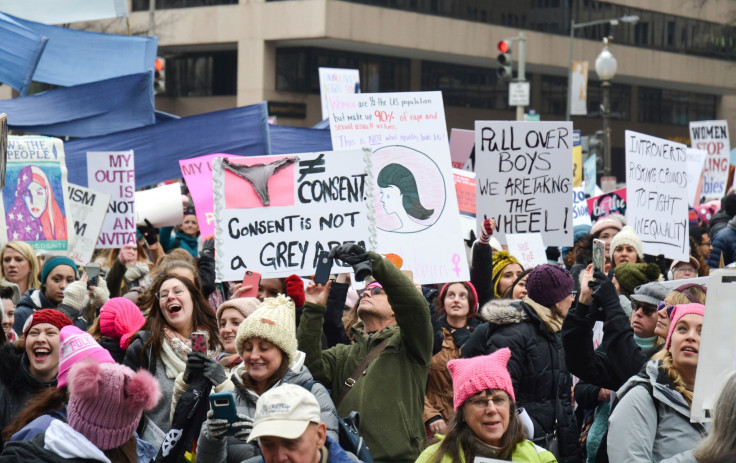 © Copyright IBTimes 2023. All rights reserved.
FOLLOW MORE IBT NEWS ON THE BELOW CHANNELS