Women's March On Washington 2017: How To Attend Trump Inauguration Protest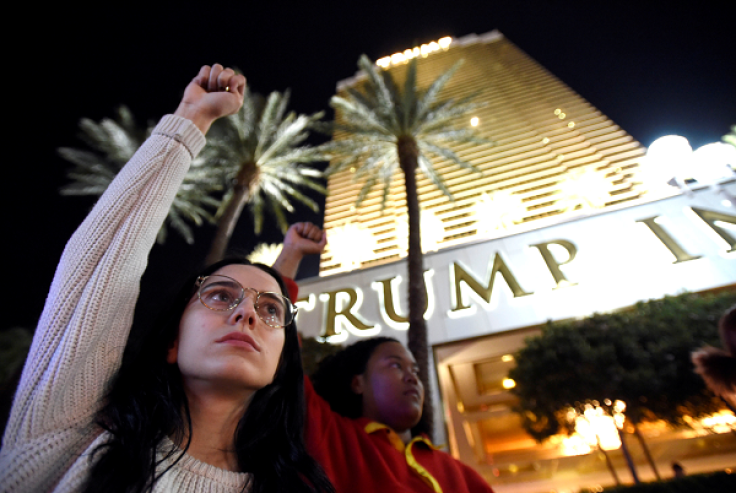 Hundreds of thousands of people will flood the streets of Washington, D.C. one day after President-Elect Donald Trump gets sworn into office for the Women's March on Washington, including a slew of celebrities. Organizers of the march, which will take place on Saturday, Jan. 21, said several high-profile women who are involved in the arts have confirmed they will attend the march and protest the incoming president.
Chelsea Handler, America Ferrera, Unzo Aduba, Scarlett Johnansson, Debra Messing, Padma Lakshimi, Julianne Moore, Hari Nef, Yara Shahidi, Constance Wu, Olivia Wilde, Monica Ramen, Katy Perry, Cher, Danielle Brooks, Patricia Arquette and Zendaya are just a few of the female powerhouses to confirm they will be in attendance at the Women's March.
The march is aimed at unifying many groups who were offended by some of Trump's campaign rhetoric and those who are worried about how their needs will be met under his administration including women, immigrants, Muslims and other religious individuals, economically impovishered, disabled and the LGBTQ community. In a statement posted on the march's Facebook page, organizers said the protest is an effort to "send a bold message to our new administration on their first day in office, and to the world that women's rights are human rights."
"This march is the first step towards unifying our communities, grounded in new relationships, to create change from the grassroots level up. We will not rest until women have parity and equity at all levels of leadership in society. We work peacefully while recognizing there is no true peace without justice and equity for all," read the statement.
The march is free for all, however, participants are asked to RSVP on the Women's March on Washington's Eventbrite page. So far, over 170,000 people have RSVP'd on the group's Facebook page. The march will start at 10 a.m. at the Lincoln Memoria and will continue on to the White House, where the march will end at 5 p.m.
For those who are unable to attend the march in D.C., sister protests have been scheduled on the same day and time in cities all over the country including New York, Los Angeles and Chicago. For the full list of cities participating in Women's March in local areas, check HERE.
© Copyright IBTimes 2023. All rights reserved.