World Cup 2014 Betting Odds: Brazil, USA, Mexico, And Uruguay's Chances Of Winning The Championship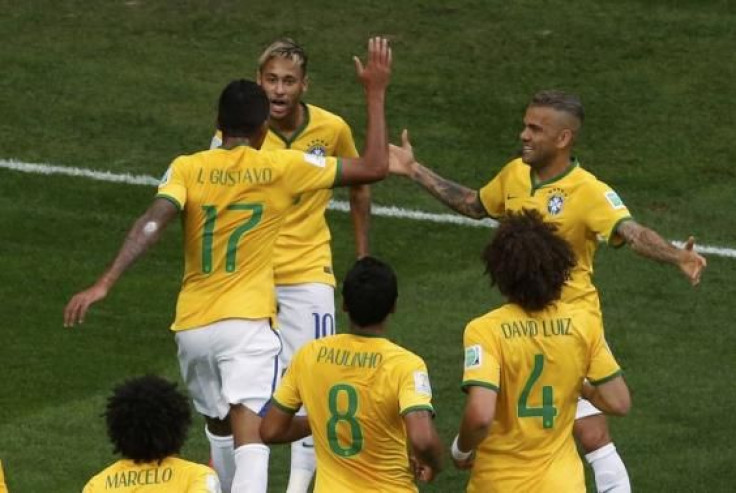 Only 16 teams have a chance to win the 2014 World Cup, following the conclusion of group play. As the Round of 16 is set to begin, most of the favorites to win the tournament have remained the same.
Brazil still has the best betting odds to win the championship, followed by Argentina and Germany. Teams like Spain and Italy, who were picked by some experts before the tournament started, have been eliminated.
Now that the field has been cut in half, more teams are considered legitimate contenders to win the World Cup, especially those that won their respective groups.
Below are the updated World Cup betting odds for all 16 teams, courtesy of Bovada.lv.
Brazil 3/1
The host nation has been the favorite since before the World Cup began. They tied Mexico, and outscored Croatia and Cameroon by a total of 7-2, on their way to winning Group A.
Argentina 4/1
Lionel Messi helped lead his team to a perfect record in group play, scoring four goals. Argentina won each match by one score.
Germany 4/1
Germany won the "Group of Death," finishing alone in first place with seven points in the standings. They had one of the most dominant wins of group play, defeating Portugal 4-0 in their opener.
Netherlands 7/1
Led by Robin van Persie's three goals, the Netherlands went undefeated in Group B. They began the tournament with a stunning 5-1 victory over Spain and haven't looked back since.
France 8/1
Eight goals in their first two matches sent France into the knockout round. In the Round of 16, they've drawn the team with the worst betting odds in the entire field.
Colombia 16/1
It might be hard to find a team that had an easier time advancing to the next round. Colombia won Group C with three victories, ending the stage with a goal differential of plus-7.
Belgium 20/1
Belgium won Group H by five points, though all of their matches were decided by just one goal. They allowed one score in three games.
Mexico 25/1
Even though Mexico didn't win their group, they held their own against Brazil. Mexico tied the tournament favorites in their head-to-head match, and ended the group stage with seven points in the standings.
Costa Rica 40/1
Costa Rica was the biggest longshot to make it to the next round. They left group play with two victories and one tie, after being expected to finish fourth in Group D.
Uruguay 40/1
Uruguay could have made a run in the tournament after getting six points in the group stage, but that seems far more unlikely, following Luis Suarez's suspension. He won't play for the rest of the tournament, after biting Italy's Giorgio Chiellini.
USA 50/1
The United States has cut its championship odds in half, since the start of the tournament. The U.S. wasn't expected to survive Group G, but a win over Ghana and a draw with Portugal has kept their World Cup hopes alive.
Greece 100/1
Despite having a negative goal differential, Greece was able to finish second in Group C. A somewhat surprising win over Ivory Coast and a matchup with Costa Rica have added to the Greeks good fortune.
Switzerland 100/1
Two wins weren't enough to convince the oddsmakers that Switzerland has a chance to do much for the rest of the tournament. They face heavy-favorite Argentina in the Round of 16, and should the Swiss somehow pull off an upset, they will face the winner of Belgium - USA. It's a tall order for a nation that was thumped by France, 5-2.
Algeria 200/1
Algeria surprised more than a few people by reaching the Round of 16. It's the first time in history that the nation has made it to the knockout stage of the World Cup. The Desert Foxes will be heavy underdogs against Germany.
Nigeria 200/1
Nigeria's one victory over Bosnia-Herzegovina was enough to get them out of group play, but they have virtually no chance to win the tournament. A Round-of-16 date with France is expected to end their World Cup hopes.
© Copyright IBTimes 2023. All rights reserved.