World Cup 2014: TV Schedule, Live Stream Info And Preview For This Summer's Tournament In Brazil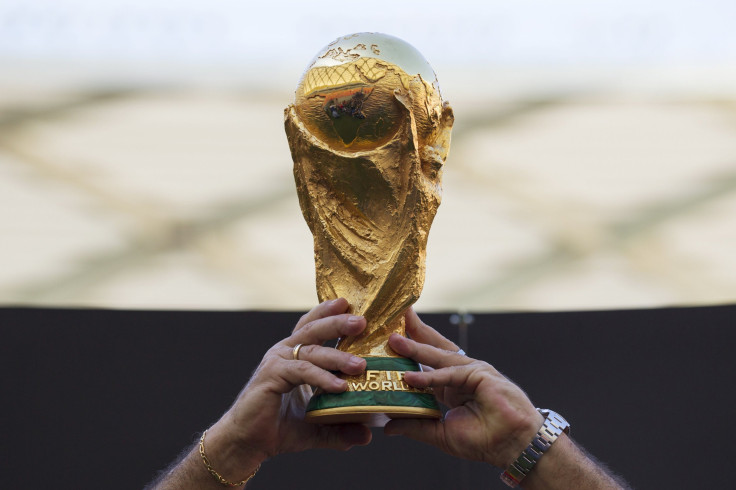 The kickoff of the World Cup is now less than 48 hours away, with hosts Brazil taking on Croatia in the opening match of soccer's biggest event.
It will be the first time that the spiritual home of the world's game, certainly its most beautiful version, will host the event since 1950. There is huge pressure on the team, led by Barcelona star Neymar, to go one better than they did 62 years ago when they were defeated by Uruguay in the final game -- a loss that still haunts the nation to this day. Brazil face stiff competition, though, with Spain looking to become the first country since Brazil in 1962 to retain the World Cup, while an Argentina squad led by Lionel Messi and a strong Germany team are also considered frontrunners.
The good news for fans in the United States is that there will be unprecedented access to the event. Between them, ESPN, ESPN2 and ABC will have live coverage of all 64 matches. Adding further accessibility to their coverage, every match will also be available to be live streamed via ESPN3 -- which will carry the matches in multiple languages and from multiple camera angles -- Watch ESPN and Watch ABC. If you don't have the authentication to watch via ESPN online, a free live stream of every match can be viewed on Univision's website.
Here's the full schedule of matches and where to watch them:
Thursday, June 12
Group A: Brazil Vs. Croatia, 4 p.m. ET, Sao Paulo (ESPN)
Friday, June 13
Group A: Mexico Vs. Cameroon, noon, Natal (ESPN2)
Group B: Spain Vs. Netherlands, 3 p.m., Salvador (ESPN)
Group B: Chile Vs. Australia, 6 p.m., Cuiaba (ESPN2)
Saturday, June 14
Group C: Colombia Vs. Greece, noon, Belo Horizonte (ABC)
Group D: Uruguay Vs. Costa Rica, 3 p.m., Fortaleza (ABC)
Group D: England Vs. Italy, 6 p.m., Manaus (ESPN)
Group C: Ivory Coast Vs. Japan, 9 p.m., Recife (ESPN)
Sunday, June 15
Group E: Switzerland Vs. Ecuador, noon, Brasilia (ABC)
Group E: France Vs. Honduras, 3 p.m., Porto Alegre (ABC)
Group F: Argentina Vs. Bosnia-Herzegovina, 6 p.m., Rio de Janeiro (ESPN)
Monday, June 16
Group G: Germany Vs. Portugal, noon, Salvador (ESPN)
Group F: Iran Vs. Nigeria, 3 p.m., Curitiba (ESPN)
Group G: USA Vs. Ghana, 6 p.m., Natal (ESPN)
Tuesday, June 17
Group H: Belgium Vs. Algeria, noon, Belo Horizonte (ESPN)
Group A: Brazil Vs. Mexico, 3 p.m., Fortaleza (ESPN)
Group H: Russia Vs. South Korea, 6 p.m., Cuiaba (ESPN)
Wednesday, June 18
Group B: Australia Vs. Netherlands, noon, Porto Alegre (ESPN)
Group B: Spain Vs. Chile, 3 p.m., Rio de Janeiro (ESPN)
Group A: Cameroon Vs. Croatia, 6 p.m., Manaus (ESPN)
Thursday, June 19
Group C: Colombia Vs. Ivory Coast, noon, Brasilia (ESPN)
Group D: Uruguay Vs. England, 3 p.m., Sao Paulo (ESPN)
Group C: Japan Vs. Greece, 6 p.m., Natal (ESPN)
Friday, June 20
Group D: Italy Vs. Costa Rica, noon, Recife (ESPN)
Group E: Switzerland Vs. France, 3 p.m., Salvador (ESPN)
Group E: Honduras Vs. Ecuador, 6 p.m., Curitiba (ESPN)
Saturday, June 21
Group F: Argentina Vs. Iran, noon, Belo Horizonte (ESPN)
Group G: Germany Vs. Ghana, 3 p.m., Fortaleza (ESPN)
Group F: Nigeria Vs. Bosnia-Herzegovina, 6 p.m., Cuiaba (ESPN)
Sunday, June 22
Group H: Belgium Vs. Russia, noon, Rio de Janeiro (ABC)
Group H: South Korea Vs. Algeria, 3 p.m., Porto Alegre (ABC)
Group G: USA Vs. Portugal, 6 p.m., Manaus (ESPN)
Monday, June 23
Group B: Netherlands Vs. Chile, noon, Sao Paulo (ESPN2)
Group B: Australia Vs. Spain, noon, Curitiba (ESPN)
Group A: Croatia Vs. Mexico, 4 p.m., Recife (ESPN)
Group A: Cameroon Vs. Brazil, 4 p.m., Brasilia (ESPN2)
Tuesday, June 24
Group D: Italy VS. Uruguay, noon, Natal (ESPN)
Group D: Costa Rica Vs. England, noon, Belo Horizonte (ESPN2)
Group C: Japan Vs. Colombia, 4 p.m., Cuiaba (ESPN)
Group C: Greece Vs. Ivory Coast, 4 p.m., Fortaleza (ESPN2)
Wednesday, June 25
Group F: Nigeria Vs. Argentina, noon, Porto Alegre (ESPN)
Group F: Iran Vs. Bosnia-Herzegovina, noon, Salvador (ESPN2)
Group E: Ecuador Vs. France, 4 p.m., Rio de Janeiro (ESPN2)
Group E: Honduras VS. Switzerland, 4 p.m., Manaus (ESPN)
Thursday, June 26
Group G: USA Vs. Germany, noon, Recife (ESPN)
Group G: Portugal Vs. Ghana, noon, Brasilia (ESPN2)
Group H: South Korea Vs. Belgium, 4 p.m., Sao Paulo (ESPN)
Group H: Algeria Vs. Russia, 4 p.m., Porto Alegre (ESPN2)
Round of 16
Saturday, June 28
Match 49: 1A Vs. 2B, noon, Belo Horizonte (ABC)
Match 50: 1C Vs. 2D, 4 p.m., Rio de Janeiro (ABC)
Sunday, June 29
Match 51: 1B Vs. 2A, noon, Fortaleza (ESPN)
Match 52: 1D Vs. 2C, 4 p.m., Recife (ESPN)
Monday, June 30
Match 53: 1E Vs. 2F, noon, Brasilia (ESPN)
Match 54: 1G VS. 2H, 4 p.m., Porto Alegre (ESPN)
Tuesday, July 1
Match 55: 1F Vs. 2E, noon, Sao Paulo (ESPN)
Match 56: 1H Vs. 2G, 4 p.m., Salvador (ESPN)
Quarterfinals
Friday, July 4
Match 58: match 53 winner Vs. match 54 winner, noon, Rio de Janeiro (ESPN2)
Match 57: match 49 winner VS. match 50 winner, 4 p.m., Fortaleza (ESPN)
Saturday, July 5
Match 60: match 55 winner Vs. match 56 winner, noon, Brasilia (ABC)
Match 59: match 51 winner Vs. match 52 winner, 4 p.m., Salvador (ESPN)
Semifinals, July 8 & July 9
Match 61: match 57 winner Vs. match 58 winner, 4 p.m., Belo Horizonte (ESPN)
Match 62: match 59 winner Vs. match 60 winner, 4 p.m., Sao Paulo (ESPN)
Third-Placed Game, July 12
Match 63: loser of match 61 Vs. loser of match 62, 4 p.m., Brasilia (ESPN)
Final, July 13
Match 64: winner of match 61 Vs. winner of match 62, 4 p.m., Rio de Janeiro (ABC)
FOLLOW MORE IBT NEWS ON THE BELOW CHANNELS