World Cup Predictions For Golden Boot, Best Player And Best Goalkeeper In Brazil 2014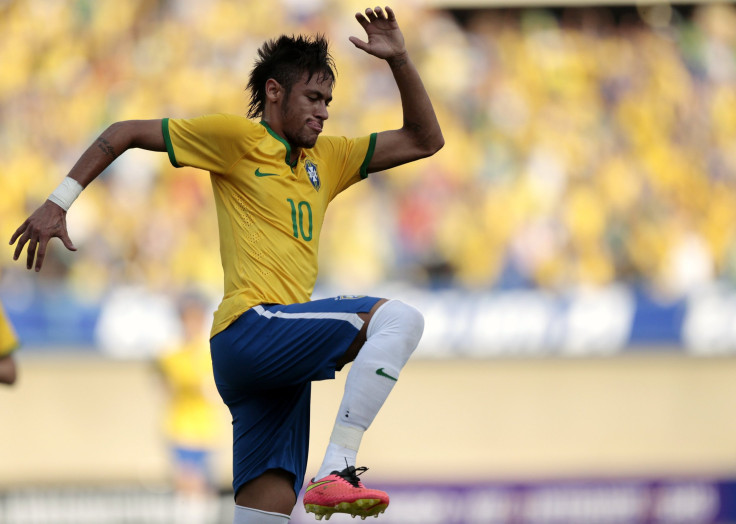 The World Cup is a team affair, but it is also an event in which individuals can leave their indelible mark. Think 1986 and the name Diego Maradona instantly comes to mind. If you've heard of Toto Schillaci you probably no little else about him other than his coming from nowhere to fire Italy to the semifinals of the 1990 World Cup on home soil, taking home awards for the tournament's top goal-scorer and best player in the process. Meanwhile, Dino Zoff is synonymous with the 1982 World Cup when, at the age of 40, his saves helped Italy to become world champions for the third time, seeing him named the competition's best goalkeeper.
There are several high-profile names vying for the individual awards this time around. Here are the players who could be going home with the Golden Boot (top goalscorer), Golden Ball (best player) and Golden Glove (best goalkeeper).
Golden Ball
Top Pick: Neymar (Brazil)
Oddly in the last four World Cups, the award for best player has not gone to a player whose team lifted the trophy. That could change this time around. Brazil currently appear the strongest candidates to win the competition, and if they do so it will require the inspiration of Neymar. While he may not have enjoyed an ideal debut season with Barcelona, he has shown little sign of that affecting him with Brazil. At last year's Confederations Cup, as his team showed they could be inspired rather than overawed by playing in front of their own fans, Neymar coped admirably with the pressure of being the nation's poster-boy. This summer the attention on him will be even more intense, but there is every reason to think that he can handle it and that his creativity and goals can help Brazil to avenge their loss at home in 1950.
Dark Horse: Ángel di Maria (Argentina)
If Argentina are to lift the World Cup, it is assumed that it will be inspired by Lionel Messi in the same way that Maradona did for their last triumph. But Argentina is far from a one-man show. Messi is surrounded by an incredible array of attacking talent, including Di Maria. As at Real Madrid in the second half of last season, Di Maria will occupy a midfield role for Argentina and will be key in getting up and down the left side. He was outstanding and ultimately the decisive player there in the Champions League final and similar performances in Brazil could see him overshadow Messi as he did Cristiano Ronaldo.
Golden Boot
Top Pick: Lionel Messi (Argentina)
Argentina's defensive problems may stop them from winning the trophy, but it is hard to imagine them not scoring a flood of goals along the way. Messi has shaken off the tag of not performing for country as he does for club by scoring 10 goals in qualifying. With a team now set up to get the best out of the Barcelona man, there is reason to think he could be similarly prolific in a free-flowing Argentina team in the World Cup proper.
Dark Horse: Edin Džeko (Bosnia-Herzegovina)
Like Argentina, Bosnia-Herzegovina are far better going forward than defending. The Balkan nation scored 30 goals in 10 matches to qualify for their first World Cup, with Džeko bagging 10 of them. The striker finished the season superbly for Manchester City and continued that form into Bosnia's pre-World Cup friendlies, where he scored twice against Ivory Coast. A favorable draw means that a quarterfinal berth is attainable, giving Džeko enough time to leave his mark.
Golden Glove
Top pick: Júlio César (Brazil)
Strangely the first-choice goalkeepers for three of the four favorites for this year's World Cup have not been first-choice at club level over the past season. Julio César is among those, having been forced to leave Queens Park Rangers on loan for Major League Soccer side Toronto FC in order to get some game time ahead of the World Cup. It has hardly been ideal buildup for the 34-year-old, who will be under immense pressure over the next four weeks. Any mistake that costs Brazil the chance of the trophy on home soil will likely haunt him for the rest of his life, as it did the goalkeeper in 1950, Moacir Barbosa. César also knows all too well, having been blamed for his country's exit four years ago. Before that, though, he was one of the world's very best goalkeepers and his experience between the posts could be key.
Dark Horse: Thibaut Courtois (Belgium)
Chief among Belgium's golden generation of talent is their prodigiously talented goalkeeper. After three superb seasons on loan at Atletico Madrid, the 22-year-old is expected to return to Chelsea and usurp Petr Cech as No.1. Before that he could potentially set himself apart as not just the world's best young stopper, but the world's best, period. Belgium's vulnerability at full-back means Courtois could have plenty of opportunities to excel.
© Copyright IBTimes 2023. All rights reserved.