World Market Overview 04/11/2011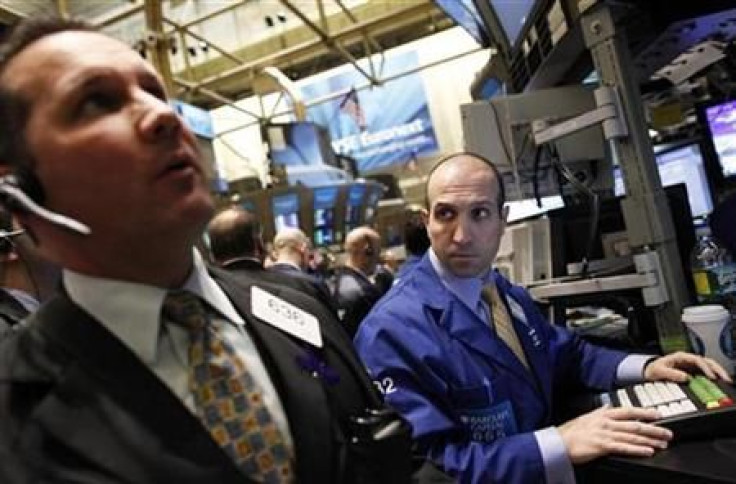 U.S. Markets
U.S. stocks ended lower on Friday, led by declines from airlines and other transportation companies as oil prices rallied to 30-month high.
The S&P 500 Index was down 5.34 points, or 0.40 percent, at 1,328.17. The Dow Jones Industrial Average was down 29.44 points, or 0.24 percent, at 12,380.05. The Nasdaq Composite Index fell 0.56 percent.
Airline stocks plunged after crude oil prices climbed above $112 a barrel, the highest level since 2008, as fire burned at Libya's Sarir field igniting fears about the OPEC-member's ability to get its production back online.
JetBlue Airways corp. (NASDAQ:JBLU) shares plunged 4.25 percent and United Continental Holdings Inc. (NYSE:UAL) slumped 5.76 percent, while Delta Airlines Inc. (NYSE:DAL) declined 3.93 percent.
The earnings season will unofficially kick-off with Alcoa Inc, the first Dow component to release results after the market's close on Monday.
Expedia Inc. (NASDAQ:EXPE) stock climbed 12.95 percent to $25.30 as its board of directors has preliminarily approved a plan to separate the company into two publicly traded entities -- Expedia Inc. and TripAdvisor. The proposed spin-off is expected to be completed in the third quarter of 2011.
Seagate Technologies Plc (NASDAQ:STX) surged 7.83 percent to $15.84 after the company said it will pay its first dividend since 2009.
On the economic front, the U.S. Commerce Department reported that inventories of U.S. wholesalers rose 1 percent in February, but their sales fell 0.8 percent, adding new uncertainties to the economic recovery.
U.S. Futures
Futures on the S&P 500 are up 0.08 percent, futures on the Dow Jones Industrial Average are up 0.12 percent and Nasdaq100 futures are up 0.16 percent.
The euro declined 0.17 percent to 1.4458 against the dollar and the yen gained 0.14 percent. Crude oil futures fell 0.88 percent to $111.80 a barrel and gold futures declined 0.35 percent.
European Markets
European stock markets declined on Monday amid reports of a fresh earthquake rattled Japan and automakers declined after a brokerage downgrade.
The Stoxx Europe 600 Index declined 0.38 percent to 280.60. DAX30 declined 41.82 points or 0.58 percent to 7,175.20 CAC 40 fell 25.38 points or 0.62 percent 4,036.53, while FTSE 100 advanced 3.97 points or 0.07 percent to 6,059.72.
The aftershocks of the fresh earthquake that hit north-eastern Japanese coast on April 11 were felt in Tokyo and nuclear workers at the Fukushima plant were temporarily evacuated.
Daimler AG led declines in auto sector after the company stock was downgraded to "neutral" rating from "outperform" rating at Credit Suisse. Credit Suisse also lowered its stance on European automakers to "benchmark" from "outperform," citing an environment of declining earnings.
Among automakers, Daimler declined 3.33 percent to 50.47 euros and Volkswagen declined 3.9 percent to 102.3 euros, while Renault declined 2.24 percent to 38.93 euros.
Hochtief AG plunged 8.5 percent to 62.76 euros after the company said its profit may fall about 50 percent this year.
Asian Markets
Asian stock markets ended mixed on Monday as surging oil prices and weaker-than-expected Japanese machinery orders weighed on the sentiment.
Tokyo shares fell, led by declines from automakers after Citigroup downgraded ratings on Japan's major automakers to "sell citing production cuts in the wake of last month's magnitude-9 earthquake. Benchmark Nikkei declined 0.50 percent or 48.38 points to 9,719.70.
Among the automakers, Honda Motor declined 2.22 percent to 2,903 yen and Nissan Motor fell 2.38 percent to 697 yen, while Toyota Motor declined 2.39 percent to 3,260 yen.
Shares of Tokyo Electric Power, Japan's biggest utility and operator of the Fukushima nuclear-power plant, surged 19.04 percent to 500 yen as Mizuho Securities on Friday reiterated its outperform rating on Tokyo Electric Power.
Japan's core private-sector machinery orders fell a faster-than-expected 2.3 percent in February from the previous month as a downward trend continued for non-manufacturers. Orders declined to 748.8 billion yen in February compared to 766.1 billion yen logged in January.
South Korean shares ended lower, led by declines from airline shares on concerns that rising oil prices would increase jet fuel costs. Seoul composite declined 5.58 points or 0.26 percent to 2,122.397.97. Korean Air Lines declined 2.62 percent and Asiana Airlines declined 2.54 percent.
Hong Kong's Hang Seng index fell 93.00 points or 0.38 percent to 24,303.07 and Chinese Shanghai composite declined 0.25 percent or 7.48 points to 3,022.54.
© Copyright IBTimes 2023. All rights reserved.