World's Most Dangerous Oceans For Shipping Identified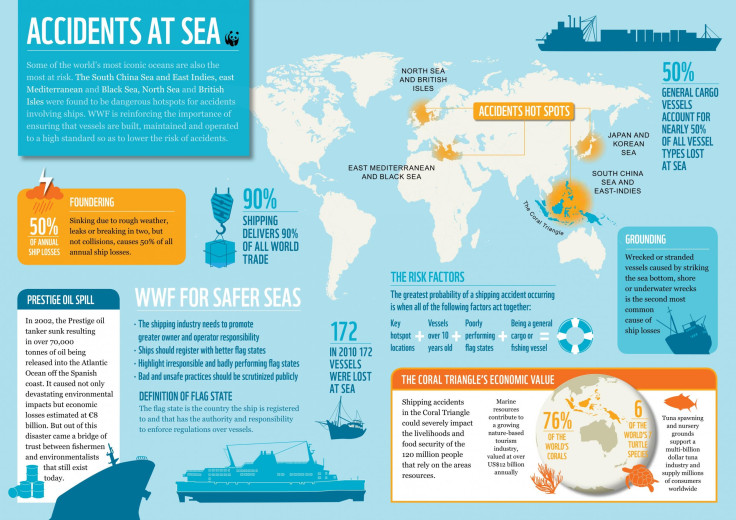 A new study commissioned by the World Wildlife Fund for World Oceans Day, pinpoints the planet's most dangerous oceans and describes how shipwrecks are likely to increase in the coming years because of expanding fleets and a warming climate.
Scientists at Southampton Solent University, who carried out the research for WWF, said that while the number of accidents at sea has fallen by about 18 percent since 1980, many incidents occur in areas of environmental significance, such as the South China Sea and East Indies, eastern Mediterranean, North Sea, Black Sea and British Isles.
The North Sea is one of the most intensively sailed seas in the world, with more than 120,000 ship movements each year, according to Simon Walmsley, marine manager at WWF. "Shipping lanes around the U.K. are already some of the world's busiest and will get busier as the global fleet expands," he noted. "The risk of accidents and environmental disaster is only going to increase, so efforts must be made to lower the risk."
Over in the South China Sea and East Indies, the world's top accident area, concerns are even greater. "Since 1999, there have been 293 shipping accidents in the South China Sea and East Indies, home of the Coral Triangle and 76 percent of the world's coral species," Walmsley said. "As recently as April of this year, we've seen a Chinese fishing boat run aground on a protected coral reef in the Philippines that had already been damaged by a U.S. Navy ship in January."
The number of ships sailing the open oceans has increased dramatically over the past 15 years to about 105,000 from roughly 85,000. According to the WWF report, fishing vessels account for nearly one-quarter of the vessels lost at sea, while general cargo ships make up more than 40 percent. Cargo ships tend to operate on short shipping routes associated with tramp trading "where ships don't have a set route and pick up opportunistic trade, particularly in Southeast Asia," the report said.
Walmsley noted that in the past we've seen reviews of safety and environment measures only after major accidents. "That needs to change if we want to maintain healthy seas," he said.
The scale of an environmental risk can be affected by the type of cargo onboard, such as oil and other hazardous substances, and the sensitivity of the marine area where the accident occurs. Walmsley pointed to the 2002 sinking of the Prestige oil tanker, when more than 70,000 tons of oil was released into the Atlantic Ocean off the Spanish coast, as one prominent recent example.
"The Prestige oil spill caused not only environmental impacts but economic losses estimated at €8 billion [$10.4 billion]," he said. "Even small-scale accidents in very sensitive environments, like the Great Barrier Reef, can have profound environmental consequences."
The study expressed concerns about new ports under construction near the Great Barrier Reef that would be used in the transport of coal from Australia but also boost traffic in the area, thus increasing risks. A recent National Geographic article called Australia "the face of climate change to come," and the WWF report noted that increased storm surges, changing wind and wave patterns, and extreme weather events will all exacerbate the risks of foundering, leading to potentially catastrophic environmental destruction.
According to the scientists at Southampton Solent University, some 50 percent of all accidents are caused by foundering, where a boat sinks in rough weather, leaks or breaks in two. They warn of a high probability of more accidents unless precautionary measures are put in place to address the increasing risk factors.
"We really want to see the shipping industry promote greater owner and operator responsibility and encourage owners to register with better flag states, the country which a vessel is registered to," Walmsley said. "Additionally, irresponsible and badly performing owners and countries need to be exposed in order to motivate them to significantly increase their standards, which will decrease the number of accidents we see still occurring today."
A separate study, released this year by Allianz Global Corporate and Specialty Insurance, pointed to a different area of shipping as the biggest concern: human error. In its annual "Safety and Shipping Review," Allianz researchers cited the largest accidents in 2012 -- the Costa Concordia off the coast of Italy, the MV Rena off the coast of New Zealand and the Rabaul Queen off Papua New Guinea -- as evidence supporting their theory.
"For some commercial ship owners, especially in the hard-pressed bulk cargo and tanker sectors, there is little money for maintenance and little money for training," Sven Gerhard, Allianz's global marine head of hull and marine liabilities, explained. He said the Maritime Labor Convention of 2006, which comes into force later in 2013, would help improve safety by improving the working conditions of seafarers.
FOR FREE to continue reading
✔️ Unlock the full content of International Business Times UK for free
offer available for a limited time only
✔️ Easily manage your Newsletters subscriptions and save your favourite articles
✔️ No payment method required
Already have an account? Log in
© Copyright IBTimes 2023. All rights reserved.