World's Most Valuable Stamp, The 'Mona Lisa' Of Stamps, Estimated To Sell For Up To $20 Mil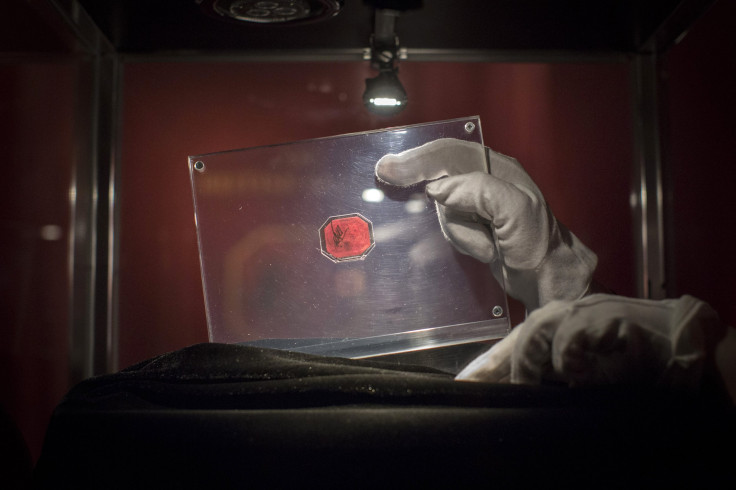 A stamp rated three times as the world's most valuable, regarded as the "Mona Lisa" of postage, is set to reclaim its title and break records for a fourth time this week.
According to a report from the Associated Press, the 1-cent postage stamp from a 19th century British colony in South America is estimated to sell for anywhere from $10 million to $20 million at Sotheby's Auction House on Tuesday.
Why such an astronomical price? Not only has David Beech, a retired stamp curator at the British Library, labeled the collectors item the "Mona Lisa" of stamps, according to Allen Kane, the direction of the Smithsonian National Postal Museum, the 1-inch-by 11/4 inch 1856 British Guiana (now Guyana) stamp, last displayed in 1986, is beyond a rarity. "You're not going to find anything rarer than this," Kane told the AP. "It's a stamp the world of collectors has been dying to see for a long time."
The stamp was last known to be owned by John E. du Pont, the wrestling coach convicted of killing 1984 Olympic wrestler Dave Schultz in 1996. Du Pont, an heir to the du Pont chemical fortune, reportedly purchased the stamp for $935,000 in 1980.
The stamp was first owned by a 12-year-old Scottish boy in South America in 1873. After being resold by local collectors, the item was eventually purchased by "one of the world's greatest stamp collectors," Count Philippe la Renotiere von Ferrary. Following his death in 1917, his collection was presented to the Postmuseum in Berlin before being seized by the French after World War I and sold to Arthur Hind, a textile magnate from New York, for $35,000 in 1922, its first record-breaking sale.
According to the AP, the stamp was sold off by Hind's widow in $45,000 in 1940 to Frederick Small, an Australian engineer. After 30 years of ownership, Small allowed a New York auction to sell the stamp for $280,0000-- its second record-breaking sale.
The last single stamp sale to break the record belongs to an 1855 stamp from Sweden which sold for $2.3 million at auction in 1996.
© Copyright IBTimes 2023. All rights reserved.