Would Donald Trump Pass A Naturalization Test? Harry Reid Calls Out Republican Nominee On Immigration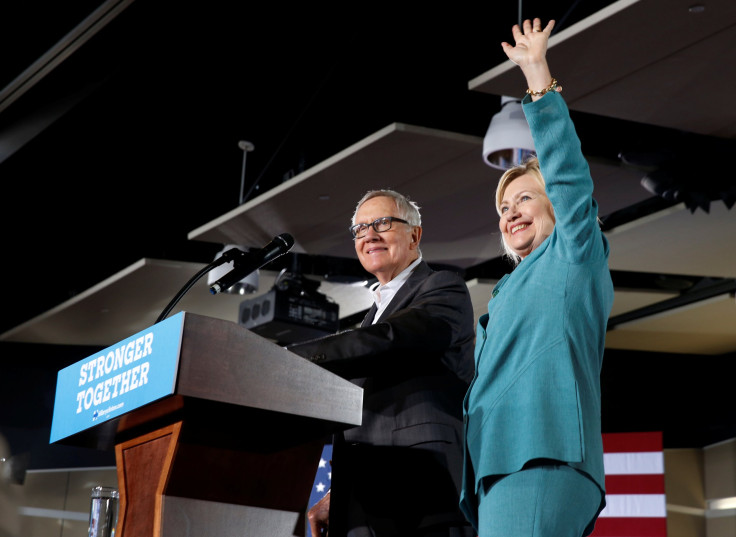 What is the supreme law of the land? How many amendments does the Constitution have? What did Susan B. Anthony do? Well, if Nevada Sen. Harry Reid has his way, Republican nominee Donald Trump would have to answer questions like these by taking the test required of anyone wishing to become a naturalized U.S. citizen.
"Since Donald Trump wants to impose new tests on immigrants, he should take the one test every immigrant has to pass to become a United States citizen," Reid said in press release Monday. "He would almost certainly fail, given his general ignorance and weak grasp of basic facts about American history, principles and functioning of our government. The fact is, Donald Trump is nothing more than a spoiled, unpatriotic drain on society who has earned nothing and helped no one."
Trump has expressed his ideas on immigration throughout the campaign, saying in part that he would like to ban Muslim immigrants from entering the U.S. Ahead of a speech in Ohio Monday, a Trump campaign official said the Republican nominee would call for a new screening test for immigrants that would "admit only those who support U.S. laws and values."
Reid went after Trump in his statement, bringing up the New York businessman's ties to foreign interests.
"Immigrants renounce all loyalty to foreign interests, while Trump plays footsie with Putin and invites the Russian government to launch cyberattacks against our country," the statement said referring to Russian President Vladimir Putin for whom Trump has expressed admiration in the past. "Immigrants make America great. Trump makes American small, petty and mean"
During his remarks Monday, Trump said the Sept. 11 attackers had "fraud" written on their visas. The Republican candidate called for "extreme vetting" of immigrants who wish to enter the U.S. Trump's campaign did not address how many immigration officers would be required for an expanded system or how applicant's views on religious freedom, gay rights and gender equality would be evaluated.
Wondering if you would pass a naturalization test yourself? One hundred history and government questions are available online here. During oral exams, applicants are asked up to 10 questions from a list of 100 questions. To pass you must answer six questions correctly.
© Copyright IBTimes 2022. All rights reserved.
FOLLOW MORE IBT NEWS ON THE BELOW CHANNELS