WTF Christmas Ideas 2015: 11 Weird Presents For The Oddball In Your Life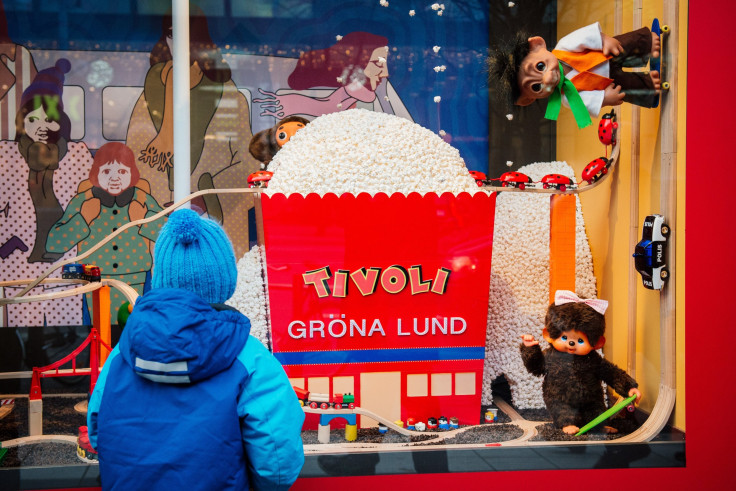 Holiday shopping can be hard -- especially when the person you're attempting to buy a gift for has been dubbed as the girl/guy who has everything. So instead of pulling out your hair as you scour each and every mall, looking for the perfect present, why don't you check out the list of gifts we compiled that are so insane, you'll be sure to surprise you're loved one on Christmas morning … or, at least, make them laugh.
1. Handicorn Finger Puppet Set from Urban Outfitters: $8.00 -- This strange and mystical gift will leave your friend feeling enchanted as they slip the five-piece puppet set onto their digits.
2. Build Your Own Slingshot Kit from Rodale's: $22.00 -- Keep your friend busy this holiday season by giving them this old-fashioned toy (along with a bag of marshmallows so they can peg you with soft, tasty treats!).
3. Cheeky Band-Aids from Amazon: Prices Vary -- Have a friend that's prone to getting injured? Then a cheeky Band-Aid could be the perfect gift to give them. Check out this Shakespearean Insult Bandage or these Bacon-inspired Band-Aids.
4. Food-Flavored Lip Balm: Prices Vary -- Lip balm is the perfect stocking stuffer for your secret Santa -- especially if the salve you're gifting them is in the flavor of their favorite food. From pickle-inspired chap stick to hop-infused balm for beer-lovers, you won't go wrong with this wacky present!
5. "Walking Dead" Coral Poster from Etsy: $10.00 -- TV fanatics will be thrilled to hang this side-splitting work of art on their wall that mocks Rick's (Andrew Lincoln) pronunciation of Carl's (Chandler Riggs) name. ("Cooooraal!")
6. Fake Parking Tickets from Amazon: $2.46 -- Have a friend with road rage? Well, then this novelty gift is a great and safe way for them to express their anger with bad parkers ... you know, without getting into a physical or verbal confrontation.
7. Mitten Flask from Amazon: $20. 95 -- This boozy present (for your friends 21 years of age an older) will keep them extra warm during the cold, winter months. The left mitten has been fitted with a 3-ounce, refillable flask that makes drinking in the snow extra easy (and fun!).
8. Mail A Tree from Urban Outfitters: $16 -- Know someone who is behind on their holiday decorating? Then a tree-in-a-box is a fitting gift to help them get into the spirit of Christmas!
9. 3-D Playing Cards from Madewell: $9.00 -- The animal lover in your life will love these Kikkerland playing cards featuring 3-D images of dogs.
10. "Games of Thrones" Iron Throne Decal from Etsy: $25.95 -- Turn your friends porcelain throne into an iron one with this removable, bathroom decal.
11. "Men & Cats" by Marie-Eva Gatuingt and Alice Chaygneaud from Urban Outfitters: $15.00 -- Can you say conversation starter? This book, which pairs 50 photos of men with adorable, photogenic kittens, is the perfect accessory to place on your friend's coffee table.
© Copyright IBTimes 2023. All rights reserved.