WWE 'SmackDown' Spoilers: Big Show Beats Tag Champs In Handicap Match; Ziggler Defeats Orton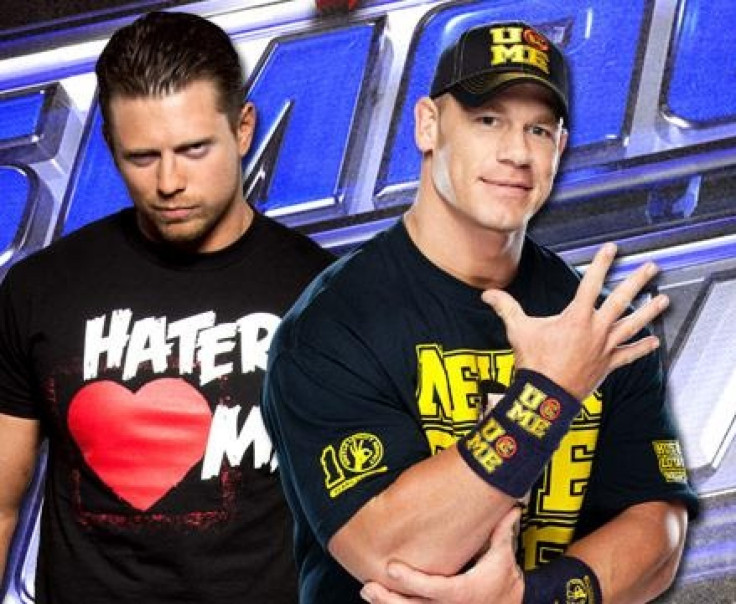 Tonight's WWE "SmackDown" was filmed on Tuesday at the Van Andel Arena in Grand Rapids, Mich. The crowd in attendance witnessed World Heavyweight Champion Big Show defeat both Tag Team Champions Kane and Daniel Bryan in a handicap match, reports NoDQ.
The Giant took out the two current tag team champions, who are each former World Heavyweight Champions, after the duo began arguing. Even though Team Hell No lost the match, they attacked Big Show afterwards and beat him down.
The show opens with a segment of MizTV with the Awesome One interviewing John Cena. The segment turns into Miz, Cena, Dolph Ziggler, AJ Lee and Vickie Guerrero recapping the AJ Lee scandal segments from "RAW."
The Showoff was back in action at the end of the night, winning a match against recent rival Randy Orton. Ziggler beat the Viper with a roll-up, which was followed by Alberto del Rio and Cena storming the ring with the Cenation Leader and Orton coming out on top.
The Mexican Aristocrat had better luck earlier in the show when he won a match against Sin Cara. Del Rio beat his luchador opponent by submission.
NoDQ writes that Kofi Kingston and Damien Sandow had a strong match, with the Intercontinental Champion coming out on top. Wade Barrett was on commentary and cut a promo saying he would be taking the IC Title from Kingston.
R-Truth defeated United States Champion Antonio Cesaro in a non-title match. It seems that the feud between the two wrestlers didn't end with their title match at the Survivor Series.
Ryback squashed one-half of the Prime Time Players in Darren Young. After the match, Young's tag partner Titus O'Neil confronted the Big Hungry, but he was hit with Shell Shock.
© Copyright IBTimes 2023. All rights reserved.