'X-Files' Reboot Spoilers: First Standalone Miniseries Episode Plot Revealed; What Will Mulder And Scully Face?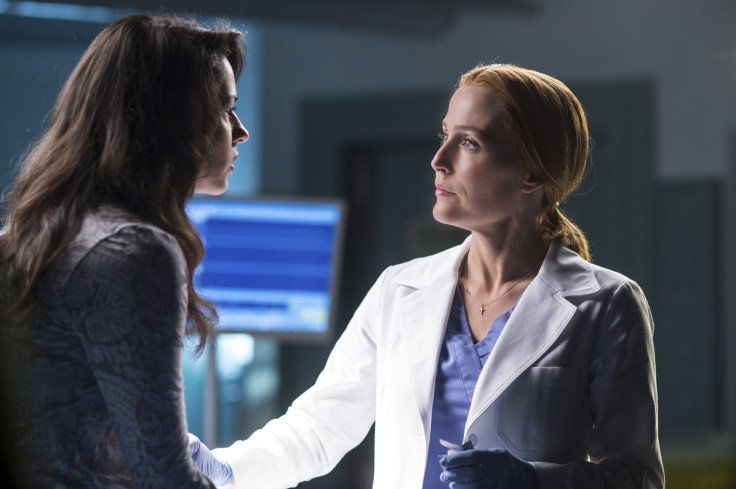 The mythology "The X-Files" has developed through nine seasons and two movies is going to continue when the show returns to Fox on Jan. 24. However, the miniseries will also consist of standalone episodes, just like what has been done in past seasons. The topic of the first standalone episode has been revealed and it looks like Fox Mulder (David Duchovny) and Dana Scully (Gillian Anderson) will be dealing with people with superpowers.
"The X-Files" have covered numerous paranormal topics in the past in standalone/monster-of-the-week episodes including ghosts, genies, aliens and mind control. According to ScreenCrush, the second half of the two-night premiere will be called "Founders Mutation," where Mulder and Scully will investigate a case involving a scientist that was working on subjects with superpowers. "Founders Mutation" will air on Jan. 25
The first episode of the miniseries will see agents Mulder and Scully reuniting as a case involving aliens draws them back to their old careers. The two will no longer be a couple when the show picks back up, but they will once again work together as partners.
Creator Chris Carter told The Hollywood Reporter in October 2015 that the miniseries would consist of six episodes, including four standalone episodes and the first and last episodes would continue the mythology of the show. However, the entire miniseries will still have an overall arc that "follows the characters emotionally," and make everything "integral."
While new stories will be told in the revival, fans will be pleased that there will be familiar themes and characters throughout. In the six-episode miniseries we will get to see characters from past seasons, including Walter Skinner (Mitch Pileggi) and Cigarette-Smoking Man (William B. Davis). Newcomers will also be introduced including Joel McHale as Tad O'Malley, actress Lauren Ambrose and Robbie Amell.
Watch a preview of the miniseries below:
"The X-Files" returns to Fox on Sunday, Jan. 24 following the NFC Championship game.
© Copyright IBTimes 2022. All rights reserved.
FOLLOW MORE IBT NEWS ON THE BELOW CHANNELS