'X-Files' Stars David Duchovny and Gillian Anderson Tease Future Of Show Following Miniseries Run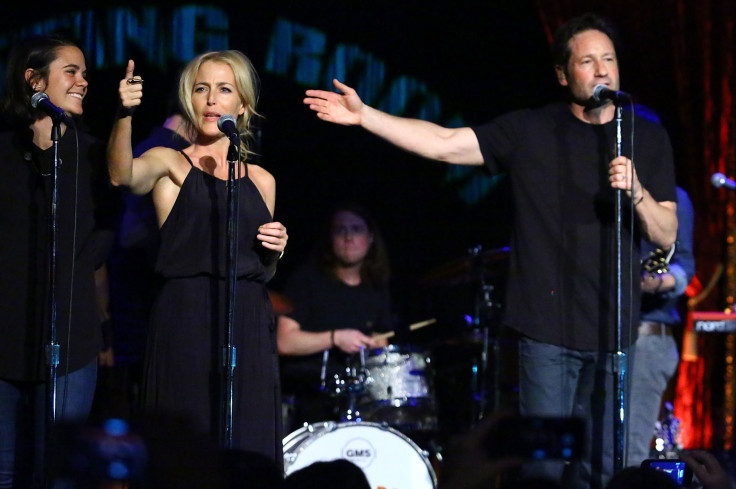 Fans of "The X-Files" want to believe that the upcoming six-episode miniseries won't be the end of the show or the last time we see agents Fox Mulder (David Duchovny) and Dana Scully (Gillian Anderson). Stars Duchovny and Anderson both teased the idea that the show could be back for more episodes and maybe even another season in the future.
In an interview with British magazine SFX, which is a part of the GamesRadar sire, Duchovny said he's not sure if there will be more episodes in the future, but said the format of the show could leave room for more cases for Mulder and Scully to take on. When he watched the episodes from the miniseries, the 55-year-old actor said the show "still worked" after not being on TV since 2002.
"We have a show that can be comedy, drama, science fiction, mystery, thriller, horror and not feel like it's a different show. Doing six is maybe not enough to show that flexibility, so maybe we have more to do. I don't know, we'll see," Duchovny dished. "Having gone through it again, I think we're all okay with moving forward with more. I don't want to speak for everyone, but I would."
Anderson, who's character Scully was always the skeptic of the two, revealed that "it's possible but not probable" that new episodes of "The X-Files" could follow the miniseries. However, she did add that it is something that will be talked about.
"We have to see how it does and if people are enthusiastic about it and have the same interest. I think it's all dependent on that," Anderson said.
In an interview with The Hollywood Reporter in October 2015, show creator Chris Carter said there is the possibility for another revival in the future, but it would depend on the availability of the actors. He also added that as long as Duchovny and Anderson were willing, he'd move forward with revivals using Mulder and Scully.
For now, fans will get to enjoy six new episodes of "The X-Files" this year that will contain four standalone episodes, while the first and last episodes will continue the show's mythology. However, Carter told The Hollywood Reporter that there is an "arc" among the episodes.
"We tried to make everything integral. But the first episode and the last episode are really a two-parter. In [the other episodes] we follow the characters emotionally, but they don't have to do with the conspiracy," Carter said.
Watch a promo for "The X-Files" below:
"The X-Files" get re-opened on Jan. 24, 2016 on Fox following the NFC Championship game.
© Copyright IBTimes 2023. All rights reserved.