'The X-Files' Revival Episode 'Babylon' Leaked To Hulu Three Days Before Its Air Date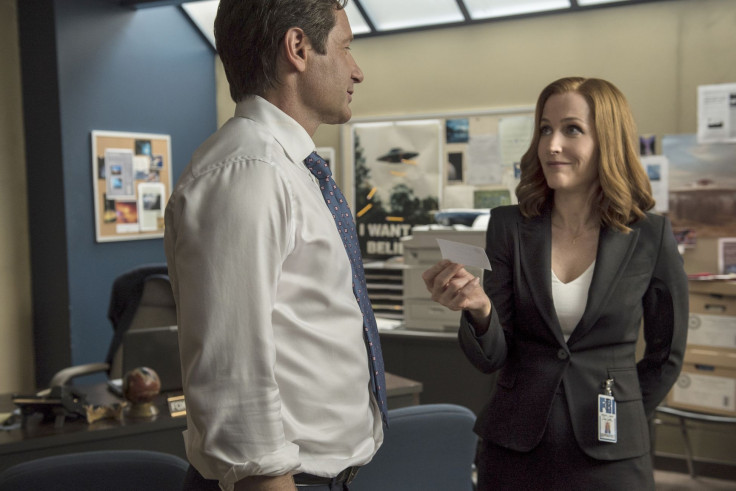 A small segment of "X-Files" fans welcomed an unexpected treat Friday: Access to an upcoming episode of the paranormal drama on the video-streaming site Hulu three days before its scheduled network broadcast.
The fifth installment of the six-episode "X-Files" revival series is set to air Monday night at 8 p.m. EST on Fox. But some fans logging into Hulu on Friday night noticed that, in addition to the first four episodes that had already aired, the fifth episode titled "Babylon" was also available to stream in full.
Upon the discovery, frenzied chatter erupted among fan communities on social media sites like Facebook, Tumblr and Twitter. X-Files News, a fan website, tweeted a link of the Hulu stream to its 32,800 followers at 11:05 p.m. EST on Friday night.
Avi Quijada, editor of the fan site, said that though it was unclear whether the release was intentional from Fox, she didn't hesitate to tweet the link to the X-Files News community because the site's mandate is to "share what is relevant to the fandom." She added that reaction from the fans was immediate: "Our notifications skyrocketed with a myriad of reactions."
But the excitement was short-lived: By 12:30 a.m. EST Saturday, the episode was no longer available on Hulu. It's unclear how many fans actually streamed the 45-minute episode before it became unavailable. Neither Fox nor Hulu immediately responded to requests for comment from the International Business Times.
For a show that has traditionally trafficked in secrecy — especially during its original run on Fox from 1993 to 2002, when spoilers were often kept under tight wraps — the Hulu preview raised red flags in the minds of longtime fans.
"My first thought was, 'Oh, someone at Hulu messed up,' because there's no way they would release it early like this without the official Fox Twitter account telling us," said Katy Wallace, a fan from Ontario, California, who learned about the leak from social media sites.
Wallace says she was hesitant to indulge in watching the Hulu stream because she enjoys viewing the episodes as they air on live TV and seeing the subsequent reactions on social media. But she couldn't resist the temptation and ended up watching the stream before the episode was yanked.
But others wasted no time getting to their computers. Ashley Borlik, a fan from Los Angeles, said that she had anticipated new episodes of her favorite series for years, "so not having to wait a few more days for the next episode was a delight."
Kelly Gordon, 31, says she has loved "The X-Files" since she was 9 years old. She scrambled to sign up for a Hulu account when a friend told her the episode was available, even though she plans to watch it again on Monday night.
"As a die-hard fan, I'm always looking for ways to gain access to content early. Up until this point, I'd been unsuccessful, but then this gift dropped into my lap," Gordon said. "I felt like I was sneaking into a restricted area and seeing things I wasn't meant to see. It was magical."
© Copyright IBTimes 2023. All rights reserved.
FOLLOW MORE IBT NEWS ON THE BELOW CHANNELS