'Young And The Restless' Spoilers: Chelsea And Nick Argue Over Living Arrangements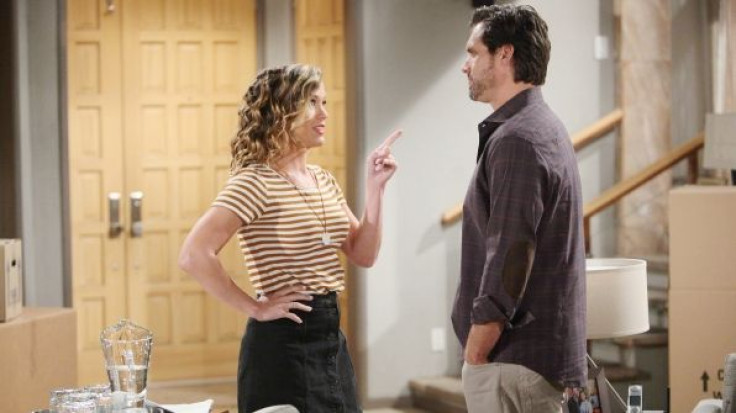 He moved in with her after he was kicked out of his former home by the father that has disowned him. But as Nick continues making himself at home in Chelsea's penthouse, she will feel the need to set the record straight with him about how things will go while they're living together on the Wednesday, Aug. 23 episode of "The Young and the Restless."
After disowning Nick (Joshua Morrow), Victor (Eric Braden) kicked him out of the tack house on the Newman ranch property. As a solution to his housing situation, and a natural progressive step in their relationship, he moved into Chelsea's (Melissa Clare Egan) penthouse with her on the CBS soap. Though she has seemed cool with the arrangement previously, she has since seemed to be wary of it as well, and when Nick brings up the subject of his daughter Faith (Alivya Alyn Lind) coming to live with them as well when she gets home from summer camp, it will cause some new tensions for the couple.
"Faith's coming home from camp tomorrow," he says in a preview clip.
"Is she coming to stay with us first?" Chelsea asks.
"There's not a problem with that?" Nick inquires.
Chelsea will then admit to Nick that she thinks things are moving a little fast, and she appreciates how much he wants to make things work out with this new arrangement. However, with both of them, Connor and Christian all already living there, she feels the best move is to have Faith stay with her mother, Sharon (Sharon Case) first. This will lead to an extensive argument between the two, as they realize they're not entirely on the same page when it comes to living together and truly forming a family with one another.
Meanwhile, they may not need to be so worried about Faith living with them after all, as Victor may already be making plans to keep his beloved granddaughter by his side and against her father. He will be sitting at the ranch when Nikki (Melody Thomas Scott) arrives, and he will be annoyed that she's shown up to see him.
"Connie, is that you?" Victor asks.
"Oh no, it's me," Nikki replies.
The estranged spouses will then have an argument of their own when it comes to Faith, as Victor will admit to her that he has created her a new room in the main house at the ranch, now that her father no longer lives there, and Nikki will caution him before she leaves that his separation from the family could eventually extend to Faith as well. Realizing she may be right, Victor will then make a plan to get Faith on his side, by going to see her at the camp before she gets to come home.
Then, Nikki will go to see Nick and Chelsea and warn her son that his father may be planning something, and she's worried that Faith may have a terrible reaction to everything that has happened since she left. But Nick won't buy into it, warning his mother that he will tell Faith the truth regardless, because she deserves to know the truth.
"The Young and the Restless" airs weekdays at 12:30 p.m. EDT on CBS.
© Copyright IBTimes 2023. All rights reserved.