'Young And The Restless' Spoilers: Phyllis And Ashley Have A Confrontation About Billy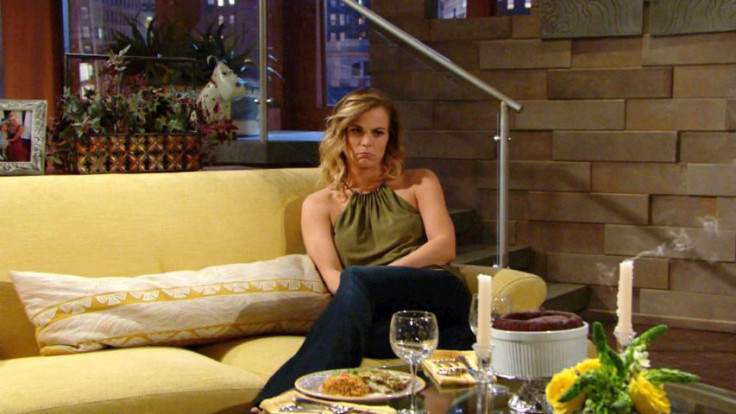 She has been secretly worried about whether or not Victoria might try to find some way to steal Billy back from her, and now, after a confrontation with Ashley, Phyllis will realize her gut instincts may be right on the Monday, May 15 episode of "The Young and the Restless."
Phyllis (Gina Tognoni) has been happy since she and Billy (Jason Thompson) reignited their passionate romance on the CBS soap. However, since going public to both Jack (Peter Bergmann) and Victoria (Amelia Heinle), she has been plagued with doubts about just how committed to the relationship Billy might be, because it's clear that there are other forces at work that are trying to separate them. Now, after he heads to Los Angeles with his ex-wife for work and leaves Phyllis behind, she will find herself being questioned about her relationship when Billy and Jack's sister, Ashley (Eileen Davidson) confronts her about the romance.
"I think that you are obsessed with my brother, who just so happens to be in Los Angeles with his ex-wife," Ashley says to Phyllis in a preview clip.
Read: 5 Moments You Missed Last Week On "Days Of Our Lives," "The Young And The Restless," and "The Bold And The Beautiful"
Phyllis will try to refuse to be baited by Ashley's attempt to make her feel guilty about the romance, which she knows Ashley does not approve of, especially because of her history with Jack. However, she won't be able to deny that the comment about Billy and Victoria being in Los Angeles together upsets her, and she will storm off.
Later on, she will also call Billy to check in on him and see just how things are going for the trip, and she will be encouraged when he expresses that he misses her, and happy for him when he reveals that things are going well so far in terms of the business that Brash and Sassy was planning on doing. However, her fears about Victoria will come right back to the surface again after Billy hangs up, revealing that he's going to sit down to a meal with her.
Read: Victoria Unveils Plans To Win Billy Back On "The Young And The Restless"
As Phyllis stews about the possibility of sabotage to her romance back in Genoa City, Billy will be ecstatic in L.A., and won't realize that he's potentially falling into a trap Victoria has set to try and win him back because he's happy with how things have been turning out since they got there. And unaware that she may take the praise in a different way and use it to her advantage, Billy will recognize the hard work that Victoria has put in to give them success.
"It's all you. You made this happen," he says.
Victoria will take his encouragement as a positive sign that her plan to win him back is working, because her biggest goal at the moment is to find a way to get Billy back in her life. She lost him because she continued to push him away out of fear he would learn the big secret she and her family are keeping about Victor's (Eric Braden) role in Adam's death, and she refuses to give up without a fight.
"The Young and the Restless" airs weekdays at 12:30 p.m. EDT on CBS.
© Copyright IBTimes 2023. All rights reserved.