'Young And The Restless' Spoilers: Phyllis Worries Billy Is Hiding Something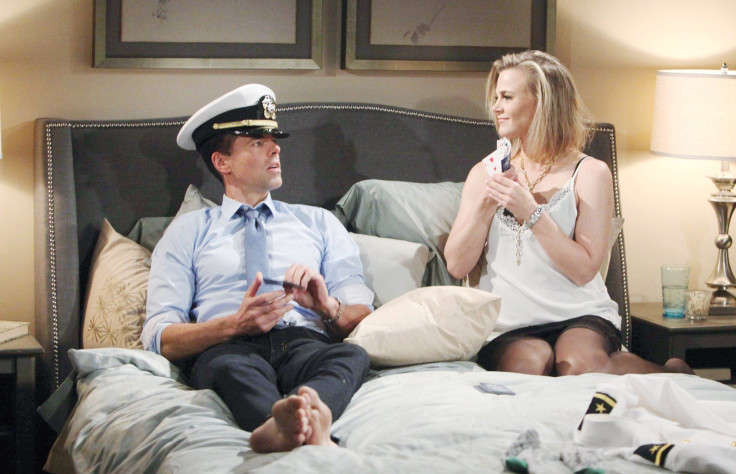 She hasn't had a reason to wonder if Billy is hiding something from her, but everything is about to change for Phyllis as she notices him going MIA on the Wednesday, July 11 episode of "The Young and the Restless."
Things have been going incredibly well for Billy (Jason Thompson) and Phyllis (Gina Tognoni) since they rekindled their romance last year, and things have been even better since he became the CEO of Jabot on the CBS soap. Even her daughter Summer's (Hunter King) return to Genoa City doesn't seem to have upset the balance in their relationship. However, Phyllis will start to become suspicious that something is up after Billy seems unreachable and will begin to wonder what's going on with him.
After he doesn't get in touch with her and Summer insists she doesn't go to the office to see him when he's working late, Phyllis will have her guard up, and after she still doesn't hear from him after having dinner with her daughter, she will become irked. She will then decide to pay him a visit at the office anyway and will arrive to find it dark, with Billy nowhere to be seen. That will be when she receives a text from him where he tells her he's working late and she shouldn't wait up.
This, plus his mysterious disappearance a few nights ago to deal with what he said was a misplaced shipment, will get Phyllis worried that he is cheating on her—and she will enlist Hilary's (Mishael Morgan) help to get answers.
What Phyllis doesn't know however is that Billy isn't cheating on her, but he is still involved in something that could rip them apart. Thanks to Summer, Billy is once again in the throes of his gambling addiction, and his behaviors have all been in relation to that. His mysterious disappearance was to try and bail her out of trouble after she admitted to losing her entire inheritance, and this one will be because he also made a stupid move and lost the company yacht. He is desperately trying to win it back, and Phyllis can't know what's going on.
However, if Phyllis and Hilary decide to engage a private investigator, Billy's secret could be exposed.
"The Young and the Restless" airs weekdays at 12:30 p.m. EDT on CBS.
© Copyright IBTimes 2023. All rights reserved.