Yucaipa Flooding: Mudslides Hit San Bernardino County, Evacuations Ordered
KEY POINTS
Flash flood warning was issued in San Bernardino County Monday
Shelter in place until further notice is issued for Forest Falls area
California State University San Bernardino shut after campus sustained damage
Heavy rains lashed across the north Yucaipa area, east of San Bernardino, in California's San Bernardino County on Monday. Yucaipa police department issued a shelter in place and evacuation orders for several communities in the area following mudslides and flooding.
Residents were taken by surprise after flash flood warnings went out all over the area following heavy rains. "I didn't even know we were having a storm until I got the Flash Flood Warning," said Highland resident Alex Hernandez, reported CBS News.
"There is a potential for mud and debris flow from a storm. The communities of Oak Glen, Oak Glen Road, north & south, from Casa Blanca Road to the County Line, south from Wild Lilac Point down to WildWood Canyon Road, are subject to an evacuation ORDER," Yucaipa PD tweeted.
"Evacuation Order #2: There is a potential for mud and debris flow from a storm that may affect your area. The community of Forest Falls from Canyon Drive south to Prospect Drive, south of Valley of the Falls, is now subject to an evacuation ORDER," the department instructed.
Public safety officials and San Bernardino County partners are working to avert the crisis in areas affected by mudslides. Oak Glen area is affected by several of them, causing damage to homes, reported News Mirror.
Movement in the Forest Falls area is affected, and people are advised to shelter in place until further notice due to large flows across Valley of the Falls Drive. A portion of State Route 38 near Forest Falls has been forced shut after mudflow and rockfall continued to ravage the area, according to Caltrans District 8.
Homes in the Lower Canyon area have endured significant damages as well, and power has been knocked out. An evacuation center for those that need a place to shelter has been established at Redland East Valley High, 3100 E. Colton Avenue, according to the PD.
Earlier in the day, San Bernardino County Fire crews responded to multiple power outages and knocked out gas lines in homes impacted by flooding due to torrential downpours in the Forest Falls area.
Fire crews continued to assess structures for damages and searched the area for potential victims. A video showed structures and cars smashed together, and a vehicle was almost buried in the debris.
The affected areas were experiencing jammed cellular networks and fire crews went home to home to ensure people's safety, and to check for damage.
In-person classes were canceled at the California State University San Bernardino after the campus, as well as its sister campus in Palm Desert, sustained flood damage. The library, student union, sports arena, and some parts of student housing in San Bernardino were impacted too, reported KTLA.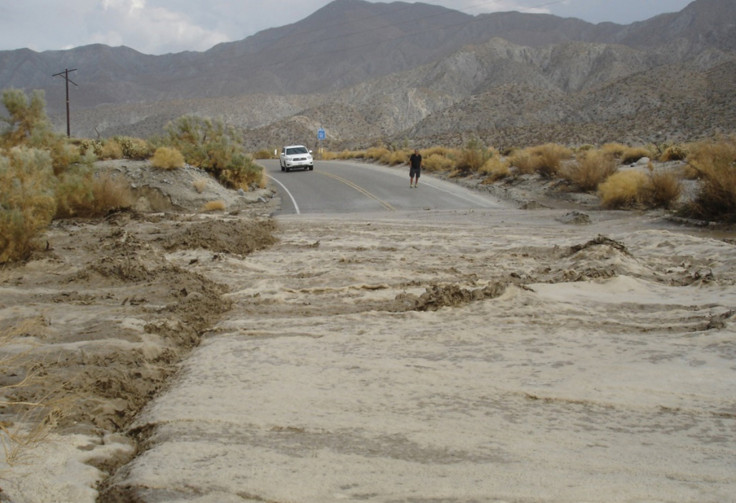 © Copyright IBTimes 2023. All rights reserved.