Zang Toi Debuts Modern Take On Imperial Russia For Fall 2013 At New York Fashion Week
If there was one emperor of New York Fashion Week, which ran from Feb. 7-14 at Lincoln Center, it was certainly designer Zang Toi, best known for creating tailored separates and dresses for an affluent clientele of celebrities and socialites around the world for more than two decades. For his Fall 2013 collection at New York Fashion Week, the designer debuted on Wednesday what he called a "modern take on Imperial Russia," with day and evening dresses perfectly suited for his beau monde.
"I've always wanted to go to Russia for many, many years," Toi said backstage before his show. "I'm so happy that I finally made it there. It was really cultural and very beautiful."
Toi, who came from humble beginnings in a small village in Malaysia, was inspired by the Peterhof Palace in St. Petersburg, frequently called the "Russian Versailles." After a visit to the Grand Throne Room, Toi created a story through his color palate of amber, mahogany and jet in his day dresses and tailored separates. Toi also drew inspiration from the Gold Room of the Palace, full of gilded mirrors, jewels and chandeliers, which he called "the most stunning and most opulent grand ballroom you've ever seen," for, in particular, the last three gowns of the finale.
"The first part of the collection, it's all amber, mahogany and jet and then it transitions into jewel tones," Toi explained. "You know Russia, they love their bling. They love their jewels. So, in the evening part, you see three jewel tones: emerald green, amethyst and sapphire, all with gilded gold."
Using fabrics of silk and cotton jacquard called "Empress Dragon," Toi carefully chose from Kazumi Yoshida of Clearance House and captured the Chin-Hua details of the Grand Throne Room as well as the opulence from the Gold Room in the latter part of the collection. One piece, in particular, was the epitome of modern Russia: a floor-length coat with a Peterhof chinoiserie jacquard print and Russian sable sculpted collar over an A-line gown.
Just as thoughtful as the fabric selection and intricate details of the collection, Toi meticulously executed the presentation of the show based on his vision of a modern Imperial Russia with hair, beauty and music working in tandem. With Toi's over-the-top theme in mind, Eiji Yamane of Eiji Salon for René Furterer created a hairstyle larger than life, literally, with soft curls outrageously, with nary a sign of kitsch or cliché, piled onto the tops of models' hair. Rudy Miles, of Beauty by Rudy for Amazing Cosmetics, took a demure approach as a play on Toi's fascination with the Fabergé egg, focusing on neutral eye colors that were the perfect complement to impactful hair and gowns.
Adding to the modern-day Russia vibe was the score of the show crafted by Kevin Edwards, which began in dramatic form with Sting's "Russians" and "Unavoidable" from the "Anna Karenina" soundtrack. Even the way Toi's models strutted – which nearly worked the crowd into fashion oblivion as the music crescendoed into "Lara's Theme" from "Dr. Zhivago" for the finale – showcased the intricate details of the gowns, as models dangled stoles and shrugs from their shoulders.
No one knows for sure if it was the gowns, the show itself, or both, that caused a grand applause to ripple through the audience, which included Alex McCord, Ramona Singer and Luann de Lesseps from "Real Housewives of New York." Even the most cynical – as editors on the last day of Fashion Week, after 90+ shows can often be – could certainly see beauty in this show, which concluded with a standing ovation.
"I love it. Literally, I'm obsessed," Miss Teen USA Logan West said after the show. "All of the black and gold dresses, literally I want every single piece of this collection."
Truth be told, demand for Zang Toi creations have grown, and so much that the sartorial superstar had to find a new outlet to reach his fans without subjecting his expertly-tailored creations. Thanks to licensing opportunities, Toi, who is just as marketable personally as his fine designs, has been able to grow his brand exponentially through licenses with Zang Toi for Zoya nail polish, Zang Toi for Amazing Cosmetics, Zang Toi jewelry by Amee Philips and Zang Toi for Anew Legwear. But, for Toi, it's all a way to widen his customer base.
"My clothes are very high end. It's a niche market," the designer said. "I have so many younger fans all over the country and all over the world. They always say, 'I love the clothes I hope someday I could afford your clothes.'"
This prompted Toi, on top of his many licensing deals, to start an e-commerce site, ShopZangToi.com, where he can sell these various products as well as connect with his fans.
"We have so many products that we could put on the e-commerce site for all of the younger Zang Toi fans," he said. "Now, everyone can have a piece of Zang Toi."
Toi's e-commerce site has been doing so well that one product, garter stockings through his partnership with Anew Legwear, sold out almost immediately.
And he's not done there. Toi, who has the No. 1 shoe line in Malaysia, also has a café in his native country which he co-operates with his brother. Bearing the designer's signature trademark, the café with décor styled after Toi's lavish New York City apartment has opened another opportunity for the business-savvy designer: home furnishings. When I presented the idea of crafting items for the home to Toi, whose studio of minimalistic glamour is one of the most beautiful I've personally ever seen, the designer gushed.
"In the cafe, I designed all of the beautiful furnishing and mirrors and the day bed," he said. "Slowly, I would definitely like to branch into home furnishings because of the beautiful cashmere pillows, a fur pillow with the beautiful Zang Toi marking. It's glamorous."
Everything truly is glamorous when it comes to Zang Toi.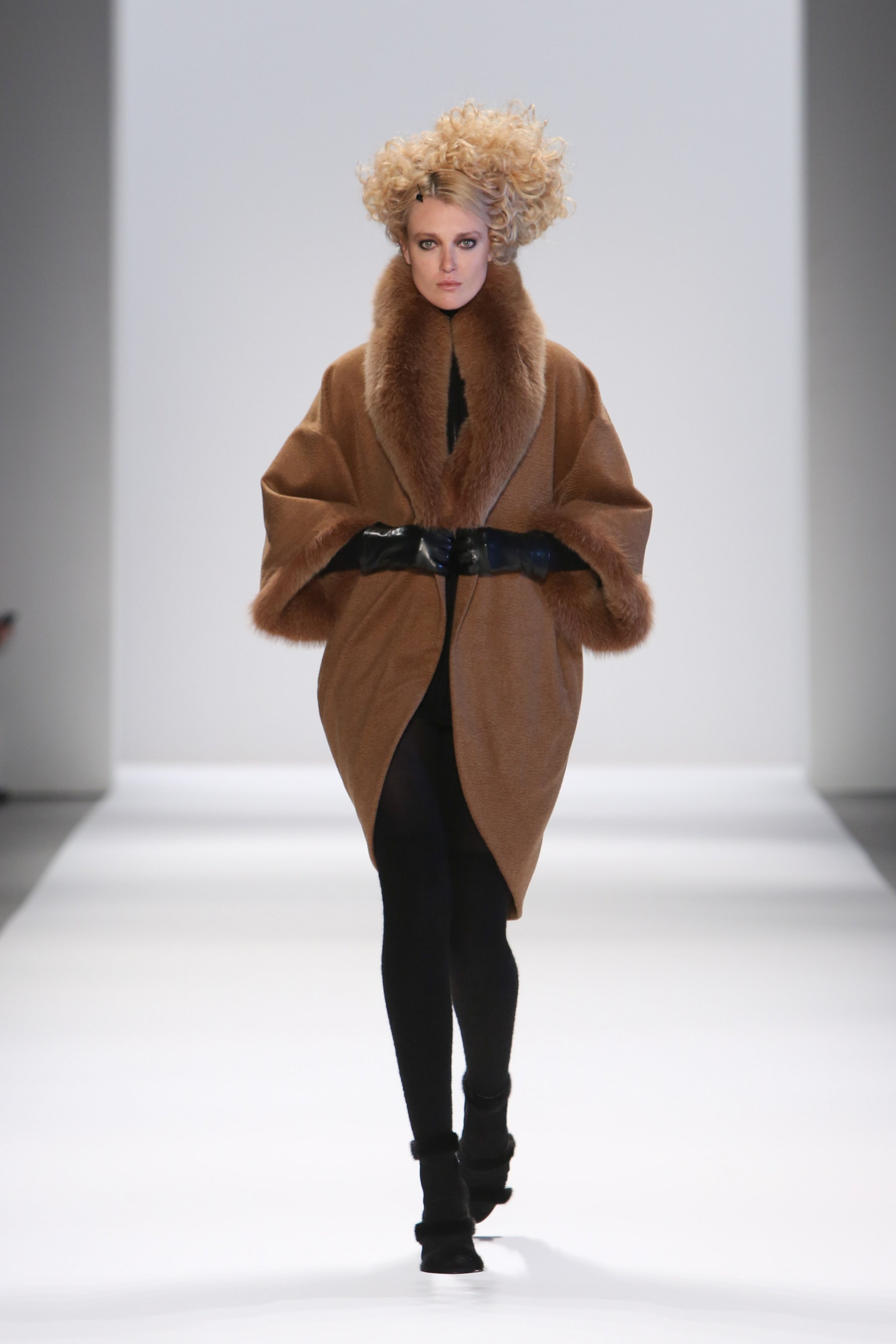 © Copyright IBTimes 2023. All rights reserved.