Zyro Website Builder vs. WordPress: Which Is Better In Terms Of Pricing, Features & Hosting Options
This article uses affiliate links, which means if you purchase products through these links, we may earn a commission. Click here to see our
T&C
. For licensing please click
here
.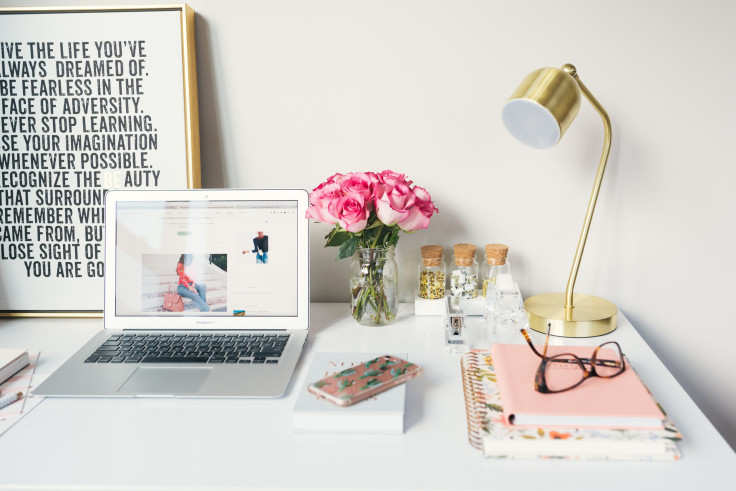 When it comes to creating a website or a blog, WordPress always comes to mind as the OG of content management systems. But what about an actual website builder, which can help you create your own website in just a few minutes? Then it's time you learn about Zyro.
Zyro is a drag-and-drop website builder, a powerful online store solution and a blogging platform. It's simply the best way to build a website even without prior coding, design or technical skills. The drag-and-drop interface makes it very favorable as it becomes incredibly easy for anyone to use. With Zyro, it only takes one click and everything will be in its right place.
What about WordPress?
Technically, WordPress isn't a website builder but a content management system (CMS) which may require certain extensions like plug-ins, software and some coding to create a website. But if you have the technical know-how, WordPress can be very versatile considering the plethora of plug-ins and tools it offers.
Zyro vs WordPress Features
So when it comes to which is the better website builder, we've compared Zyro and WordPress to see which one offers the best deal.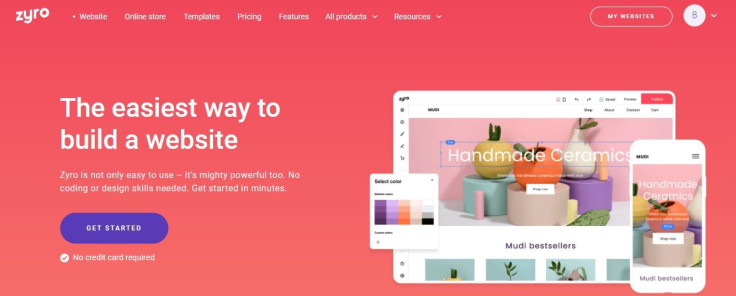 Ease of Use
Zyro's drag-and-drop interface makes it an easy website builder even for beginners as it doesn't require prior knowledge of coding and design. It's very straightforward, simply click on what you want, drag it to the grid's location and you're done. Plus, it directly links its "Add an Image" button to hundreds of beautiful and free images from Unsplash, which you can use depending on your theme.
WordPress on the other hand is more complex. As a blogging platform, it's pretty direct. But as a website builder, it can be a handful for newbies. You need to find particular plug-ins that match your needs. With over 50,000 plugins available on WordPress, it can get quite overwhelming.
So if you're not familiar with coding or design but you need to create a great website, Zyro website builder is the way to go.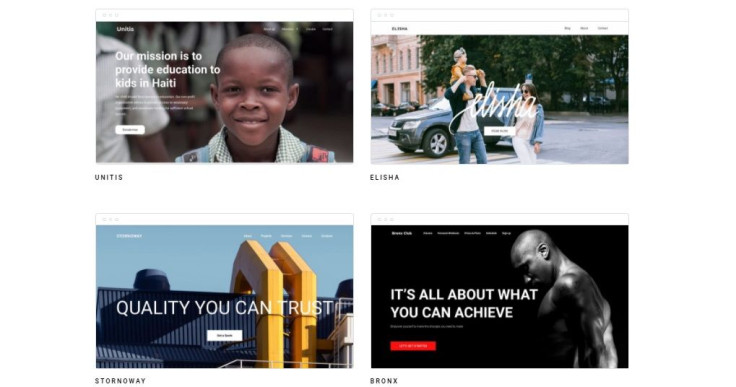 Templates
Zyro offers numerous ready-made templates that you can use and edit as you please. Each template was carefully designed with a minimalist style for a clean website look. As an easy website builder for small businesses, Zyro can give you aesthetically pleasing templates. Another great feature of Zyro is that it narrows down its template options based on your selected theme and the purpose of your website, like if it's for a blog or for eCommerce. If nothing suits your style, don't worry as you can also create your website design from scratch. This flexibility also comes with the same ease of use as with the ready-made templates. It also makes use of AI technology, which offers customized options based on your given keywords.
WordPress offers almost unlimited options for its templates. You can choose your template by narrowing down your theme and your subject. But just like its numerous plugins, WordPress templates can also be overwhelming. Without a filter, templates can range from aesthetically pleasing to plain tacky.
So if you're a newbie and don't want the stress of too many choices, go for Zyro for its streamlined template options that you can easily edit based on your needs and taste.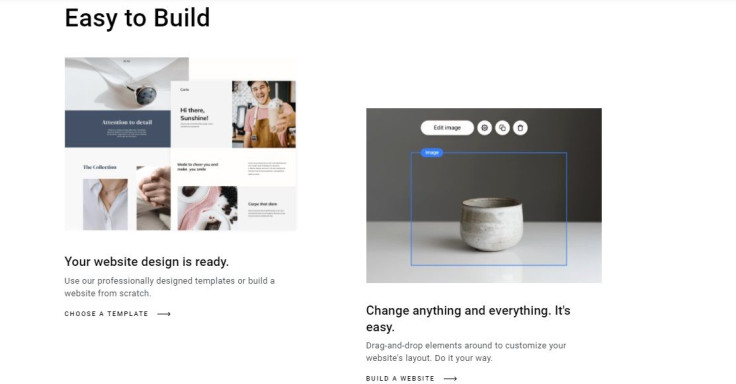 Versatility
What you see Zyro offers is what you get. It's simple yet impactful, however, limited. As you're building your website completely through the drag-and-drop interface, it leaves not much room for upgrades. But as Zyro is also SEO-ready, you're pretty much ready to roll as soon as you click the "Publish" button. Plus, its AI technology can help you with pretty much everything, from logo creation to text generation.
WordPress is open source so it allows you to do your own code for upgrades and tweaks. It has a vast library of WordPress plugins and themes made by WordPress and third-party services. While design and upgrade options aren't endless, the possibilities for your coding and plugins are.
So if you're looking for versatility, WordPress won't disappoint, especially if you're knowledgeable about coding and design and you prefer to customize everything on your own.
SEO-Ready
With Zyro, SEO tools are already built-in, meaning every template is SEO-optimized. Zyro website builder indexes your website on Google in one click including that XML sitemap. So everything is technically done for you by default.
With WordPress, you'll need to identify which themes are SEO-friendly from those that aren't. With tens of thousands of themes available, this can be a newbie nightmare. But it doesn't end there, you also need to check the visibility settings of your site, optimize all your images, enable SEO-friendly permalinks, get your site verified on Google Search Console and submit your XML sitemap.
For this, we're going with Zyro, as SEO can be a bloody battle to get your website ranking on any search engine and if an easy website builder can already do that for you, then that definitely gets our vote.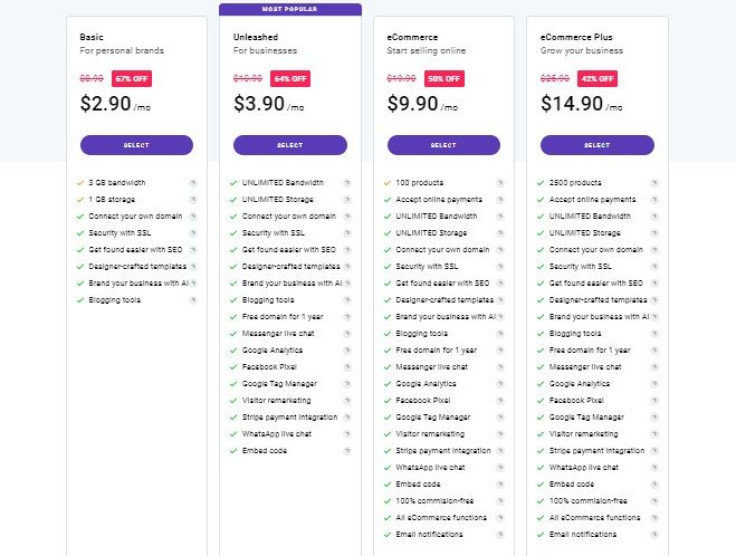 Zyro plans have the lowest pricing in the market. Although they don't offer a free plan or a free trial, they do offer a 30-day money-back guarantee if you choose not to use the platform anymore. Designing your website is free after the initial sign up but publishing it requires at least the Basic plan. Zyro pricing has been slashed down to a crazy affordable rate with their Basic plan starting at just $2.90/month. It offers a custom domain, hosting storage of 1 GB and unlimited images. However, their most popular plan, Unleashed, offers the same but with unlimited hosting storage for just $3.90/month. They also offer very affordable eCommerce plans for small businesses with numerous features.
WordPress.com offers a free plan, which provides an SSL certificate, 3 GB of storage space and access to free themes. However, WordPress's cheapest plan is at $4/month, which is almost the same as Zyro's Unleashed plan. The latter, however, offers more data, unlimited bandwidth, free domain and the ability to accept PayPal payments. But with the option of 50,000 plug-ins, you practically have unlimited ways to extend your site's functionality through WordPress but for a price, as plugins can only be installed in the Business plan and up.
If you're sold with Zyro's great features, check out their plans here.