'1 In 10 Million' Occurrence: Rare White Bison Calf Born At Wyoming Park [Photo]
KEY POINTS
The calf was born at Bear River State Park in mid-May
A photo shows the young calf together with its mother — also a white bison
The birth of a white bison calf is considered sacred by the American Indian communities
A rare white bison calf has been born at a state park in Wyoming. The birth of a white bison is so rare that it is a "one-in-10-million" occurrence.
The calf was born at Bear River State Park in Wyoming on May 16, reported KUTV. Its mother is a 2-year-old bison that is one of just two white bison at the park. The park has also released a lovely photo of the mother and calf.
"Well — our two-year-old white bison is now a mother!" Bear River State Park wrote in a post on Facebook, noting the calf was "mainly white."
The coloration of the mother and her calf wasn't a result of a "fluke" such as albinism — when a creature's cells are unable to produce melanin, thus giving them a white or pinkish hue. The white color is due to the mix of bison and cattle genetics, the park explained.
"As the coloration is a result of a very small amount of cattle genetics mixed in rather than a fluke like albinism or leucism, it isn't unusual that the calf is white too," it noted.
"Most of the bison you find anymore have some cattle genetics," Park Superintendent Tyfani Sager told non-profit news outlet Cowboy State Daily. "They were nearly hunted to extinction by the late 1800s. People got concerned about extinction and cattle inbreeding was used. A white bison birth is still fairly rare."
The birth of a white bison is said to be a "one-in-10-million" occurrence, according to the National Bison Association.
The photo of the mother and calf bison is quite endearing to look at. Although it's quite small and its sex remains unclear, the calf is said to be "doing well."
Since it was born, tourist traffic at the park has reportedly gone up. The Bear River State Park urged people to give the bison "room to try out motherhood and tend to their young." Bison are protective of their young, said Sager.
The American Indian communities consider its birth sacred. For the community, a white buffalo calf is even "the most sacred living thing on Earth," according to the National Park Service (NPS).
"The birth is sacred within the American Indian communities, because it brings a sense of hope and is a sign that good times are about to happen," it noted.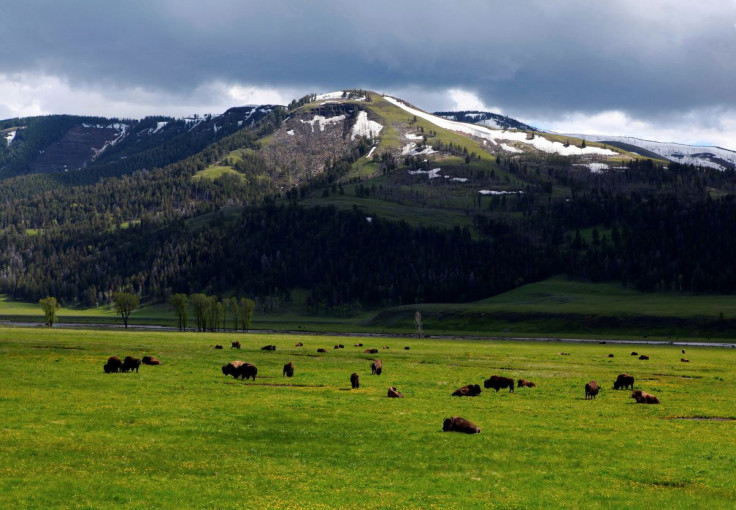 © Copyright IBTimes 2023. All rights reserved.