What Are Jumping Worms? Invasive 'Crazy' Wrigglers Possibly Spotted In Wisconsin City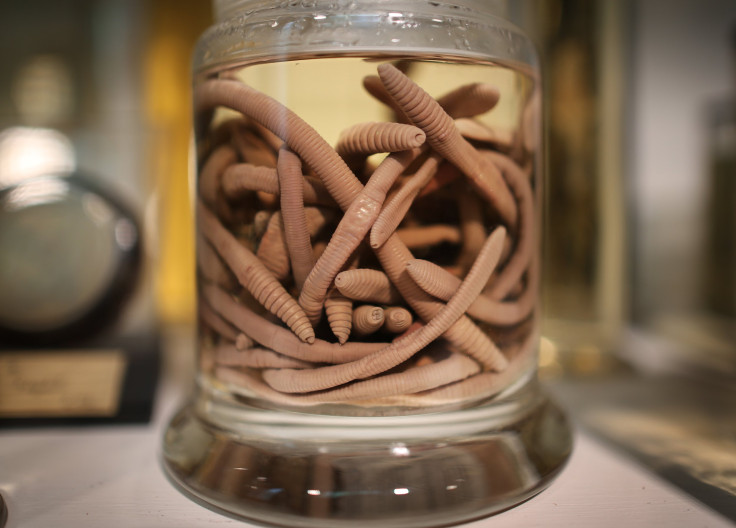 KEY POINTS
Jumping worms are also called crazy worms, Alabama jumpers and Jersey wrigglers
A Sturgeon Bay resident reported a possible jumping worm sighting at a compost site
Jumping worms are invasive species that may render soils inhospitable
Authorities in Wisconsin have notified residents of a possible invasive jumping worm sighting. They may appear quite like regular earthworms, but could actually be quite harmful to the surroundings.
A resident claimed to have spotted jumping worms (Amynthas agrestis) in a mulch pile at the city's compost site, the city of Sturgeon Bay said in a Facebook post last week, adding that it will be investigated.
"Until the suspected issue has been resolved, we will treat the site as if it is infested," said Mike Barker, the director of municipal services. "There will be no removal of mulch or compost from the City's compost site. The site will remain open for those wishing to drop off brush and lawn waste."
But why all the fuss about worms in soil? Aren't earthworms important to soil health?
Also known by the names Alabama jumpers, Jersey wrigglers, crazy worms, snake worms and crazy snake worms, jumping worms are invasive worms that are endemic to parts of Asia. They arrived in North America in the late 19th century, likely from imported plants.
"Since then, jumping worms have become widespread across much of the northeast, southeast and midwestern U.S.," noted the Wisconsin Department of Natural Resources. "In 2013, jumping worms were confirmed for the first time in the upper Midwest, at the University of Wisconsin-Madison Arboretum."
But the problem isn't just that they are in a place they aren't endemic to, or that they tend to thrash and jump into the air even "a foot off the ground" when they are disturbed, likely freaking out those who encounter them.
The problem is that the litter-dwelling jumping worms are voracious eaters. They can eat so much of the fallen leaves in soil — which are important for plant growth — that they end up changing the soil structure to make it inhospitable for plants, including many native species. The worms may also deplete the nutrients that plants, animals, even fungi and bacteria need to survive.
Further, they may also have an impact on other litter-dwelling creatures. It was previously found that "millipede diversity and abundance declined in the field due to A. agrestis invasion." Its impacts on other species are said to be "virtually unknown."
There is still no specific means to control jumping worms, but it's best to be on the lookout for them. Jumping worms are often more noticeable in late summer or early autumn, and can be recognized by their snake-like movement and a pale clitellum (seen here). That's contrary to European nightcrawler, which also has a clitellum but it is pinkish in color.
Jumping worms may be a bit easier to find as they don't really burrow deep in the soil and instead, stay close to or on the soil surface. There's no need to panic though if you find a jumping worm in your garden. Just because they're in your property "doesn't mean that they are everywhere," Wisconsin authorities said.
The key is to do one's part in preventing the further spread of jumping worms, and not to introduce them to a new, un-infested area. Residents can "destroy" the worms by sealing them in a bag. You can also use chemical or heat treatment to kill the worms and also their cocoons.
© Copyright IBTimes 2023. All rights reserved.