'The 100' Season 6 Finale Spoilers: What Happens In Episode 13?
With a title like "The Blood of Sanctum," fans of "The 100" should, per usual, expect an all-out battle in the Season 6 finale on Tuesday.
Directed by Ed Fraiman and written by creator Jason Rothenberg, episode 13 sees Sanctum become a war zone "between the devout and the non-believers," according to the synopsis. Plus, the riddle that is the anomaly only deepens.
The trailer for the final episode of the season only further teases the tragedy to come.
"You didn't think this through," Indra (Adina Porter), with armed backup behind her, tells Russell (JR Bourne), Simone/Abby (Paige Turco) and Clarke/Josie (Eliza Taylor), at the start of the promo, as the three of them hold guns to the heads of Raven (Lindsey Morgan), Madi (Lola Flanery) and Gaia (Tati Gabrielle).
The trailer then cuts to another scene in episode 13, where the Sanctum leader reveals that all he wants is revenge, as though this desire is any different from the one most of the characters around him have.
Then, as if having guns on so many main characters in the first 10 seconds of the promo isn't enough, the short video shows an emotional Clarke/Josie lift her own gun to her head, telling a seemingly-uninterested Madi, "I lost my mother today."
Though it's not shown in the clip, a promotional photo for the finale sees the two of them finally hugging, reuniting in the way fans have been waiting quite a few episodes for.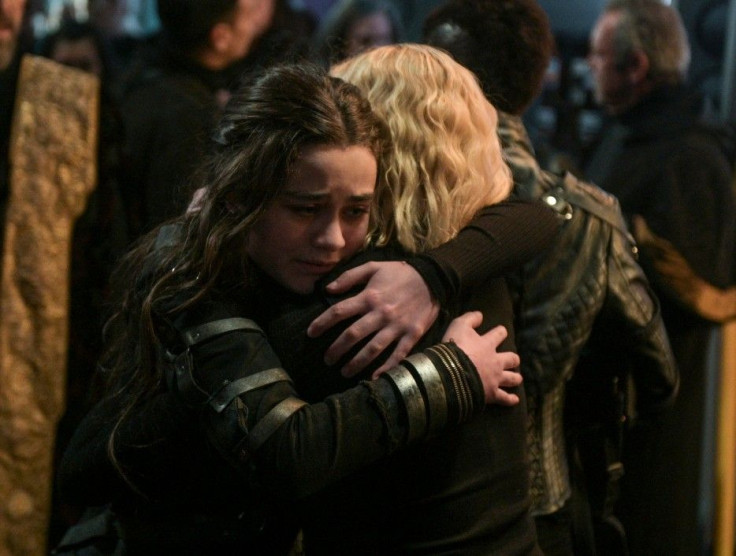 Overall, with so many "The 100" characters finding themselves in life-threatening situations just in the 30-second promo, though, will all of them find a way to escape death, or will viewers watch as yet another fan-favorite dies?
Well, in the last few seconds of the video, there are some gunshots, some punches and some neck-slicing, followed by Clarke/Josie simply stating, "A little genocide, a long nap, what the hell?"
Fans will just have to wait until the Season 6 finale of "The 100" airs on Tuesday on The CW at 9 p.m. EDT to find out what that actually all means for the fate of everyone on the show.
© Copyright IBTimes 2023. All rights reserved.