11 Fantasy Baseball Sleepers Who Could Make Or Break Your 2015 Season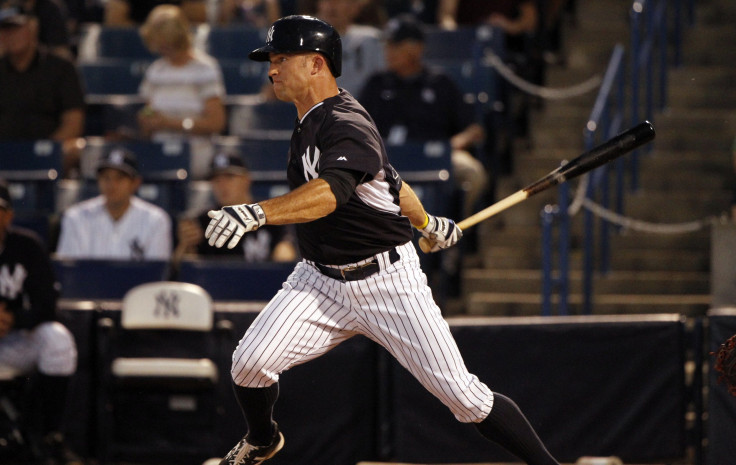 The 2015 Major League Baseball season commenced this week, and with it the concurrent fantasy season. And like any other fantasy league, owners can't expect to ride out the season with a handful of stars like Los Angeles Angels outfielder Mike Trout or Seattle Mariners starting pitcher Felix Hernandez.
No, success in any fantasy league largely requires meticulous planning and the search for undervalued assets, or those players better known as sleepers.
Thus, based off their average draft position (ADP), compiled from six different expert sites by FantasyPros.com, and their potential, the below 11 players (one for each position) could be the sleepers that make or break your fantasy roster this season.
Ian Kennedy, SP, San Diego Padres
Four years removed from his 21-win season, Kennedy is coming off a 13-13 record and 3.63 ERA in 33 starts in 2014, and now has a legitimate offense protecting him in San Diego. Since becoming a full-time starter in 2010, Kennedy's been good for 184.6 strikeouts per season and he posts a solid 1.273 career WHIP. With an ADP of 152.5, Kennedy represents tremendous value as a No. 2 or No. 3 starter in most fantasy leagues, and could be a 16 to 17-game winner with excellent strikeout numbers this season.
Wilin Rosario, C, Colorado Rockies
As of now, Rosario is third on the Rockies depth chart at catcher, but later in the season he could pay off huge dividends. He's currently the 12th catcher off the board with an ADP of 198.5, yet Rosario is still a 26-year-old at arguably the thinnest position in fantasy with a career .274 batting average, 65 career home runs and 69 doubles over three full seasons. It's reasonable to presume that at some point this season Rosario could be your starting catcher or a solid utility start.
Michael Morse, 1B, Miami Marlins
Only months removed from his clutch play in San Francisco's World Series run, Morse is now batting cleanup for the Marlins with an excellent spring slash line of .347/.429/.673 with five home runs and 17 RBI, according to CBS Sports. With second baseman Dee Gordon and perennial MVP candidate Giancarlo Stanton in front of him, Morse could put up numbers similar to his peak with Washington from 2010 to 2013. He's the 35th first basemen off the board, and 266.2 pick overall, making Morse a steal at one of the deepest positions in fantasy.
Scooter Gennett, 2B, Milwaukee Brewers
Gennett's hitless Opening Day shouldn't scare off owners. Last season he finished with a .289/.434/.754 slash line with 127 hits, 55 runs scored, and 31 doubles. More than solid numbers for the 25th second basemen off the board. He's at the bottom of the Brewers lineup, but as a reserve second basemen who can pad a lot of categories he should fit in nicely in rotisserie leagues.
Marcus Semien, 3B, Oakland Athletics
Semien was slotted in as the A's starting shortstop on Opening Day, but on Yahoo and ESPN leagues he's playable at both second and third base. Semien's career .240 batting average is a red flag, but he still came up with six home runs and 28 RBI in only 64 games last season. There's a huge tier drop off at third base this season, and with a 275.4 ADP, or 26th off the board at the position, Semien falls somewhere in the fifth or sixth tier. But if Semien, 24, shows more patience at the plate and cuts down on the strikeouts, he could provide 50 to 60 RBI this year.
Everth Cabrera, SS, Baltimore Orioles
Now with the Orioles, Cabrera enters his seventh season hoping to return to the 2013 form that earned him his first All-Star nod. He's trying to switch from shortstop to second base, but could find himself back at SS before the season winds down. No matter, because Cabrera's shown the big bat and speed before and could explode on the Orioles high-scoring lineup. His stolen base numbers have plummeted since he led the NL with 44 in 2012, 37 in 2013 and 18 in 90 games last season, but when healthy Cabrera can bring a lot to your team. With a 366 ADP, Cabrera's worth a risk to fill out a bench. Cabrera also provides some depth at shortstop or for your regular utility man's off days.
Brett Gardner, LF, New York Yankees
Still one of the fastest guys along the base paths, Gardner also came up with a career-best 17 home runs last season and carried that newfound power into New York's Opening Day with his first dinger of the season. Gardner's averaged 26 stolen bases a season, and that speed has also helped him leg out 41 career triples, an almost impossible category for owners to fill. He's the 40th outfielder off the board and can double as a utility if you have a bigger bat in your outfield.
Ben Revere, CF, Philadelphia Phillies
Across the board, it seems owners are scared off by Revere (38th outfielder, 140.7 ADP) because of his low power numbers (two career home runs, both last season) and the fact that he's on the trading block, making his future placement in any lineup a serious question. But this is a guy with a .291 career average who's never struck out more than 54 times in a single season and led the NL with 184 hits last year and totaled 49 stolen bases.
Jason Heyward, RF, St. Louis Cardinals
The two-time All-Star and former MVP vote-getter of the Atlanta Braves, moved on to St. Louis and he's already showing he's more than just a power-hitter. Heyward burst on to the scene with 59 home runs over his first three seasons in the majors, and he's tailed off with only 25 since. But when healthy he's capable of swiping bags (20 or more in two different seasons), and racking up doubles (127 for his career) and home runs. The RBI numbers (only 58 last season) leave a ton to be desired from someone with his power, but Heyward should be higher than his 77.8 ADP.
Jean Segura, SS, Utility, Milwaukee Brewers
Segura's stats the last two seasons make him a perfect utility man. He's totaled 135 runs, 64 steals, 299 hits, and 34 doubles, and is a career .270 hitter. His numbers dipped last year, but if Segura gets hot early he could make his second All-Star team in three years.
Aaron Sanchez, RP, Toronto Blue Jays Playable as reliever or starter, it's possible Sanchez moves up to the starting rotation his season, making his 254.5 ADP possibly the steal of the season in terms of pitching. The now 22-year-old pitched in 33.0 innings over 24 games last season, and posted a 1.09 ERA with 27 strikeouts. The ERA number is unsustainable, but Sanchez has shown the velocity to consistently get strikeouts and as a late round pick he's a minor gamble.
© Copyright IBTimes 2023. All rights reserved.