'19 Kids And Counting' Star Josh Duggar Resurfaces On Instagram Amid Molestation Scandal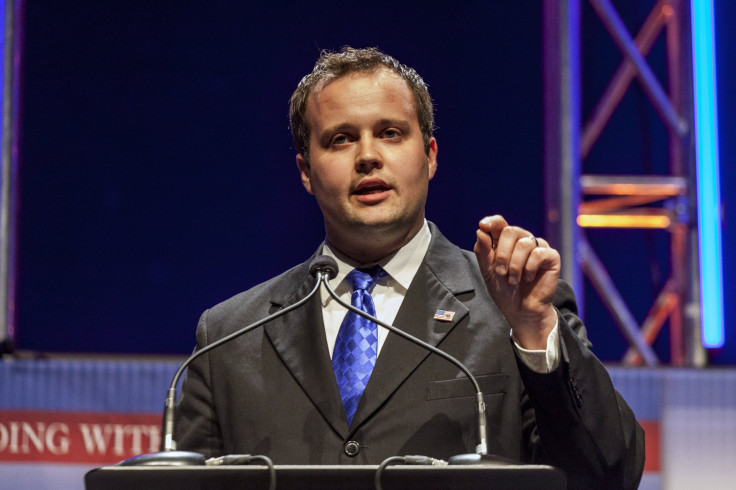 Josh Duggar is back on Instagram -- for the moment anyway. The "19 Kids and Counting" star has been noticeably absent from most forms of social media since news broke that he had molested several young girls nearly 12 years ago.
Duggar reappeared on Instagram to wish his son Michael a happy fourth birthday. The 27-year-old shared a photo of the toddler, along with a brief message saying simply, "Happy 4th Birthday Michael James! #Big4 #HappyBirthday #Michael." The photo is Duggar's first post in nearly a month.
His wife, Anna Duggar, shared a video of the toddler blowing out his candles, surrounded by his young aunts and uncles. In her caption, she confirmed suspicion that she and her husband had moved their growing family, which currently includes three children, from Maryland back to Arkansas. They were spotted loading moving trucks with the help of bodyguard Steve Neild, who was doing his best to keep photographers away from the home. The move will allow Josh and Anna to be close to Jim Bob, Michelle and the rest of the Duggar family as they attempt to navigate life amid the sex scandal that has rocked the reality TV stars.
News broke May 19 that Josh had molested several children at a young age. In the weeks that followed it was reported that the abuse had occurred in 2002 and 2003, when Josh was 14. A police report, legally obtained by InTouch magazine, revealed that there had been five victims, four of whom were his sisters.
Following that development, Jim Bob and Michelle sat down with Fox News' Megyn Kelly to tell their side of the story. They shared with Kelly that they had been aware of Josh's actions, but did not immediately report them. According to their interview, both Jim Bob and Michelle felt their son was simply a young boy who was curious about the opposite gender. It wasn't until a final incident in which Josh inappropriately touched one of his younger sisters, who was just 5 at the time, that they decided to take action.
Five days later, on June 10, Jill Dillard and Jessa Seewald appeared on the show. During their interview they admitted, for the first time that they had been molested by their older brother. They shared similar views on the situation to those of their parents, decrying any and all outlets calling Josh a child molester or rapist.
Although Josh has resurfaced on Instagram, he has yet to comment on the police report or interviews conducted by his family members. It remains unclear whether he and the rest of the family will be returning to TLC for new episodes of "19 Kids and Counting."
© Copyright IBTimes 2023. All rights reserved.