2014 Midterm: Swing State Results Will Offer Little Insight For 2016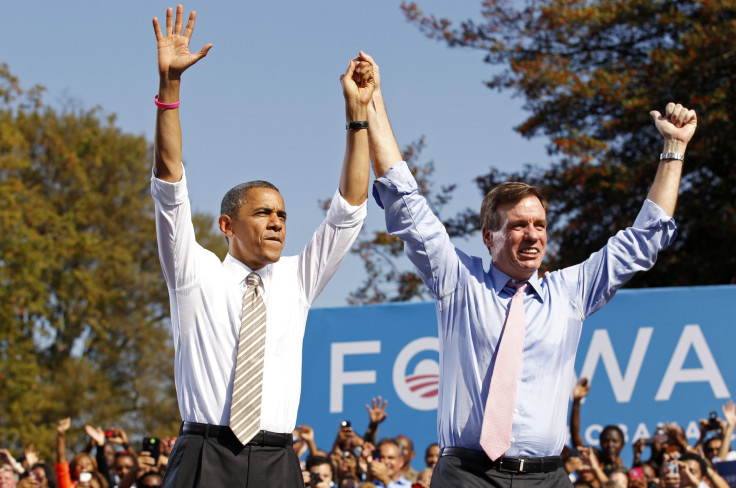 When the polls close in two weeks, pundits and political observers will race to use the midterm results to predict what might happen in 2016. But this cycle's swing states don't actually offer much insight.
If there's one lesson to draw from the current election season, it's this: Resist the temptation to find a lesson. Across the country -- in both Senate and gubernatorial campaigns -- the key issue has been the candidate's personality. Or his portable fan. In Iowa, the polarizing issue is a neighbor's stray chickens; in Alaska, it's snowmobiles. Overall, midterms tend to have lower turnout and an electorate that's motivated more strongly by local issues. While analysts have been focusing on dividing states into blue or red -- and looking for any hint of a changing hue -- many states put one party in the White House and the other in the governor's mansion.
Here are five swing states, and why it's best to ignore their midterm results when prognosticating about 2016:
Virginia
Virginia was once a Republican stronghold, a reliably red state. Driven by growth in the northern Virginia suburbs of D.C., Democrats are finding more success. President Barack Obama won Virginia twice, and Democrat Terry McAuliffe defeated Republican Ken Cuccinelli for governor in 2013. Incumbent Sen. Mark Warner is the heavy favorite for re-election this year. The former governor, a Democrat, has picked up the endorsements of several Republicans in the commonwealth, including former Sen. John Warner (who's not a relation).
But while it might look like evidence of a trend, Warner's win is not a sign that Virginia is becoming a solid blue state. Warner is capitalizing on his popularity as a moderate, making jobs the central message of his campaign. And his opponent, Republican Ed Gillespie, a former political consultant and head of the RNC, has been withered by attacks on his career as a lobbyist.
"Warner has been a heavy, heavy favorite," said Pete Snyder, a Republican consultant who ran in the lieutenant governor primary in 2013. "Virginia is going to be a hotly contested state [in 2016]."
Colorado
Colorado has the perfect profile of a swing state, coupling urban and often liberal Denver with the rural and more conservative remainder of the state. Obama was successful here, winning easily in both 2008 and 2012. The state has enjoyed near total Democratic control for the past four years.
But this year two incumbent Democrats -- Sen. Mark Udall and Gov. John Hickenlooper -- are locked in tough re-election battles. With two weeks until the election, Republican Rep. Cory Gardner is holding a small lead over Udall in several polls, and Hickenlooper is in a dead heat with Republican challenger Bob Beauprez.
But even if Gardner and Beauprez are successful, it won't mean the state will be more friendly to Republicans in 2016.
"Colorado voters maintain a certain 'cowboy independence' that requires politicians in both parties to ask for, not expect, votes every election cycle," said Joe Brettell, a Republican consultant who has worked in Colorado. "It's not safe for either party to assume that they can extrapolate success in one election to the other -- they typically like to split their ballot regardless of party."
Ohio
Republican Gov. John Kasich is going to walk to easy re-election next month. Pollsters stopped bothering to ask voters who their favorite was in September, when Kasich was holding a 20-point lead.
But it would be a mistake to start counting 2016 votes based on Kasich's success.
Ohio is always a swing state, regardless of who occupies the governor's office. And Kasich's margins will be helped by his Democratic challenger's implosion. Voters discovered that two years ago, Cuyahoga county executive Ed Fitzgerald had been stopped by police in a parking lot while he was with a woman who was not his wife -- at 4:30 a.m. It turned out that his license had been suspended and he shouldn't have been in the driver's seat in any case.
"John Kasich is going to win by several touchdowns in the Buckeye State, but that said, in 2016 it's going to be hammer and tong for every vote," Snyder said.
Florida
Florida's gubernatorial election is in a dead heat, with most polls showing an exact tie. But whether the Republican or Democrat wins, the results are going to say very little about the Florida electorate.
The race pits Republican Gov. Rick Scott against Democrat Charlie Crist, who previously served as the state's governor as a Republican but didn't seek re-election in order to run for the Senate. Crist then lost the Republican primary in 2010 to Sen. Marco Rubio, and opted to become an independent to make another try in the general election. After he lost the general, Crist switched parties again, joining the Democrats. Flashpoints in the campaign included a dispute about Crist using a portable fan during a debate and whether he was getting money from strip club owners. These are not issues that inspire national political movements.
Republican and Democratic consultants agree: Voters dislike both candidates and will vote for whomever they see as the less bad option. There's no larger takeaway here.
Nevada
Nevada is increasingly a presidential-year swing state.
In 2012, Obama won 52 percent of the vote, defeating Mitt Romney by 6.6 percentage points. That same year, Republican Sen. Dean Heller won by less than a percentage point. House Majority Leader Harry Reid held on to his Nevada seat in 2010, but mostly thanks to Republicans nominating Sharron Angle, who ran a bad campaign and veered very far right.
This year Nevada won't even be close. Republican Gov. Brian Sandoval is expected to win re-election in a landslide. The most recent poll, conducted by the New York Times, CBS News and YouGov in September, shows Sandoval with a
31-point lead
.
But the state has a history of flipping parties, and one Democratic pollster says there's no reason to think that won't be the case yet again in 2016.
FOR FREE to continue reading
✔️ Unlock the full content of International Business Times UK for free
offer available for a limited time only
✔️ Easily manage your Newsletters subscriptions and save your favourite articles
✔️ No payment method required
Already have an account?
Log in
© Copyright IBTimes 2023. All rights reserved.