2020 Presidential Election Odds: Michelle Obama Among Potential Challengers To Donald Trump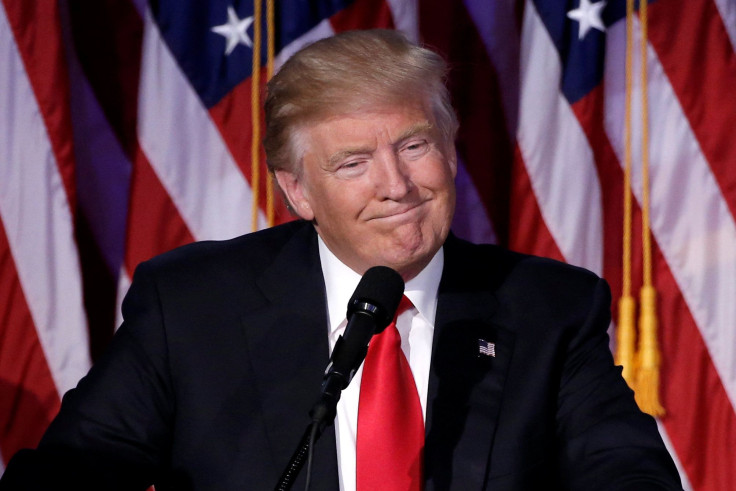 If the 2016 election has taught us anything, it's that presidential election campaigns are now effectively a continuous four-year slog. Thus no sooner had Donald Trump been named president-elect had the attention of many turned to 2020. And oddsmakers are certainly no different.
The betting markets took record sums on this year's election as Trump went from a 250/1 (+25,000) long-shot outsider in the fall of 2014 to becoming favorite for the first time in the midst of a dramatic election night. And the oddsmakers again appear somewhat skeptical of his chances in 2020. Trump is the obvious clear favorite to win the election, given that he is far likelier than anyone else to be on the ballot. Yet despite the fact that he is an incumbent and the last three presidents have served two terms, Trump is odds against to emerge similarly victorious in four years' time.
British bookmaker Sky Bet has Trump at 7/4 (+175) to win in 2020, which equates to just a 36.4 percent chance. Part of the hesitancy about Trump's chances is likely down not only to his vulnerability in a future election but also whether he himself will even run again.
Trump appeared to suggest that was in doubt in his victory speech in the early hours of Wednesday morning. "I look very much forward to being your president, and hopefully at the end of two years or three years or four years, or maybe even eight years, you will say, so many of you worked so hard for us but you will say that — you will say that that was something that you really were very proud to do," he said.
It is revealing therefore that Trump's vice president-elect Mike Pence has the second-best odds with British bookmakers. Were Trump to decide the presidency gig wasn't for him before the end of his term, Pence, of course, would be the man to step up to the top job.
The markets also provide a glimmer of light for Democrats after a night in which they saw Republicans gain control of the presidency to go along with both houses of Congress. British firm Ladbrokes has the Democrats as the favorite to reclaim the presidency in four years' time.
As for whom the candidate might be, there are a variety of names offered up. The man who discovered on election night that he wouldn't be vice president to Hillary Clinton, Tim Kaine, is unsurprisingly in the mix. As, indeed, is Clinton, even though she is 69 years old and there must be doubts as to whether the former first lady could stomach a third bid for the White House.
Perhaps then it will be the time for the current first lady to make her own run for the top job. As a Trump victory became clear on Tuesday night, Twitter became flooded with users calling for Michelle Obama to step forward. With an approval rating at 64 percent, according to Gallup, she would certainly have a lot going for her.
As for other potential Democratic candidates, Elizabeth Warren is seen as someone who could succeed where Clinton fell short and become the first female president. Fellow progressive Cory Booker, a senator from New Jersey, is another name in the mix, along with Housing and Urban Development Secretary Julian Castro, who was considered by Clinton for her vice-president slot.
And if you fancy putting your money on another political outsider who could potentially replicate Trump's success, Irish bookmaking firm Paddy Power has Kanye West available at a price of 100/1 (+10,000).
2020 Presidential Election Odds (via SkyBet)
Donald Trump – 7/4
Mike Pence – 8/1
Tim Kaine – 12/1
Elizabeth Warren – 12/1
Hillary Clinton – 14/1
Andre Cuomo – 18/1
Cory Booker – 18/1
Michelle Obama 20/1
Michael Bloomberg – 25/1
Joe Biden – 28/1
Julian Castro 33/1
© Copyright IBTimes 2023. All rights reserved.