2024 Election Poll: DeSantis Increases Lead Against Trump, Biden Shouldn't Run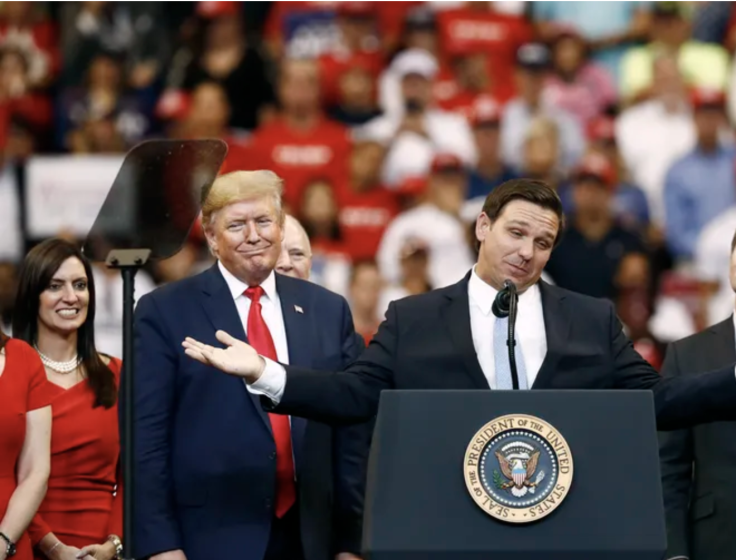 KEY POINTS
Over 60% of Americans said they want to see DeSantis as the Republican presidential nominee in 2024
Over 50% of Republican-identifying respondents named DeSantis as the person they want representing the GOP in 2024
More than 60% of all voters said they think Biden should not seek re-election
Florida Gov. Ron DeSantis remains the top pick among Republican voters for the GOP presidential nominee in 2024 in a hypothetical match-up against former President Donald Trump, according to a new poll.
At least 63% of voters said they would want to see DeSantis as the 2024 GOP presidential candidate, while only 36% said they would vote for Trump in the primary, Fox News reported, citing a new Marquette Law School poll conducted from Nov. 15 to 22.
Among Republican-identifying poll respondents, 55% said they would back DeSantis, while 45% named Trump as the person they want representing the GOP in the 2024 election.
Apart from securing a big lead against Trump for the GOP primary, DeSantis also tied against President Joe Biden at 42% if they were running for the presidency in a hypothetical 2024 match-up. The results were a major increase from a January Marquette poll where only 34% said they would support DeSantis compared to 43% who named Biden.
The results from the hypothetical Biden-DeSantis match-up were a far cry from the numbers from a Biden-Trump match-up where the president secured a 10-point edge over the former U.S. leader, 44% to 34%.
Despite Biden's optimistic odds against Republican presidential candidates in the hypothetical match-up, at least 67% of all voters said they do not think the president should run for re-election. Among Democratic respondents, 53% do not think Biden should seek another term in the White House.
The new poll comes after a Quinnipiac University National poll published in November found that 43% of Americans prefer DeSantis for the GOP nomination compared to only 29% who named Trump. Republican voters were evenly split over who they prefer to win the Republican nomination, with 44% preferring Trump and another 44% naming DeSantis.
The Quinnipiac University poll also found that 57% of Americans think Trump running for president in 2024 is a "bad thing." Among Democrats, that number increased to 88%. Among Republicans, however, only 27% said they believe another Trump bid is a bad thing.
In addition, 55% of respondents said they believe Trump has had a mainly negative impact on the Republican Party, while only 37% said they think he had a mainly positive impact.
© Copyright IBTimes 2023. All rights reserved.