277 Fully Vaccinated Indiana Residents Have Died Of COVID-19 In 3 Weeks
KEY POINTS
Breakthrough deaths in Indiana represent 0.038% of fully vaccinated individuals
The number of breakthrough infections increased by 106,000 over the past three weeks
74.3% of all cases sampled in Indiana were caused by the Omicron variant
More than 270 fully vaccinated residents in Indiana have died of COVID-19 over the past month as the state continues to see an increasing number of infections.
Between Dec. 31, 2021, and Jan. 20, 2022, Indiana health officials reported 277 new breakthrough COVID-19 deaths. The latest figure brings the state's total number of COVID-19 deaths among the fully vaccinated to 1,367, according to the state's latest COVID-19 Vaccination Breakthrough report.
At least 88% of Indiana's breakthrough deaths occurred in people aged 65 or older. The average age of death is 79 years old. The figure represents 0.038% of fully vaccinated individuals.
During the three-week period, the number of breakthrough COVID-19 infections also increased by 106,020. The numbers bring Indiana's total number of cases among the fully vaccinated to 218,793 from 112,773. At least 6.047% of the state's vaccinated population have now tested positive for the virus.
COVID-19 cases among the unvaccinated and vaccinated in Indiana have risen by 19% over the past 14 days, an analysis of data conducted by CNN found.
Between Jan. 8 and 20, health officials recorded 17,684 new infections, bringing the state's total to 1,524,527 since the beginning of the pandemic. The state's dashboard puts Indiana's seven-day all-test positivity rate at 30.4% and its seven-day unique individuals' positivity rate at 44.7%.
At least 74.3% of all cases sampled in Indiana were caused by the highly transmissible Omicron variant. The Delta variant, which was previously the dominant strain in the state, now accounts for only 25.3% of all cases sampled.
Health experts in the state continue to urge people to get vaccinated to help prevent severe illness, hospitalizations and deaths caused by COVID-19. As of Sunday, Indiana fully vaccinated 3,620,906 individuals, 53.3% of whom are females and 46.3% are males.
Hoosiers aged 5 and older can now register for vaccination through the Indiana State Department of Health.
In addition to the state's vaccination program, Indiana University will also distribute KN95 and N95 masks to students, faculty and staff for free at the School of Public Health in Gym 171 beginning Monday.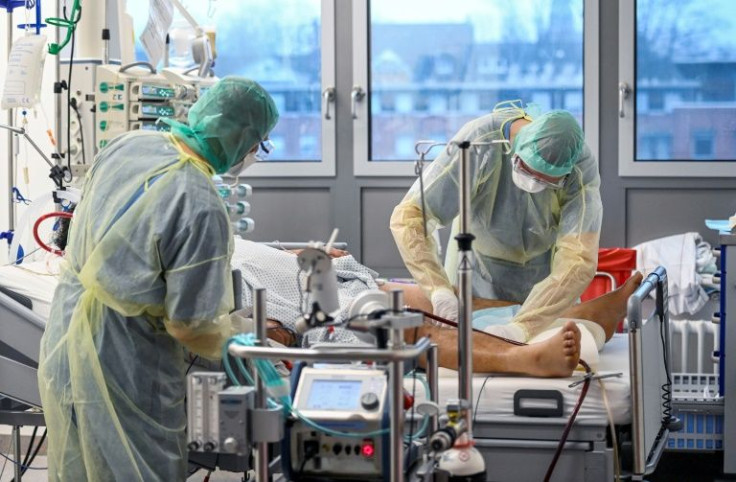 © Copyright IBTimes 2023. All rights reserved.