3 Women Kicked Off AirTran Flight Are Victims of 'Bully' Flight Attendant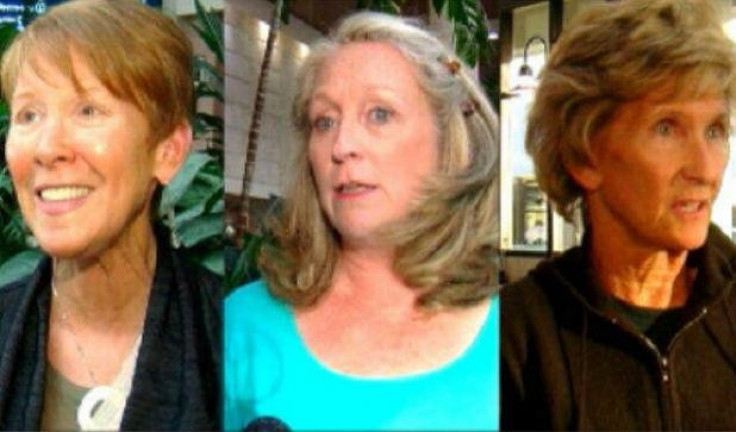 Three women kicked off of an AirTran flight on Monday say a bully flight attendant is to be blamed, and are slamming the airline for hiring the unbalanced man who booted them from the plane.
The three passengers, who did not know each other before the Dec. 5 flight from West Palm Beach, Fla. to White Plains, N.Y., have since banded together at what they call disrespectful and at times frightening treatment by an AirTran flight attendant.
'I found myself shaking'
All three women were seated in the same section of the plane and were settling in during boarding when a male flight attendant reached for their overhead bin. Grabbing the bags above, the flight attendant began roughly handling the carry-on items.
Hey, I have breakables in that, Marilyn Miller, one of the women later kicked off, says she told the unnamed attendant. Rather than be gentler with the bags, however, the attendant completely ignored her. He even began shoving others bags into hers.
Miller couldn't believe what she was seeing. It was just like a bully and I found myself shaking, she said.
He said, 'Well, you're getting off.' I said, 'You've got to be kidding me,' said Miller, who was escorted off of the plane into the jet-way.
It was just like a bully and I found myself shaking.
'Why are you doing this to them?'
Carol Gray also got into trouble when she flagged down the same flight attendant a bit later, asking him for help with her seat.
I said, 'Excuse me sir, my seat is broken,' she told WPTV. He looked at me and said, 'I'm not talking to you,' and poked me in the arm.
According to passengers on the plane, the male attendant then became irate, telling both women to get off the plane. Karyn Schorr, a third passenger who intervened, found herself kicked off the flight as well.
I said, 'This is crazy, they didn't do anything. Why are you doing this to them?' she recalls. And he [the AirTran attendant] said, 'Throw her off, too.'
Palm Beach County sheriff's deputies were called to the scene, standing by as the women were escorted off the airplane and taken to another gate.
Southwest Offers 'Gesture of Goodwill'
Within a day of the incident, local news crews were interviewing the three women, who remain furious and shaken by their treatment on the AirTran plane.
My seat was broken, and it really was. Her bag was being mishandled. And this other woman came to our defense, said Gray. Those are hardly causes to throw us all off the plane.
Once the news broke, Southwest Airlines, which owns AirTran, immediately issued an apology to the passengers in a statement released Dec. 6.
We always prefer that a passenger walk away with a positive experience when flying our airline; we regret that didn't happen in this scenario, the statement read. As we often do in these situations, we will take this opportunity to review the reports and take away any key learnings that we might uncover.
Southwest-AirTran also said it had booked new travel arrangements for the passengers and compensated them for their flight as a gesture of goodwill for their inconvenience.
'This is a man who is not balanced'
For the three women kicked off the AirTran flight, however, an apology from the airline isn't enough to make them get back on a Southwest plane.
In recent months, scandals and airplane horror stories have dogged the top U.S. and international airlines, from the story of a man forced to stand for a seven hour flight to the recent DWI of Randy Babbit, the head of the Federal Aviation Administration (FAA).
"We know that travel is no longer enjoyable but this was the opposite end of that. I mean this was totally, I've never seen anything like it," said Gray.
Couple all that with rising ticket prices as consumers approach the holidays, and it's hard for these three women to forgive and forget.
Stewards have all the power when you're on an airplane, I get that, said Schorr, who feels AirTran should do a better job of screening and selecting flight attendants. But, this is a man who is not balanced.
Marilyn Miller agrees. If I ever see him on a plane again, I'm getting off, she told reporters.
© Copyright IBTimes 2023. All rights reserved.