30 Things You Must Know About Zoho Social (Social Media Management Tool)
This article uses affiliate links, which means if you purchase products through these links, we may earn a commission. Click here to see our
T&C
. For licensing please click
here
.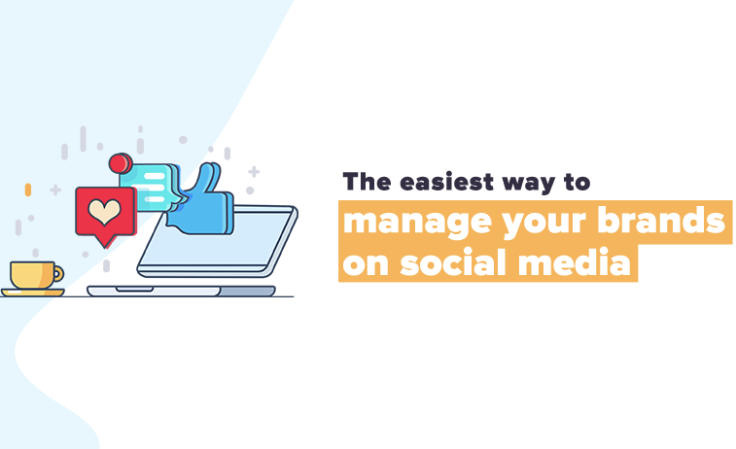 If you're a business owner and you have been using social media to grow reach and awareness online, then having a social media management tool is a must. Whether you're still starting out or you want to be ahead of the competition, social media is a very effective platform to get your brand into people's consciousness, which could potentially lead to conversions and sales.
Social media can seem fun and uncomplicated if it's just your personal account and you're merely posting for an audience composed of your friends and relatives, but managing social media business accounts is a totally different thing. Remember, this is your business and you must treat it with professionalism to keep your audience engaged. Whether you have a budget for a social media manager or not, making use of an efficient social management tool for your social media business accounts is a must!
What are Social Media Management Tools for?
The whole world is going digital. As people have become more comfortable in going online for their daily transactions whether for school, work, communication, entertainment, shopping and even dating, the digital world has opened up a lot of opportunities for people -- especially businesses.
While there's great opportunity for companies to promote their products and services, it's also a convenient platform for customers to directly talk to companies whether for inquiries, suggestions or complaints. This can be a good and bad thing, depending on how you look at it. While glowing reviews and comments can push your brand up, negative comments aren't necessarily a bad thing if you know how to handle them. Aside from getting better insight into what your customers want, negative comments can help you improve your product/service to be able to also convert noncustomers to your brand.
As such, it's highly important that you make use of an efficient social media management tool to help simplify the process of maintaining your brand's social media presence especially when you have more than two accounts. Aside from ensuring that your posts are always up-to-date, you won't miss messages and comments from your audience as these are both crucial in maintaining engagement. Regularly posting and speedy replies will keep you connected to your audience.
If you still don't have one or you're looking for the best one, you should sign up with Zoho Social.
Complete Social Media Management Tool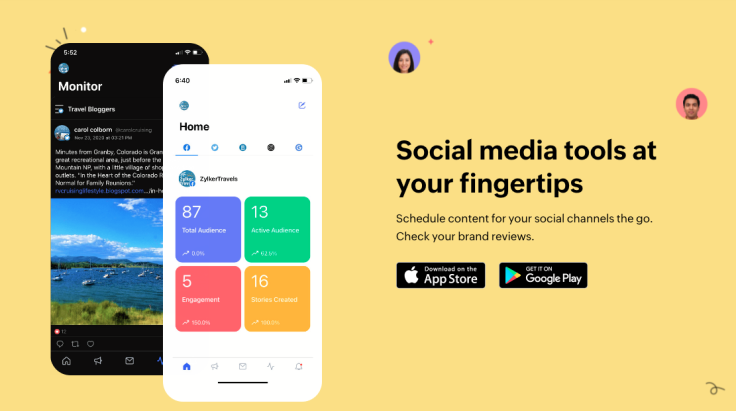 One of the leading social media management software today, Zoho Social is an all-in-one service kit that helps streamline all your social media processes and workflows for better efficiency.
Zoho Corporation (formerly AdventNet Inc.) was founded in 1996 by Sridhar Vembu and Tony Thomas, which quickly grew into a powerful and much-admired tech company specializing in offering business solutions software. As it recognizes the need to also have online support for the growing use of social media, the company created Zoho Social, the popular social media management tool that is used by businesses and social media managers worldwide.
Zoho Social is headquartered in Chennai, Tamil Nadu in India while its U.S. office is located in the heart of California. It operated under the name, AdventNet Inc. until 2009. After developing Zoho CRM in 2005 and adding invoicing applications and functionalities in 2008, AdventNet Inc. was rebranded to Zoho Social, which is also the name of its online office suite that included spreadsheets and databases.
Today, Zoho Social has over 9,100 employees in various offices in countries like Mexico, Colombia, Australia, Japan, South Africa, Germany and the Netherlands. As of early 2021, the software had over 50 million customers and counting, with the team dead-set on expanding even more.
Here are 30 reasons why you should sign up with Zoho Social if you want to keep your social media accounts always in check.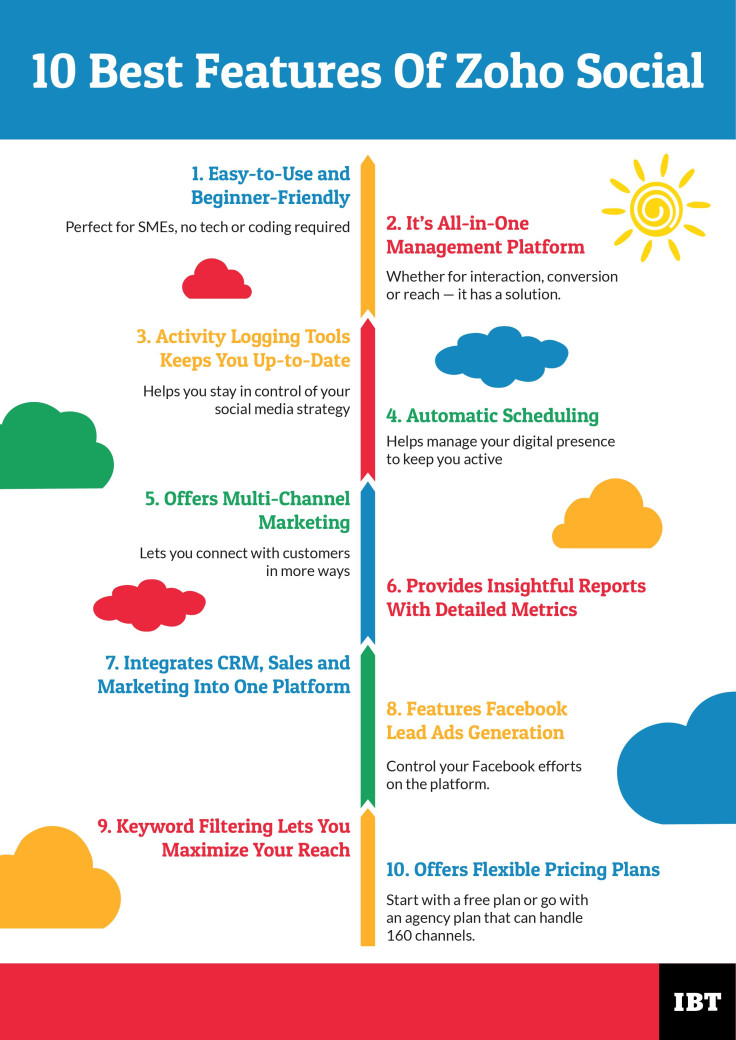 Zoho Social Features Facts
1. Zoho Social is Easy-to-Use and Beginner Friendly
One thing that makes Zoho Social stand out is how easy to use and beginner-friendly it is. As the software is perfect for small and mid-sized businesses, the team behind Zoho wants to help business owners manage their time better so they can grow their business.
You don't need to be a techie to use Zoho Social. No coding experience or anything similar is required to utilize its features. Zoho Social provides easy online business solutions to help you grow your digital presence. This way, business owners will be able to focus on delivering better services while Zoho Social operates in the background.
2. Zoho Social's Navigation is Smooth as Butter
Zoho Social is not only easy to use, but navigation is also a breeze. Since the software is great for small companies, it's designed for simplicity and intuitiveness. The layout is clean and straightforward, with critical functions and features laid out to be opened with a single click. It also provides countless online sources that can help you, which include its blog and archives. Here you can find timely information, news and other great articles that'll give you unique insight.
Aside from a smooth customer experience, you'll also get to pick up relevant information that can help you utilize the software's features.
3. Zoho Social is an All-in-One Management Platform
Social media management involves many things and unfortunately, a lot of management software lacks some essential functions and features to provide an all-in-one solution. For up-and-coming businesses, this can lead to issues and wasted resources.
However, Zoho Social is engineered to take care of all your social media management needs. Whether for directly interacting with your audience, tracking customer conversion, growing your reach or collaborating with your teammates, Zoho Social always has a solution. You'll get to benefit from a complete package without spending so much on different applications.
4. Zoho Social's Activity Logging Always Keeps You Up-to-Date
Of course, it wouldn't be an effective social media management tool if you're not always up-to-date. That's why Zoho Social has activity logging, which allows you to stay on top of everything that's happening in your social media channels.
From conversations, brand reach, statistics to deeper insights, Zoho Social helps you stay in control so you're always ready to adjust your social media strategy at a moment's notice. The activity logging tool is also effective in gauging your company's productivity while alerting you about areas that should be improved.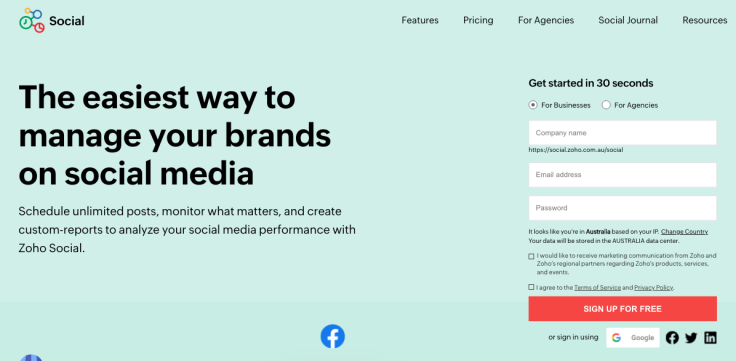 5. Zoho Social Features Automatic Scheduling
Scheduling is one of the biggest challenges behind handling social media, what more when you want to be active on multiple social media channels? As a business owner, you might already be handling more tasks than you are able to do, hence managing your digital presence is not prioritized.
Luckily, Zoho Social helps you avoid this by automating tasks like scheduling, publication and other repetitive tasks. For example, Zoho Social's handy publication calendar lets you preview all your scheduled posts for double-checking while rescheduling is as simple as drag and drop. Once you've made changes, the smart calendar will update the schedule, letting you tick another task off the list.
6. Zoho Social Provides Multi-Channel Marketing
One of the greatest challenges in running a social media channel is making your customers feel special. Luckily, Zoho Social's multi-channel marketing feature lets you connect with them in more ways. You can establish more meaningful relationships through personal interactions and effectively increase your reach and connect with more prospects.
You can do this by launching effective email campaigns, publishing relevant content, responding to website visitors in real-time, knowing when prospects interact with your content and engaging with everyone on your multiple social media platforms. Remember, constant engagement is key to successful social media management.
7. Save Time with Zoho Social's One-Window Management
Even if you're already well-versed in social media management, trying to handle tasks for multiple platforms will get overwhelming and confusing. Your progress will be significantly slower as you spend a lot of time switching between accounts and making sure you don't post in the wrong one. Worst case scenario is that you end up making mistakes and don't realize it until it's too late and something has unfortunately gone viral for the wrong reasons.
With Zoho Social, there's no need to worry about such things. It's focused on providing a smoother UI through one-window management for all your social media needs. It is streamlined to provide everything you need with a click of the mouse. This one-window management feature is a more straightforward way to manage your social media platforms better.
8. Stay In-the-Know via Insightful Reports
Real-time reports and analytics are the bread and butter of every management tool, Zoho Social made sure that you get more than the basics. Zoho Social's in-depth analytics provides you with more detailed metrics on your:
Audience
Posts & Engagement
Performance
Reach & Impressions
This way, you are always aware of what kind of content your audience engages with the most, so you can focus on developing more of it. Each update is in real-time, so you can gain better insights and adjust accordingly to things right as it happens.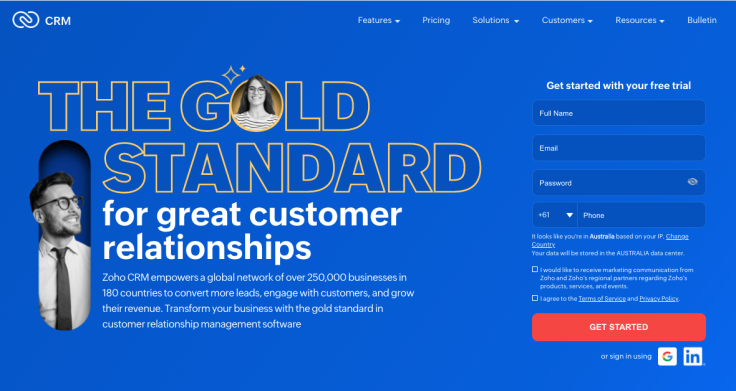 9. Zoho Social Allows for Constant Collaboration
When you're running multiple campaigns on several social media channels, being able to communicate and collaborate with your teammates instantly is incredibly important.
That's why Zoho Social puts a strong emphasis on enabling you to interact with your team in multiple ways. For example, messages and chat boxes are always available for constant messaging, while higher-ups can easily add and remove members from projects as it develops. Multiple people can also work together on a single project, with everyone seeing their progress.
With this feature, Zoho Social makes it easier to efficiently collaborate where every member's voice and contribution counts.
10. Social Integration Combines CRM, Sales and Marketing Into One
Social media has always been a collaborative platform and Zoho Social knows this best. Through this software, companies are able to merge their CRM, sales and marketing efforts in one software. This is made possible through integrated apps like:
Chrome/Firefox extension
LinkedIn
Google+
Facebook
Twitter
Instagram
Zoho CRM
Zoho Desk
Through these, you and your team can better strategize, follow trends and monitor your audience and prospects. Zoho CRM also lets you find new ways to gain leads, while Zoho desk will help you resolve all customer issues faster.
11. Zoho Social Allows for Easier Audience Engagement
Much of Zoho Social's features enable your brand to better engage with your audience and create more meaningful interactions. Whether it's through posts, comments, shares, retweets or mentions, Zoho Social serves as a bridge between you and your audience, so more people can join.

12. Zoho Social's Smart Q Features Machine-Learning
Did you know that Zoho Social is one of the few systems in its niche that offers machine learning? That's right, with Zoho Social, you also get access to SmartQ, an AI technology that helps users track all of its customers' actions.
Through this, Zoho Social will always be informed of marketing strategies that can be used to come up with better and more engaging content. This AI technology also works well for your team, as it can provide assistance through key features like smart calendar, social monitoring, collaborative workflows and even member contributions.
13. It Features Facebook Lead Ads
One other great feature of this software is that it will provide you with Facebook lead ads, which helps expand your reach and find the right audience to tap.
As Facebook is one of the world's largest social media platforms, using software that specializes in lead generation for its algorithm is great for any business as it'll help in establishing a more stable digital presence.
14. Keyword Filtering Lets You Maximize Your Reach
With Zoho Social's keyword filtering, you can maximize your reach with prospective clients and get more organic growth. Much like SEO, finding the right keywords to capture your audience's attention is critical in social media management, Zoho Social enables you to zero in on those target keywords to create more engaging content that people won't just scroll past.
Additionally, keyword filtering lets you know which keywords are trending and which aren't, so you don't have to waste precious time with trial and error.

15. Conversion Tracking Lets You Monitor Customer Growth
Among Zoho Social's bevy of useful features is conversion tracking, which lets you monitor which prospects go from audience to customer. This way, you know which of your posts are effective in turning people into customers.
Additionally, this conversion tracking feature ensures that your customer's journey is smooth from start to finish.
16. Android and iOS-Optimized Apps
Zoho Social is also more accessible by offering optimized Android and iOS apps. This way, you or any member of your team will always have access to your social media management tools and perform tasks wherever you may be.
17. Cloud-Based Safety and Security
Zoho Social also boasts excellent security, thanks to its cloud-based infrastructure. To ensure this, Zoho Social uses several security measures like encryption, secure socket layers, firewall and password protection.
More than that, Zoho Social future-proofs itself from upcoming social media management technology. When you use Zoho Social, you have a secure social media management software that will grow and evolve alongside your accounts.
18. Live Broadcast for Real-Time Checking
If you want a deeper look at your day-to-day processes, Zoho Social offers a live broadcast for real-time checking. It's a dynamic mini-feed of the notifications you receive daily. The live broadcast is actionable and provides important context to the updates you get.
The live broadcast lets you engage more meaningfully with your audience, as it gives you access as everything happens.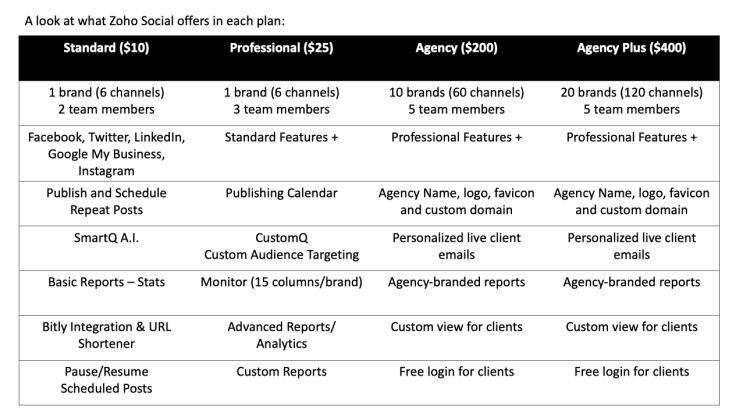 19. Excellent Customer Service and Support
On top of its excellent features, Zoho Social also has outstanding customer service and support. The software's support page connects users to webinars, videos and infographics for training and advice, giving you the option to troubleshoot certain features. It has a training portal that lets you quickly get acquainted with its interface and tools.
Of course, the Zoho Social team can also be reached through live chat, email, phone and support tickets, giving you plenty of options to resolve any issue. It's also worth noting that Zoho Social has a blog, where the company provides market trends, real-world applications of its tools and essential market data.
Zoho Social Stat and Industry Facts
20. Zoho Social is Perfect for Any Business Size
If you're an SMB owner and you want to improve the way your social media accounts are being handled, then Zoho Social is the perfect management tool for you. Laser-focused on helping businesses of any size, Zoho Social is powerful, affordable and feature-packed with some of the best social media management tools needed today.
So if you're having trouble handling your social media platforms and you want to improve your digital presence, then Zoho Social is the perfect software for you.
21. Zoho Social Caters to the Backbone of the U.S. Economy
While any business can use Zoho Social, small- to mid-sized companies and organizations will really benefit from it. These companies make up about 48% of all jobs in the U.S. Considered the backbone of the U.S. economy, more and more of these businesses are looking to make the leap digitally and Zoho Social's tools are optimized to help such businesses transition smoothly.
22. Zoho Social is Perfect for Home-Based Enterprises
Zoho Social is the perfect social media management tool for home-based entrepreneurs. In the past couple of years, more and more enterprises have switched to home-based setups and Zoho Social can help such businesses continue operating smoothly.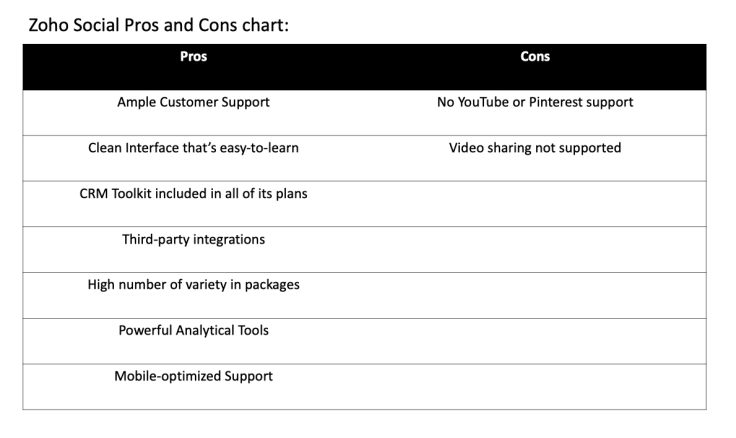 23. Zoho Social Stays on Top of the Newest Market Trends
Another benefit to using Zoho Social is it offers plenty of helpful market insights and keeps you on top of industry trends so you can stay ahead of the curve.
Aside from the app, users can also take advantage of Zoho Social's blog and library of resources, where you can get actionable insight, industry-related news and business strategies. This way, you don't just get market information but also the tools you need to win that market over.
24. Zoho Social Offers Agency Support
If you're an agency, then Zoho Social is your all-in-one solution. The Zoho Social agency edition is where companies can seamlessly optimize social media management of up to 50+ brands from one platform. With Zoho Social, you can invite teams, make schedules, monitor your growth and track every metric.
25. Zoho Social is Perfect for Freelancers
Aside from big agencies, freelancers who want to build their influence and client reach can also benefit from Zoho Social. This gives the software more flexibility, as it can be used by bigger agencies managing multiple brands as well as individuals who want to establish a professional digital presence.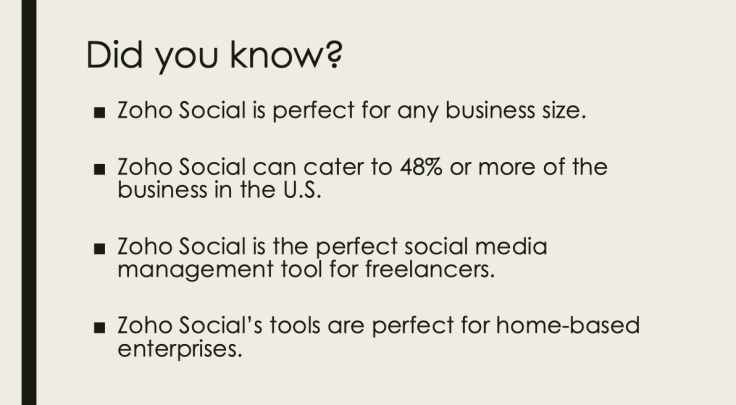 Zoho Social Pricing facts
26. Zoho Social Lets You Start for Free
Aside from the standard 15-day free trial you can avail when you start using Zoho Social, the app also offers a forever free plan that can be used by five users and provides email hosting for a single domain. Additionally, Zoho offers a fully-free edition of its flagship CRM software that you can start using immediately.
27. Zoho Social Has Flexible Pricing Plans
As for its paid plans, Zoho Social offers several flexible price points, including:
Standard ($15/month)
Professional ($15/month)
Agency ($275/month)
Agency Plus ($400/month)
Zoho Social Company Facts
28. Multi Award-Winning Company
Through the years, Zoho Social has earned several awards and recognition as a social media management software, which include:
February 2020 Gartner Peer Insights Customers' Choice for Social Marketing Management
2009 Webware Award
April 2019 Gartner Peer Insights Customers' Choice for Sales Force Automation
Top 15 Fastest-Growing Products in 2019
Creator Customer Awards 2020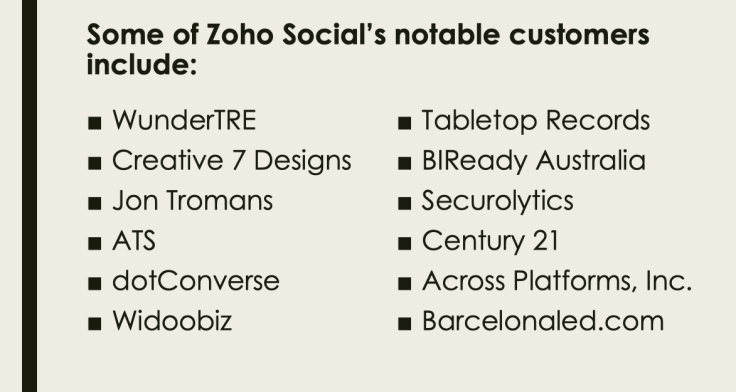 29. Fast-Growing Company
In the last few years, Zoho Social has grown its revenue and customer base and now has over 9,000 employees and over 50 million customers worldwide. Moving forward, Zoho Social aims to continue expanding its services to reach an even bigger audience.
30. Solid and Experienced Management Team
Zoho Social's success wouldn't be possible without a solid management team behind it. Founded in 1996 by Sridhar Vembu and Tony Thomas, Zoho Social is also backed by social media and management experts. This group of specialists works together to deliver unparalleled social media management services.