40 Famous Korean Celebrities That Are Surprisingly Siblings
KEY POINTS
Actor siblings Kim Tae-hee and Lee Wan previously starred in a drama together
The AKMU singer siblings celebrated their ninth anniversary last April
Many famous Korean celebrities are working in the same industry as their siblings
Error 404: Sibling rivalry doesn't exist.
In the K-pop entertainment industry, there's a bunch of idols who are unrelated but look so much alike that they could pass as real-life siblings.
However, there's also a handful of famous Korean celebrities – idols and actors in the industry – who are actually siblings in real life.
Below are Korean celebrity sibling pairs who support each other to be successful in their respective careers in the entertainment industry:
20.
Yang Se-hyung and Yang Se-chan
In December 2019, Yang Se-hyung shared a baby photo of himself and his brother Yang Se-chan on Instagram with the announcement of their new YouTube channel.
From uploading their first vlog, which featured the two comedian brothers enjoying their day together, their channel has since grown with over 509,000 subscribers as of press time.
Se-hyung and Se-chan also appeared on various variety shows like "Comedy Big League." Se-hyung also joined "Infinite Challenge" and "Master in the House," while Se-chan joined "Running Man."
19.
Yuna and Seoyul
According to Soompi, Seoyul, whose real name is Seo Yu-ri, said she dreamed of becoming a singer since she was 13 years old. She debuted as a member of the girl group Berry Good in May 2014, but the group officially disbanded in 2021.
Meanwhile, her older sister, Seo Yu-na, better known as Yuna, was a former member of AOA before her contract expired in 2021. Shortly after, Yuna revealed that she had become a successful yoga instructor.
18.
Hyoyoung and Hwayoung
Ryu Hyo-young and Ryu Hwa-young are not only sisters, they are actually identical twins born on April 22, 1993. They are more popularly known by their mononyms, Hyoyoung and Hwayoung, respectively.
Hyoyoung was a former member of F-ve Dolls, while her twin Hwayoung is a former member of T-ARA.
17.
Jessica Jung and Krystal Jung
Jessica Jung, whose real name is Jung Soo-yeon, is a former member of the South Korean girl group Girls' Generation or SNSD.
Meanwhile, her younger sister Jung Soo-jung, more popularly known as Krystal, is the lead vocalist, visual and maknae of f(x). However, Krystal's group is currently inactive because the members are busy with their solo careers.
Jessica and Krystal aren't only good at singing and dancing, they also showcased their acting prowess in several dramas.
16.
Lee Chan-hyuk and Lee Su-hyun
Lee Chan-hyuk and Lee Su-hyun, more popularly known as the members of the South Korean musical duo AKMU (Akdong Musician), first gained attention after their "K-Pop Star" Season 2 victory, according to Allkpop.
On April 7, the singing sibling duo celebrated their ninth anniversary in the music industry. They are popular for their distinct style of music that blends different musical elements like folk, pop, indie and acoustic.
15.
Sooyoung and Choi Soo-jin
Thirty-three-year-old Girls' Generation member Choi Soo-young, professionally known as Sooyoung, has a South Korean voice and theater actress sister, Choi Soo-jin.
In 2022, the sisters showcased their real-life chemistry on MBC's "Household Mate." Sooyoung and Soojin's episode aired in January last year.
14.
Jeongyeon and Gong Seung-yeon
Jeongyeon from girl group TWICE has South Korean actress Gong Seung-yeon as her older sister. The 26-year-old female idol, born Yoo Jeong-yeon, is currently on her group's fifth world tour, "Ready To Be."
Meanwhile, her older sister, born Yoo Seung-yeon, is making a name as an actress, having starred in several Korean dramas, including "The First Responders," Flower Crew: Joseon Marriage Agency," "Are You Human?," "Bulgasal: Immortal Souls," "My Only Love Song" and "Introverted Boss" among many others.
The Yoo sisters, despite their busy schedules, were recently spotted volunteering together at Anseong Animal Shelter.
13.
Choi Ye-na and Choi Sung-min
Siblings Choi Ye-na and Choi Sung-min are former members of idol groups. Twenty-three-year-old Choi Ye-na (Yena) is a former member of the Japanese-Korean idol group IZ*ONE, while her older brother, Choi Sung-min is a former member of the South Korean boy band SPEED and Co-Ed School.
Yena debuted solo in January 2022 with her mini album "ˣ‿ˣ (SMiLEY)," while Sung-min has been busy with his acting career.
Just recently, Yena shocked her brother with her dramatic transformation. Yena, who is known for sporting cute, colorful outfits, posted a photo of her in dark smokey makeup and disheveled hair, to which her brother replied, "What in the world is that?"
12.
Sun-hwa and Seung-woo
Aside from their stunning visuals, talent also runs in the blood of the Han siblings. Han Sun-hwa and Han Seung-woo are both making names in the entertainment industry.
Seung-woo is a member of the South Korean boy group VICTON which debuted in November 2016 with the mini album "Voice To New World."
Meanwhile, his sister and former Secret member Sun-hwa ventured into acting and made her drama debut in 2010 with "More Charming By The Day." Some of her notable works include Korean dramas "God's Gift – 14 Days," "Marriage, Not Dating" and "My Husband, Mr. Oh."
11.
Kim Tae-hee and Lee Wan
Popular South Korean actress Kim Tae-hee has a younger brother who's also in the acting industry as her. Her 39-year-old brother Lee Wan, whose birth name is Kim Hyeong-su, recently made his drama comeback after six years with the SBS drama "National Death Penalty Vote."
Actor Lee Wan starred with his older sister Kim Tae-hee in the popular 2003 South Korean drama "Stairway to Heaven."
10.
Lee Chae-yeon and Lee Chae-ryeong
After participating together in the survival show "Sixteen," Chae-yeon and Chae-ryeong shone separately in their respective groups. Chae-ryeong joined the five-member group ITZY, while Chae-yeon became IZ*ONE's dancer and vocalist before it disbanded in 2021.
In 2020, the idol sisters performed side by side on a special stage at the KBS Song Festival. Last April, Chae-yeon and Chae-ryeong posted a dance challenge video together on Instagram.
9.
Lee Sung-yeol and Lee Dae-yeol
When Golden Child's reality show "2017 Woollim Pick" aired for the first time on Naver's V Live in May 2017, INFINITE's Lee Sung-yeol, the show's main MC, revealed that Golden Child's leader Dae-yeol was actually his younger brother.
Like a true sibling who loves to tease his brother, Sung-yeol joked at the time, "It's been a while since we cut off ties with each other. But he's being all nice to me now that he's made his debut."
8.
Leeteuk and Park In-young
Forty-year-old South Korean idol Park Jeong-su, known professionally as Leeteuk, is the leader of Super Junior, one of the most famous K-pop groups of the second generation.
Meanwhile, his noona (older sister), 41-year-old Park In-young, is a South Korean actress and singer who debuted in the 2009 musical, "Boeing Boeing."
7.
Thunder and Sandara Park
Thirty-two-year-old Park Sang-hyun, more popularly known by his stage name Thunder, is a former member of the South Korean boy group MBLAQ and the younger brother of former 2NE1 member Sandara Park.
The older sibling, 38-year-old Sandara, recently returned to the music scene with her self-titled long-awaited solo comeback, "Sandara Park."
6.
Taeyang and Dong Hyun-bae
BIGBANG's Taeyang has a hyung (an older brother) who shares the same path of working in the entertainment industry. His older brother, Dong Hyun-bae, starred in several Korean movies, including "The Flaterrer," "Oh! My Gran", "Memories of a Dead End," "Deja Vu," "New Old Story" and "My Last Love," among many others.
Hyun-bae also starred in several Korean dramas, most recently in "Joseon Attorney: A Morality."
In 2017, Taeyang's older brother revealed in an interview that he felt sorry for his younger brother because, at an early age, he was faced with the responsibility of acting as an older sibling.
"My younger brother has already succeeded, but I'm still on my path to success. I feel sorry because my younger brother is fulfilling what the older brother should have done," he shared.
5.
Jang Na-ra and Jang Sung-won
Na-ra and Sung-won are siblings who are known to be amazing actors. Jang Na-ra was originally an award-winning singer until she debuted as an actress. She won various awards as an actress on different award shows in South Korea, including KBS Drama Awards, MBC Drama Awards and SBS Drama Awards.
Her older brother, Jang Sung-won, is also active in the acting industry and has starred in several shows since his 1996 debut in "Icing." He starred in "Dark Hole" in 2021, "Men are Men" in 2020 and "The Crowned Clown" in 2019, among many others.
4.
ZICO and Taewoon
Rapper ZICO debuted as the leader of the South Korean boy band Block B, while his brother, Taewoon, is a former member of SPEED.
Woo Ji-ho and Woo Ji-seok, more popularly known for their stage names ZICO and Taewoon or ₩uNo, respectively, are both rapper-songwriters.
3.
Mino and Danah
Song Min-ho, better known by the stage name Mino, is a vocalist and the main rapper of the South Korean boy group WINNER.
Meanwhile, his younger sister, Song Danah, is a former member of the now-disbanded girl group New.F.O. (New Five Order).
Last May, Mino was spotted attending Danah's wedding in Los Angeles. The singer, who was previously announced to have enlisted in the military in March, walked his younger sister down the aisle in place of their father who passed away after a battle with cancer.
2.
The Huening Siblings: Lea, Huening Kai and Huening Bahiyyih
Lea was a former member of the four-member girl group VIVA under SHINE E&M. Meanwhile, her siblings, Huening Kai and Huening Bahiyyih, are members of currently active idol groups Tomorrow X Together and Kep1er, respectively.
For this year's April Fool's Day, two of the Huening siblings, Huening Kai and Huening Bahiyyih, teamed up and brought laughter to their fans. The siblings pretended to be each other and tricked fans on Weverse and Bubble app.
1.
Doyoung and Gong Myung
Twenty-seven-year-old Kim Dong-young, professionally known as Doyoung, is a member of NCT. Doyoung recently attended Dolce & Gabbana's Alta Moda show in Apulia, Italy, where he met Manchester City star Erling Haaland.
Meanwhile, his older brother, 29-year-old Kim Dong-hyun, professionally known as Gong Myung, is a South Korean actor and former member of 5urprise, the first-ever South Korean actor group made up of five members: himself, Yoo Il, Seo Kang-joon, Kang Tae-oh and Lee Tae-hwan.
During the 2020 Mnet Asian Music Awards, Gong Myung presented the "Worldwide Fans Choice" award, where the winner was his younger brother's boy group, NCT.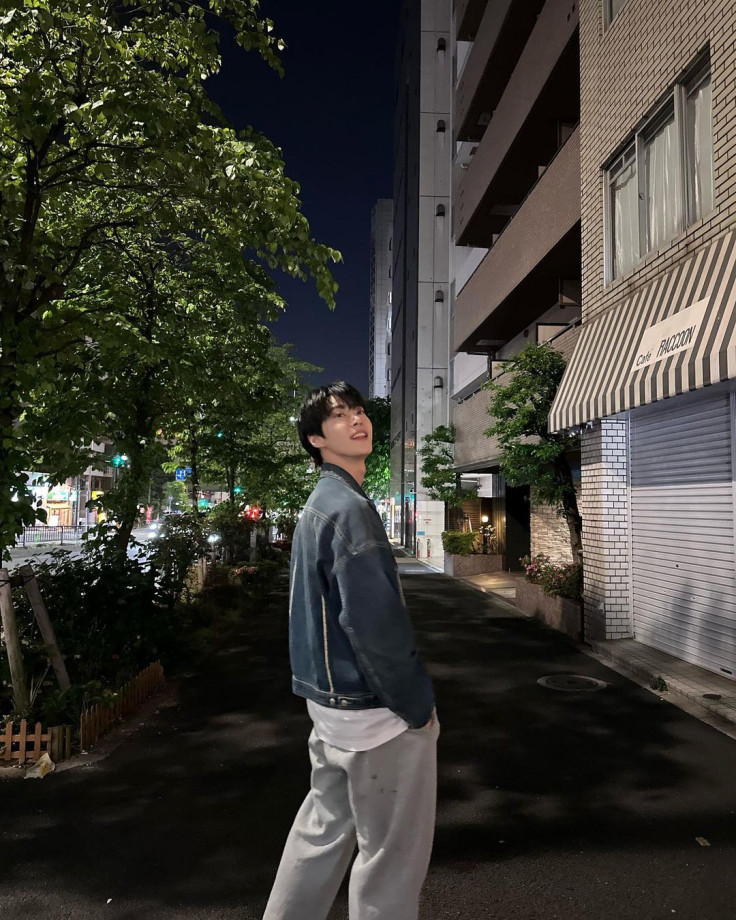 © Copyright IBTimes 2023. All rights reserved.