'50 Shades Of Grey' Movie: Did E.L. James Tweet The First Photo Of Christian Grey's 'Red Room Of Pain'?
WARNING: SPOILERS FROM THE BOOK AHEAD
Get ready "Fifty Shades of Grey" fans … author E.L. James may have tweeted the first look at Christian Grey's "red room of pain."
For those unfamiliar with the erotic series, kinky billionaire Christian Grey is, well, kinky. When he engaged Anastasia Steele, his new love interest (or submissive) into a binding contract with sexual and physical dominance over her, he introduced the innocent college student to a world of riding crops, handcuffs and more … all inside his "red room of pain."
Christian himself doesn't refer to his sex chamber as the "red room of pain," but Anastasia develops the nickname for it due to her inexperience and fear of actions like "whippings, floggings, spankings, canings, paddling" and more. While Christian insists the room is "mostly about pleasure," the red room subsequently results in Anastasia and Christian's first break up after he doles out a particularly nasty punishment.
The "Fifty Shades of Grey" movie started filming earlier this month and stars Jamie Dornan and Dakota Johnson have already been caught on a tea date and kissing. E.L. James took to Twitter and Instagram on Monday, Dec. 9, to give fans another little teaser of what's to come, and while it doesn't look like much, it put many of her followers into a frenzy.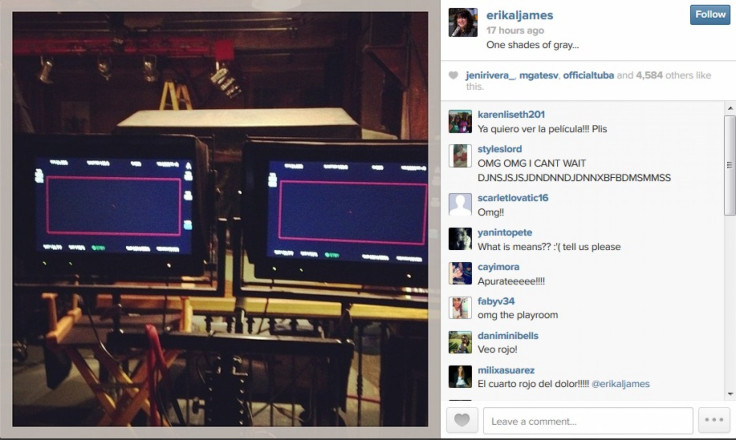 "One shades of gray …" James tweeted of two almost black (or gray) screens. One spec can be seen in the center of the screen, which is surrounded by a red frame.
"Omg!!" fans immediately began responding, believing it to be Christian's playroom. "Veo rojo!" others posted. "I sure hope there's more red than that!!" said another "Fifty Shades of Grey" fan.
While E.L. James is happy to respond to her followers, she has so far kept mum on the significance of the photo and whether or not it belongs to the red room.
Do you think the photo is of the "red room of pain"? What scene are you looking forward to in "Fifty Shades of Grey"? Let us know your thoughts in the comments section or send a tweet to @AmandaTVScoop.
© Copyright IBTimes 2023. All rights reserved.