6 Times When President Donald Trump Praised Ex-FBI Director James Comey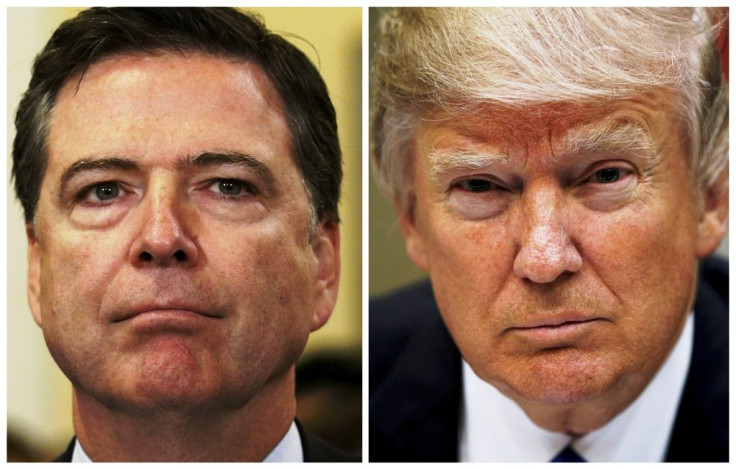 During the 2016 presidential campaign, Donald Trump praised the then FBI Director James Comey at several rallies. Four months into his presidency however, Trump fired Comey saying the director's handling of the investigation into Democrat Hillary Clinton's infamous email scandal was cause for concern for the administration.
Trump's move to remove Comey surprised several people, including Democrats and Republicans. There was speculation whether Comey's dismissal was related to the FBI investigation he led into ties between the president's associates and Russia during the presidential campaign.
However, the White House maintained the director's dismissal had nothing to do with the Russia probe.
Read: An Incomplete List Of Everyone Donald Trump Has Fired As President
"Today, President Donald J. Trump informed FBI Director James Comey that he has been terminated and removed from office. President Trump acted based on the clear recommendations of both Deputy Attorney General Rod Rosenstein and Attorney General Jeff Sessions," the White House said.
Trump informed Comey about the removal in a letter.
"While I greatly appreciate you informing me, on three separate occasions, that I am not under investigation, I nevertheless concur with the Department of Justice that you are not able to effectively lead the Bureau," Trump told Comey in the letter.
While Trump's relationship with the former FBI director was brief, there were instances of the 70-year-old praising Comey.
Here are six such instances:
Oct. 28, 2016
"The FBI — after discovering new emails, is re-opening their investigation into Hillary Clinton," Trump said at a rally in Manchester, New Hampshire after Comey announced the FBI launched a probe into the news Clinton emails. "I have great respect for the FBI for righting this wrong."
Oct. 29, 2016
"I respect the fact that Director Comey was able to come back after what he did. I respect that very much,' Trump said, according to a CNN report.
Oct. 31, 2016
"You know that. It took a lot of guts. I really disagreed with him. I was not his fan," Trump said of Comey in Grand Rapids, Michigan. "I tell you what, what he did, he brought back his reputation. He brought it back. He's got to hang tough. A lot of people want him to do the wrong thing. What he did was the right thing."
Nov. 13, 2016
On CBS' "60 Minutes" show, the then president-elect was asked whether he would keep Comey as the FBI director. Trump replied: "I haven't made up my mind." However, he added: "I respect him a lot. I respect the FBI a lot."
Jan. 22, 2017
During a law enforcement reception after his swearing-in ceremony Jan. 22, Trump called out to Comey, who approached him from the crowd. The president said: "He's become more famous than me." Then he shook Comey's hand, which was followed by a hug.
April 12, 2017
During an interview on Fox News, Trump said he had "confidence" in Comey.
"It's not too late [to ask Comey to step down], but, you know, I have confidence in him. We'll see what happens, you know, it's going to be interesting," Trump said, adding Comey "saved Hillary Clinton" and "he saved her life."
© Copyright IBTimes 2022. All rights reserved.
FOLLOW MORE IBT NEWS ON THE BELOW CHANNELS